The vegetables outnumber the pasta in this cheesy spring vegetable rigatoni bake, filled with asparagus, Swiss chard, and peas.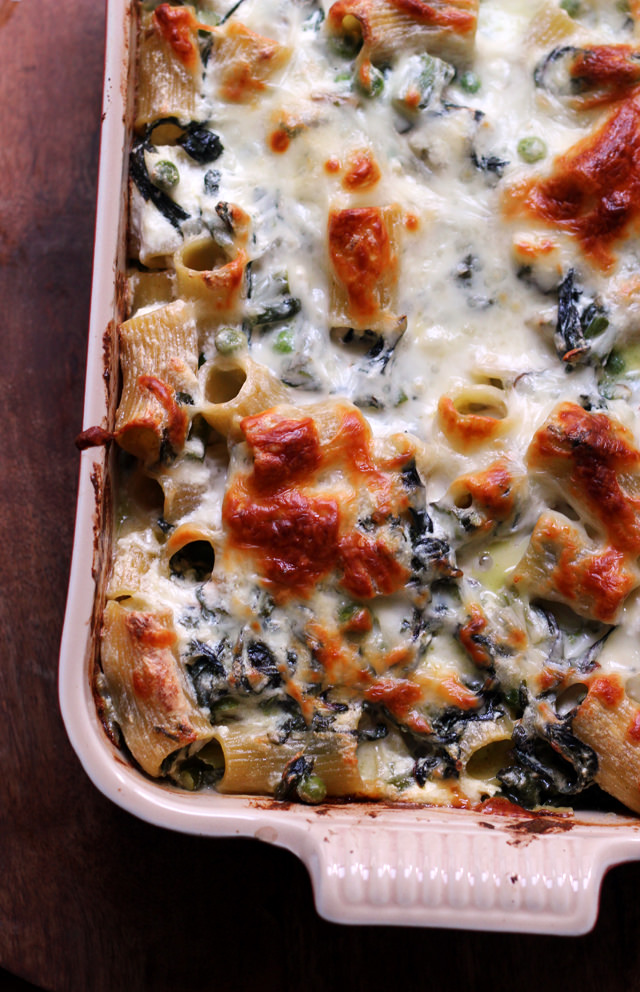 If there's one thing my week-long stint as a third year medical student taught me, it's that when I actually do go back in the fall, throwing together big meals that can feed us for weeks on end but take minimal time to prepare are going to be key.
(Also, venipuncture is scary and potentially life threatening. BE SAFE.)
All of the moms out there along with anyone else who doesn't have the time or the energy to dirty every single kitchen appliance they own on a near daily basis are nodding their heads vigorously and saying, "Um, YEAH. THAT is real life."
I feel you guys. I really do.
But why should we wait six months to reap the benefits of my newfound cooking ethos?!
The time is NOW.
And by that I mean, this pasta bake saved my life last week and I would be severely remiss if I didn't tell you about it before we all move on from asparagus worship to pumpkins and tomatoes and zucchini. I know it's going to happen. Don't fight it.
This is actually a study of what happens when you go a little veggie-happy at the grocery store and then have no energy to do anything with anything when you get home from a long day of staring at uninterpretable EKGs.
You've been there? I thought so.
It's easier than easy and essentially involves giving all of your veggies a brief saute (in this case: asparagus, peas, and Swiss chard) in a touch of olive oil while your pasta cooks so that they're just a hint of tender and totally warmed through. Throw them all together in a baking pan along with a fontina cheese sauce and a container of ricotta, top with mozzarella, and bake until bubbly.
I call this dinner. (And lunch, and breakfast, and HEY-I-DIDN'T-HAVE-TIME-TO-HAVE-LUNCH after work snack.)
YOU can call it whatever you want, so long as you make sure to call me at least ten minutes before you're putting it on the table. Count me in for seconds. (I really mean thirds.)
Spring Vegetable Rigatoni Bake
The vegetables outnumber the pasta in this cheesy spring vegetable rigatoni bake, filled with asparagus, Swiss chard, and peas.
Ingredients
12 oz rigatoni
2 tbsp olive oil
1 onion, chopped
3 cloves garlic, minced
1 lb asparagus, trimmed and cut into ½-inch pieces
1 head red or white Swiss chard, stems removed and leaves coarsely chopped
1 cup frozen peas
¼ cup chopped fresh basil
½ cup whole milk
¾ cup heavy cream
6 oz fontina cheese, grated
salt and black pepper, to taste
15 oz ricotta
1 cup shredded mozzarella
Instructions
Heat oven to 400F.
Bring a large pot of salted water to a boil. Add the past and cook until al dente, stirring occasionally, about 6 to 8 minutes. Drain and set aside.
In a large skillet, heat the olive oil over medium heat. Add the onion and garlic to the pan along with a pinch of salt and saute until just tender, about 4-5 minutes, stirring frequently. Stir in the asparagus and saute until bright green and slightly tender, about 3-4 minutes. Add the Swiss chard leaves to the pan and cook until wilted, about 2-3 minutes. Add the peas to the pan and cook until just heated through. Pour into a 9x13-inch baking pan along with the cooked pasta and mix together.
Return the skillet to the heat and pour in the whole milk, heavy cream, and basil. Bring to a simmer. Remove from the heat and stir in the fontina cheese and the ricotta, until melted. Season to taste with salt and black pepper. Stir the cheese mixture into the pasta and veggie mixture. Top with the grated mozzarella.
Bake for 30-35 minutes or until the top is golden. Let rest for about 5 minutes before serving.
Notes
An Eats Well With Others Original
Nutrition Information
Serving size:
⅙th of recipe
 More pasta!!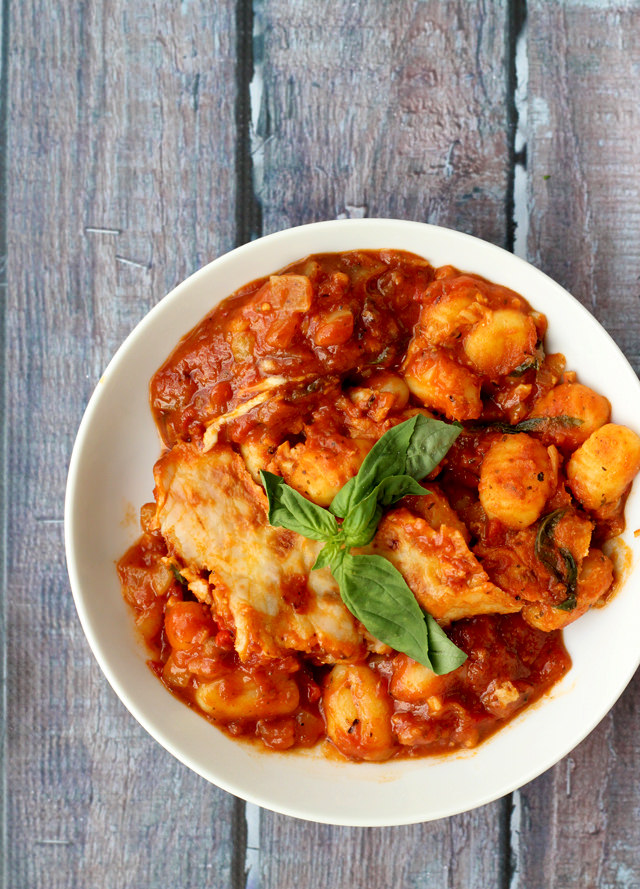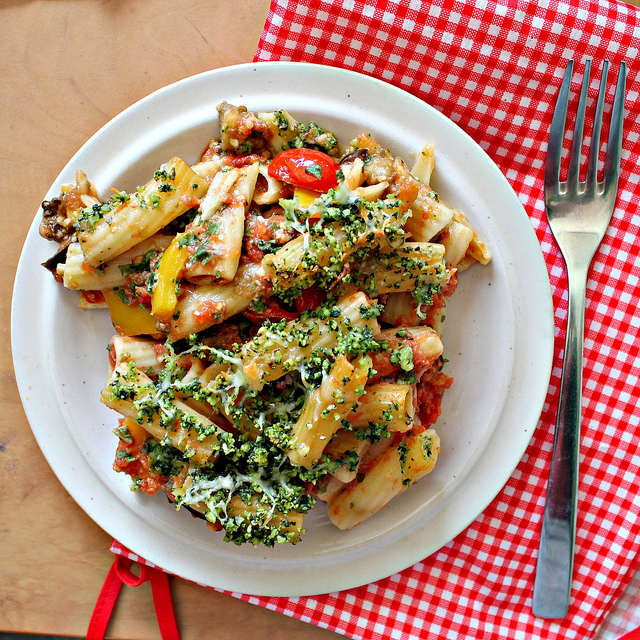 Rigatoni with Eggplant and Pine Nut Crunch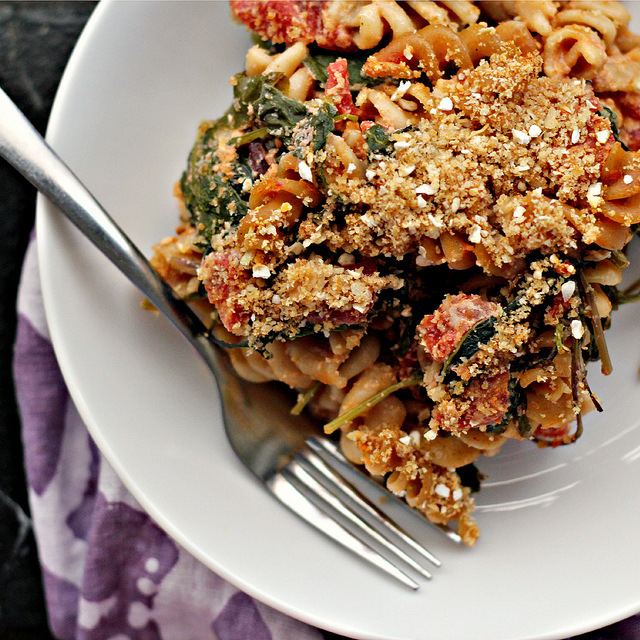 Baked Macaroni with Tomato Sauce and Goat Cheese
From Around the Web:
Super Cheesy Kale and Roasted Red Pepper Pasta Bake from Baker By Nature
Brown Butter Garden Vegetable Pasta Skillet from How Sweet It Is
Spinach and Artichoke Mac and Cheese from House of Yumm
Baked Pasta with Cauliflower in a Spicy Pink Sauce from Pink Parsley
Lemony-Pasta Stuffed Zucchini from Very Culinary