Get back into healthy eating with this Greek super grains salad, filled with loads of fresh veggies, quinoa, millet, and buckwheat!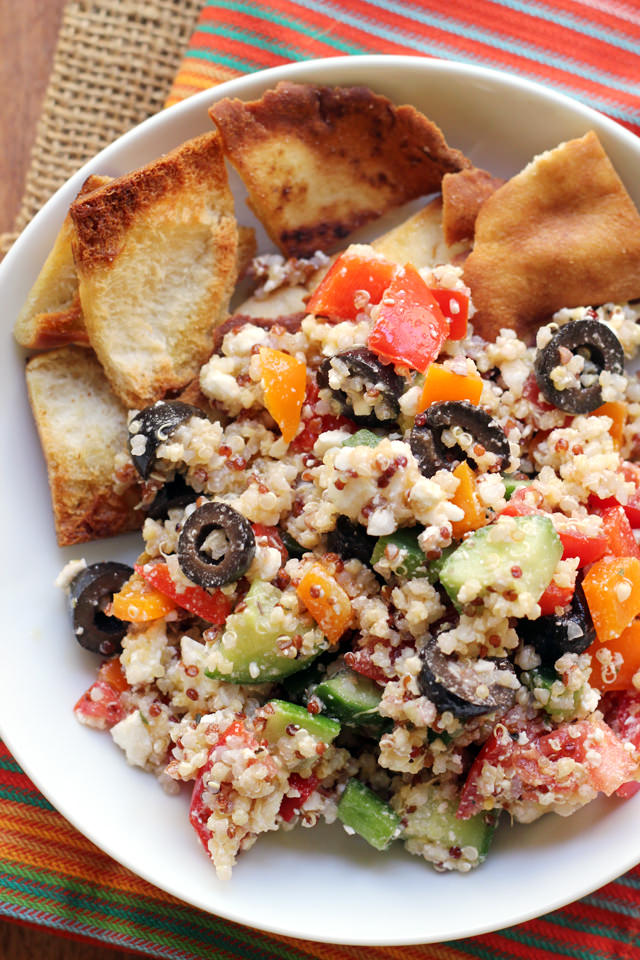 Who really needs to be on speaking terms with their thighs, right?
Pffffttt.
Those were my thoughts until I tried on all my warm weather clothes and realize it was either Stop Eating All The Muffins time or Start Buying A Whole New Wardrobe time.
Judging by the looks of this salad, I'll let you guys guess which road less traveled I inevitably took.
Also, there's a *minor* chance the.boy will coerce me into wearing a bathing suit on our honeymoon and I don't want it to be traumatic for either of us. (But mostly me because we are our own worst critics…especially when it comes to bikini-wearing.)
So ALL THE VEGGIES and EAT THE RAINBOW and BRING ON THE SALAD it is! But if you know me, you know there is nothing I hate more than a boring salad. I maintain that if it doesn't have at least a few funsies, it's totally not worth my time.
And not that I have anything against the traditional Greek salad, but…it could use a spring makeover. Something along the lines of: extra olives, a splash of super grains, and a handful of pita chips to put a smile on our faces. If those aren't funsies, I don't know what are.
Basically, this salad has all the bright, fresh feel-good flavor that the classic boasts, but with a bit of bulk from a super grains mix that I found at Whole Foods that I'm obsessed with (it's just a blend of millet, quinoa, and buckwheat – feel free to use one or a combination of those three to imitate it). Also, all of the veggies are fresh, so there is very little actual cooking involved, which in this 90(+) degree world that I'm living in, is a very good thing.
Just toss and go.
I can feel your thighs smiling from over here. Let's get to it.

Greek Super Grains Salad with Homemade Pita Chips
Get back into healthy eating with this Greek super grains salad, filled with loads of fresh veggies, quinoa, millet, and buckwheat!
Ingredients
1 cup mixed quinoa, millet, and buckwheat
2 cups water
salt, to taste
3 vine ripe tomatoes, seeded and chopped
1 red onion, diced
2 small seedless cucumbers, diced
1 red bell pepper, seeded and diced
1 green bell pepper, seeded and diced
1 yellow bell pepper, seeded and diced
1 (14 oz) can black olives, drained and sliced
½ lb feta, crumbled
½ cup olive oil
6 tbsp red wine vinegar
1 tsp dried oregano
For the pita chips
12 oz mini pitas, quartered
olive oil, for brushing
sea salt, for sprinkling
Instructions
Rinse the grains thoroughly and then drain and place in a medium pot with the water and a few pinches of salt. Bring to a boil and then lower the heat, simmering, covered, for 15-20 minutes. Remove from the heat and let sit, covered for 5 minutes. Fluff with a fork.
Meanwhile, chop the vegetables and toss them together in a large bowl with the olives and feta. Add the cooked grains to the bowl.
To make the dressing, whisk together the olive oil, vinegar, oregano, and salt, to taste. Toss with the grain mixture.
For the pita chips, heat oven to 375F. Spread the pitas on a parchment-lined baking sheet. Brush with the olive oil and sprinkle with salt. Bake for 12-15 minutes or until crispy.
Notes
An Eats Well With Others Original
It's all Greek to me!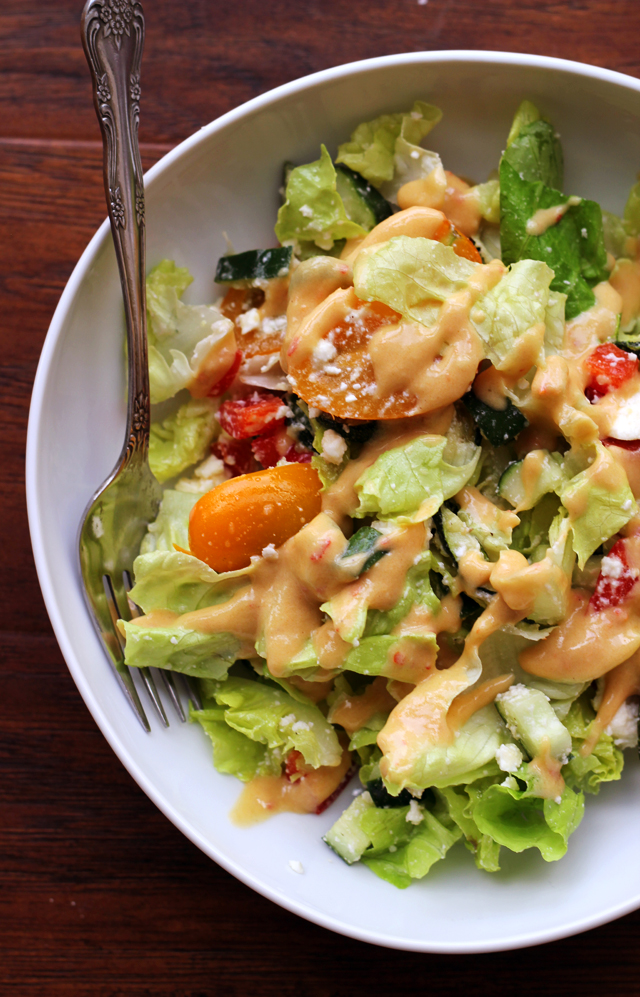 Greek Salad with Hummus Dressing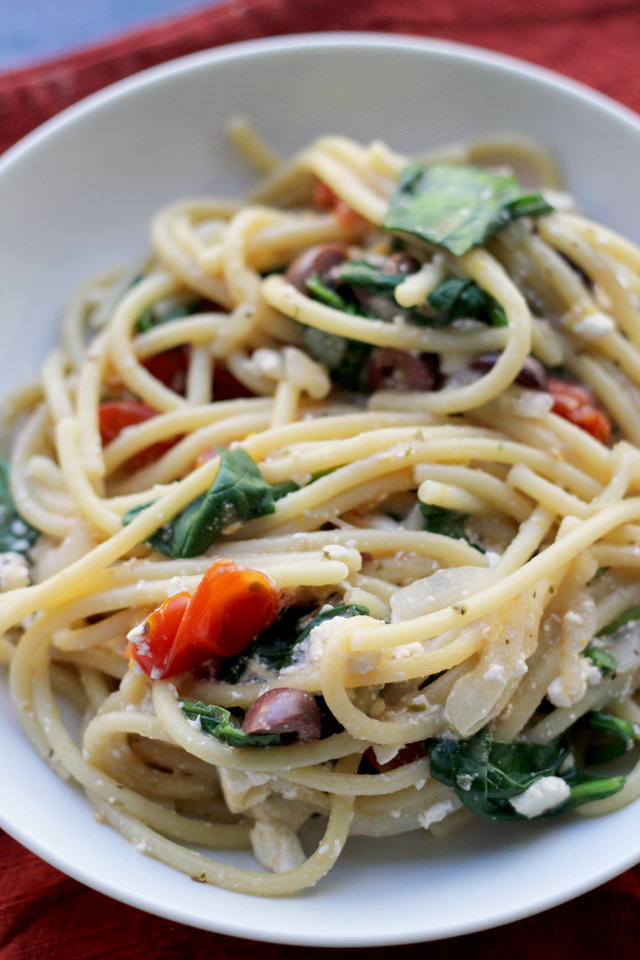 One-Pot Spaghetti with Greek Tea, Feta, and Kalamata Olives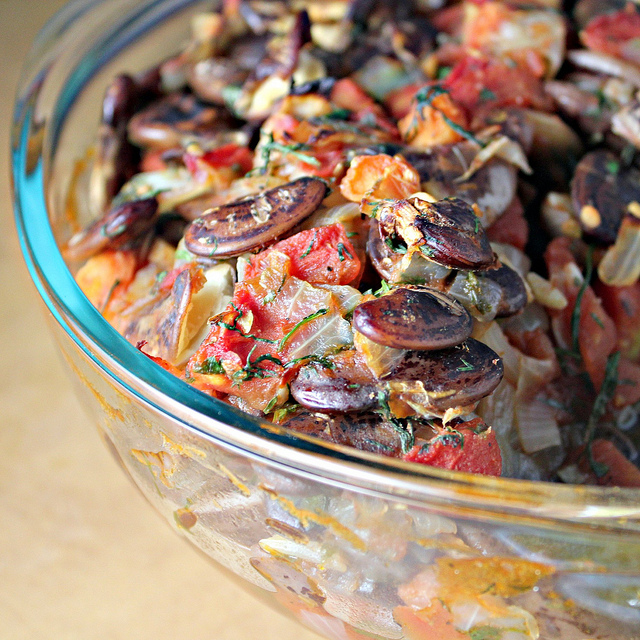 From Around the Web:
Greek Salad with Crispy Feta from Blogging Over Thyme
Greek Mac and Cheese from Cinnamon Spice and Everything Nice
Greek Garbanzo Bean Salad from The Girl Who Ate Everything
Greek Zucchini Pie from Closet Cooking
Greek Chickpea Salad Sandwiches from She Likes Food