This fresh blueberry pie is a celebration of spring with it's uber juicy fresh berry insides and buttery flaky lattice crust outsides!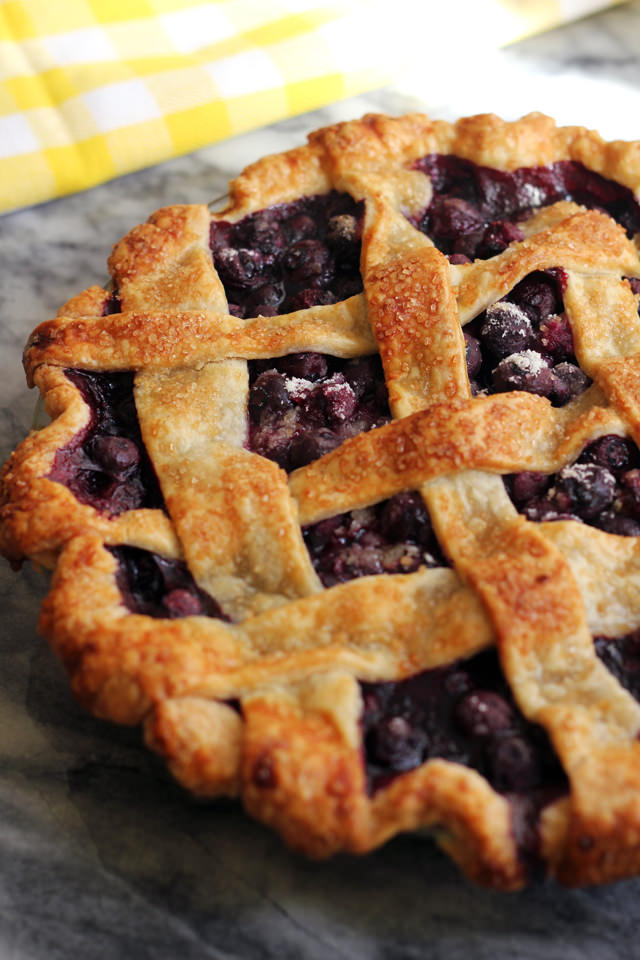 Pie for ALL THE MEALS THIS WEEKEND!!!!
I mean, we had salad yesterday so…..we earned it?
The thing about making pie is that it feels like a workout.
First, you have to make pie crust which is pretty much a heroic feat in and of itself.
There's the cutting of butter, then there's the waiting, then there's the rolling, followed by more waiting.
So much exercising of our self restraint to not just eat it raw straight off the pie plate!!
That has to burn, like….1200 calories or something.
Right?
Fill, chill, bake, wait, cool, DONE.
And by DONE I mean dig in. Fork first.
I'm exhausted just thinking about it. But also hungry.
I say let's do this.
To be frank, if I'm going to commit a day to pie baking (and let's be honest…unless you are very well organized, it totally takes a day), then I want some assurance that it will be worth it.
This pie is worth it.
I kind of want to say it's the best pie I've ever made…and at the least it's one of the best pies I've ever tasted. The filling is just so blueberry (tastes like spring!!) and it's both firm and loose at the same time in that perfect way that only pie can be. I made it for the.boy's family's Easter festivities and it was so hard not to sneak the leftovers home with me. I still regret that life choice.
Post half marathon second breakfast on Saturday?! I think you know where my weekend is headed. Join me?

Fresh Blueberry Pie
This fresh blueberry pie is a celebration of spring!
Ingredients
For the crust
2 cups all purpose flour
⅔ cup almond flour
2 tbsp sugar
1 tsp kosher salt
2½ sticks cold unsalted butter, cut into small pieces
6 tbsp cold water
For the filling
6 cups fresh blueberries, stems removed
1 tbsp lemon juice
½ tsp almond extract
¼ cup flour
½ cup sugar
For the wash
1 egg
1 tbsp milk
turbinado sugar, for sprinkling
Instructions
To make the crust, combine 1½ cups flour, almond flour, sugar, and salt in the bowl of a food processor. Pulse to combine. Add in the butter and pulse just until the flour starts to form clumps. Sprinkle in the remaining flour and water. Pulse until dough starts to come together. Split the dough in half and form into disks. Wrap in plastic wrap and refrigerate for at least 2 hours or overnight.
Once the dough is chilled, roll out half the dough on a lightly floured work surface into a 13-inch circle. Ease into a 9-inch pie plate and trim to a ½-inch overhang. Place in the freezer for at least 30 minutes or until ready to use.
For the filling, toss together the blueberries with the lemon juice, almond extract, flour, and sugar. Pour into the chilled pie crust. Roll out the remaining dough on a lightly floured surface to the same size as the first dough. Cut into strips and weave together to form a lattice pattern. Tuck the edges of the top over the bottom crust and crimp. Refrigerate for 30 minutes.
Heat oven to 425F. Whisk the egg and milk together to form the egg wash. Brush the top of the crust with the egg wash and sprinkle with the sugar. Place the pie on a foil-lined baking sheet. Bake for 20 minutes. Reduce the heat to 350F and bake for 30-40 more minutes, or until the crust is golden and the filling is thick and bubbling. Allow to cool completely before serving.
Because every day is better with pie: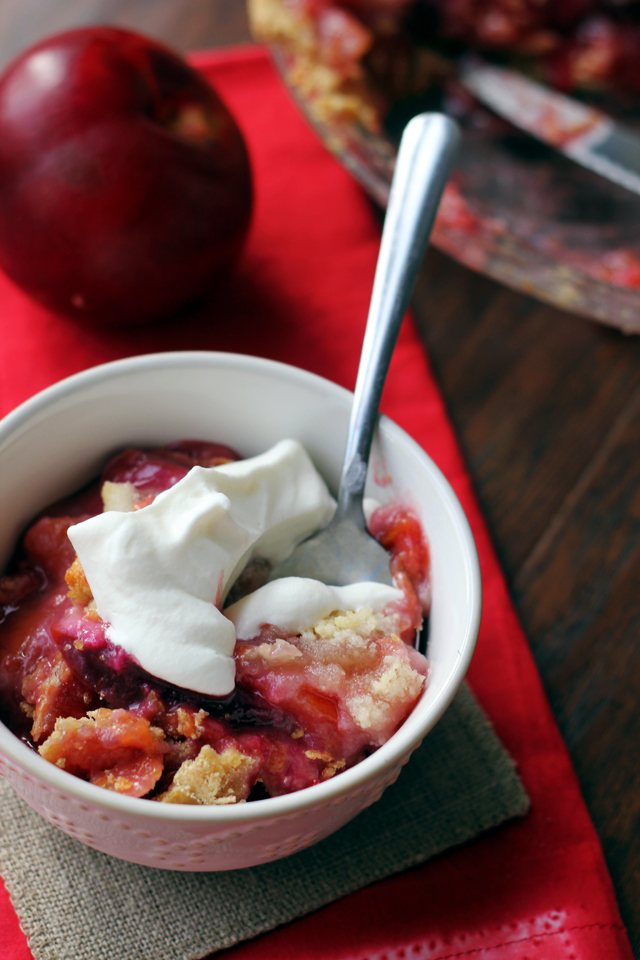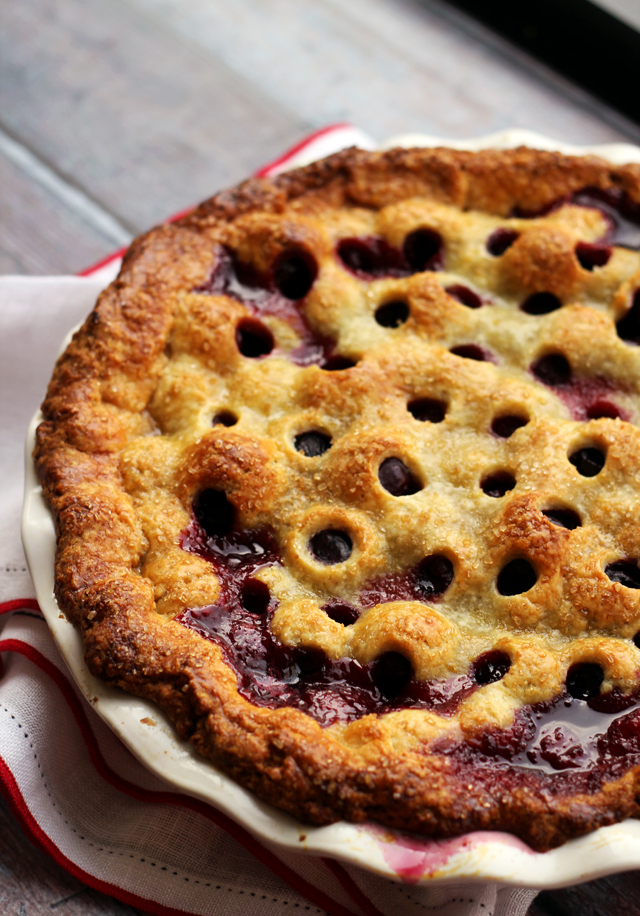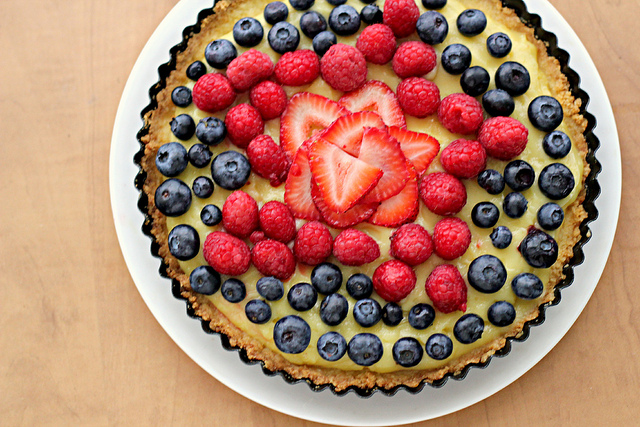 White Balsamic Custard Tart with Fresh Berry Topping
From Around the Web:
Strawberry Margarita Pie from Grandbaby Cakes
Raspberry Rhubarb Pie from Hint of Vanilla
Peach Galette from A Zesty Bite
Three Berry Cobbler with Sour Cream Biscuits from Boulder Locavore
Hibiscus Strawberry Curd Tarts from Snixy Kitchen