These Irish cream brownies from The Recipe Girl Cookbook
are fudgy beyond belief with a major liqueur infusion – make sure not to eat them and drive!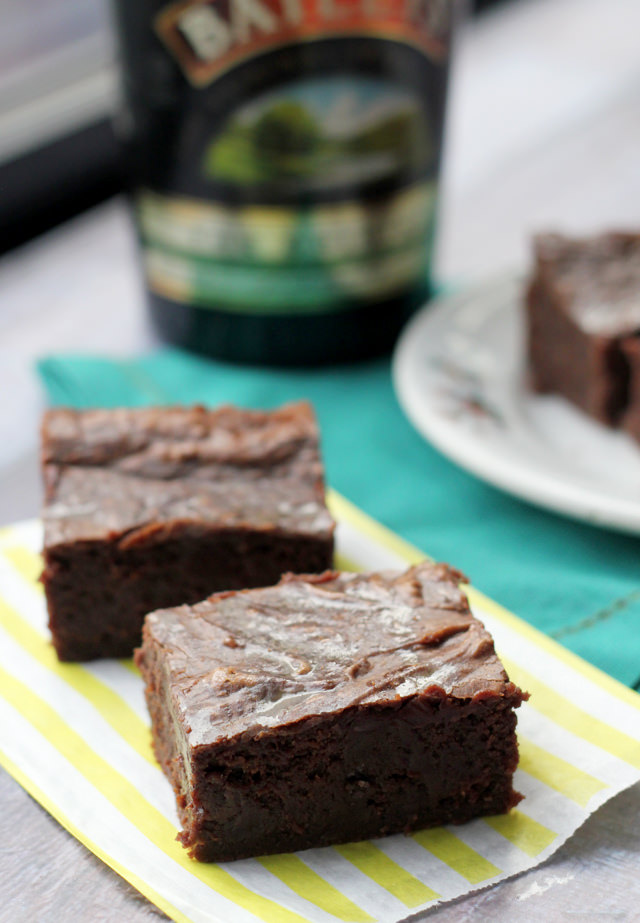 It's really hard to be health-minded with brownies on your windowsill.
I mean, brownies from a box, I could probably totally ignore. No second glances or love lost over those chemically altered substances.
But when aforementioned brownies are basically homemade bricks of liqueur-infused fudge heaven?!
That apple-a-day doesn't stand a chance.
But, I mean, these were sitting next to the apples. So I'm thinking there must be some nutrient osmosis.
Or something.
Lest you think I'm the kind of girl who sits at home on Wednesday nights and eats the whole pan of these herself instead of going to the gym (I am).
I'll have you know that I shared some of them with my Leftovers Club partner this month – Elizabeth of Cooking with Milton!
I hope you like fudgy liquored up brownies, Elizabeth, otherwise you are going to be severely disappointed. #sorrynotsorry
To find out more about The Leftovers Club and to find out how you can participate next month, click here! And make sure to check out the goodies that the other Leftovers Club members sent out and received this month!
One year ago…Baked Eggplant Stuffed with Pasta, Potato and Kale Soup with Gruyere
Two years ago…Seared Bean Sprouts with Tempeh and Sesame Orange Sauce, Snickerdoodle Biscoff Sandwich Cookies
Three years ago…Meyer Lemon Bars
Four years ago…Cinnamon Butterscotch Bars, Sausage and Eggplant Polenta
Five years ago…Grilled Snapper Vera Cruz
Irish Cream Brownies
These Irish cream brownies are fudgy beyond belief with a major liqueur infusion - make sure not to eat them and drive!
Ingredients
2½ cups all purpose flour
1 tsp salt
½ tsp baking powder
2 cups semisweet chocolate chips
1 cup unsalted butter
1½ cups packed dark brown sugar
2 large eggs
½ cup + 1 tbsp Irish cream liqueur, divided
Instructions
Preheat the oven to 350. Line an 8-inch square glass baking pan with foil.
In a medium bowl, sift together the flour, salt, and baking powder. Set aside.
In a microwave-proof bowl, combine the chocolate chips and butter. Microwave in 30-second intervals until melted and thoroughly combined, stirring after each one. Set aside to cool.
In a large bowl, whisk together the brown sugar, eggs, and ½ cup liqueur. Stir in the melted chocolate-butter mix until combined. Stir in the flour mix until just combined. Pour into the prepared pan and bake for 40-45 minutes or until cracked on top and a toothpick inserted comes out almost clean.
Remove brownies from the oven and brush with the remaining tbsp of Irish cream liqueur while still warm. Allow to cool completely before cutting and serving.
Notes
Recipe from
The Recipe Girl Cookbook: Dishing Out the Best Recipes for Entertaining and Every Day