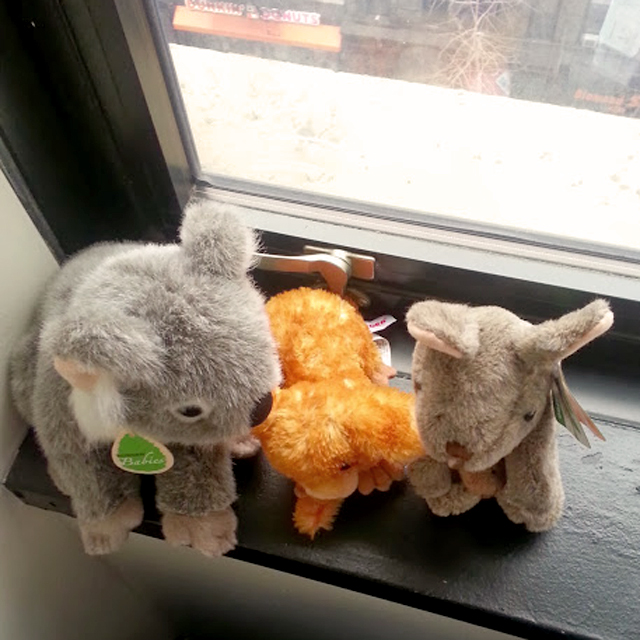 1. The.Boy seems to think that if he keeps buying me adorable stuffed animals from Down Under (and Africa), it will get him off the "baby-making" hook. Little does he know, after the wedding. It. Is. ON.
2. But they really are cute, right? We call them: Mr. Koala, Bush Baby, Mrs. Kangaroo, and Joey. I marvel at our creativity constantly.
3. I will really be much more creative with our future babys' names. Like, maybe too creative. Not "Apple" or "North" creative because we do not have enough money to buy our children friends.  But just creative enough that our kids are "the kids with the cool names". That's basically my life goal. The.Boy is not quite as on board, because he just wants to name all our children after our ancestors, but he'll come around. Even if it requires bribery.
4. So, we started watching Breaking Bad. Like, a few years too late. And…I'm not so into it. Actually, the first few episodes have made me nauseous beyond belief. Is it going to be like this the whole way through?? With, like…HUMAN GUTS SEEPING THROUGH SOMEONE'S CEILING BECAUSE THEY DISSOLVED THEM IN ACID?? Or should I just suck it up and push forward??
5. Basically, I need your (unending) moral support.
6. I've been listening to Idina Menzel on repeat. Since 9th grade when my parents went to see Wicked (WITHOUT ME) and casually left the soundtrack on my bedroom floor. And then when I finally saw Wicked for myself my junior of high school. And then when RENT became a movie in 2005. And then when I played the piano for my college's production of Wild Party. And most recently because, Frozen.
7. If Idina chooses to file a restraining order against me, I will totally understand. Heck, maybe I should file one for her. To keep myself in order.
8. The.Boy just informed me that we can't eat meat tomorrow. Honestly, I'm not sure why he thinks that is different from any other day around here.
9. After a month of Valentine's Day followed by my birthday followed by The.Boy's grandmother's birthday followed by our anniversary, I am ready to eat salad until The.Boy's birthday in two weeks. And then, after that, for the rest of my life.
10. If you need me, I'll be pretending I don't want to eat all the brownies I plan on sharing with you tomorrow. #savemefrommyself