Nutty, chewy spelt berries are paired with kale, eggplant, pickled carrots and chile peppers in this grain salad that is bursting with flavor!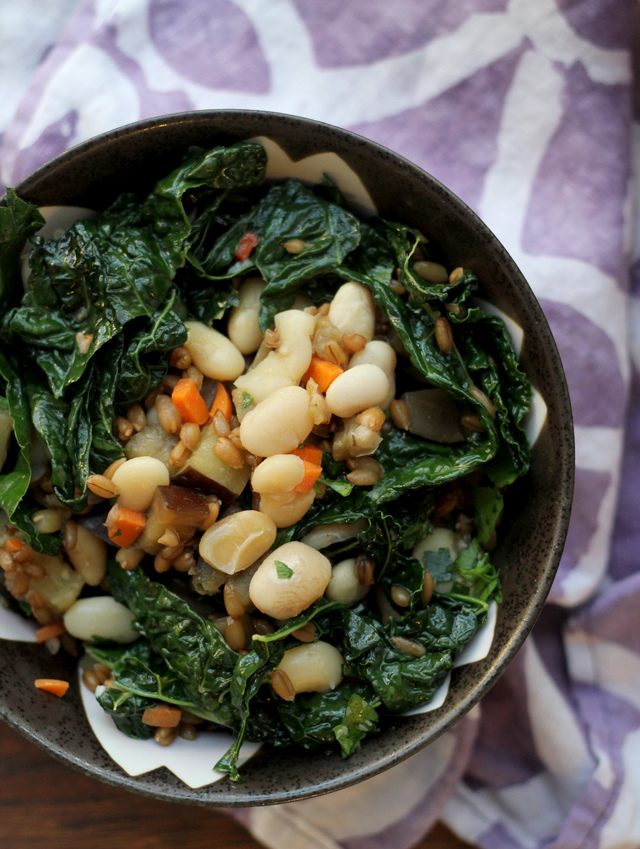 I'm having a bad blog week.
You know. One of those weeks where someone hacks into your site through one of your ads leaving affiliate links all over ALL THE POSTS (don't click them!). And then the company you've "hired" to sort all this out suggests you do some sort of technical thing that you have no idea how to do to fix it.
Oh yes, I'll just go into my "ad manager" (??) and block out a certain link. No problem. If I knew what this "ad manager" was.
And then your server crashes. Or is on the verge of crashing. Or is doing both simultaneously.
When I have pulled all my hair out by the end of the day. You'll know why.
And then it always helps when your boyfriend takes one look at the fried spelt berry bowl you put in front of him for dinner and says, "I don't think I like this".
Forget the hair pulling. I'm just going to be all gray.
In my all-encompassing, always-right opinion, there is nothing not to like about these grain salad bowls.
Chewy, nutty spelt berries paired with eggplant and kale that soak up all those pickling juices you season the salad with. And pickled carrots and chiles, which are kind of like the cherries on top.
Nothing not to like. And everything to love.
Now if only all these tech problems would just resolve themselves as easily, I'd be one thick haired, gray-free happy well-fed girl.
One year ago…Curried Carrot Soup with Roasted Pepitas
Four years ago…Linguine with Arugula, Roasted Peppers and Bacon
Fried Spelt Berries with Pickled Carrots, Kale and Eggplant
Nutty, chewy spelt berries are paired with kale, eggplant, pickled carrots and chile peppers in this bursting with flavor grain salad!
Ingredients
2 medium carrots, chopped
1 red chile, seeded and chopped
½ cup white wine vinegar
1 tsp sugar
1 tsp kosher salt
5 tbsp olive oil
1½ cups spelt berries, soaked overnight
2 garlic cloves, minced
1 eggplant, chopped into ½-inch dice
2 bunches lacinato kale, center ribs and stems removed, torn into strips
1 tbsp soy sauce
freshly ground black pepper
1 cup dried white beans, cooked until tender
½ cup parsley, minced
Instructions
Put the carrots and the chile pepper in a small bowl. Bring the vinegar, sugar, salt, and ½ cup water to a boil. Give it a good stir and then pour the pickling liquid over the carrots and chile. Let sit for at least 30 minutes. Drain, reserving ¼ cup pickling liquid.
Put spelt berries in a pot and cover with salted water. Bring to a boil and simmer, covered, until tender, about an hour. Drain.
In the meantime, heat 3 tbsp olive oil over medium heat. Add the garlic and saute until fragrant, about 30 seconds. Add the eggplant and a pinch of salt. Cook, stirring frequently to ensure that the eggplant doesn't stick, until eggplant is cooked through - 5-7 minutes.Transfer eggplant to a separate plate.
Clean out the pan and heat the remaining olive oil over medium heat. Add in the cooked spelt berries and saute for 4 minutes. Stir in the kale and cook, tossing often, until kale is wilted. Stir in the soy sauce, eggplant, beans, freshly ground black pepper, reserved pickling juice and parsley. Cook until heated through.
Nutrition Information
Serving size:
⅙th of recipe