Breakfast gets decadent with these chocolate stout waffles smothered in chocolate-peanut butter syrup.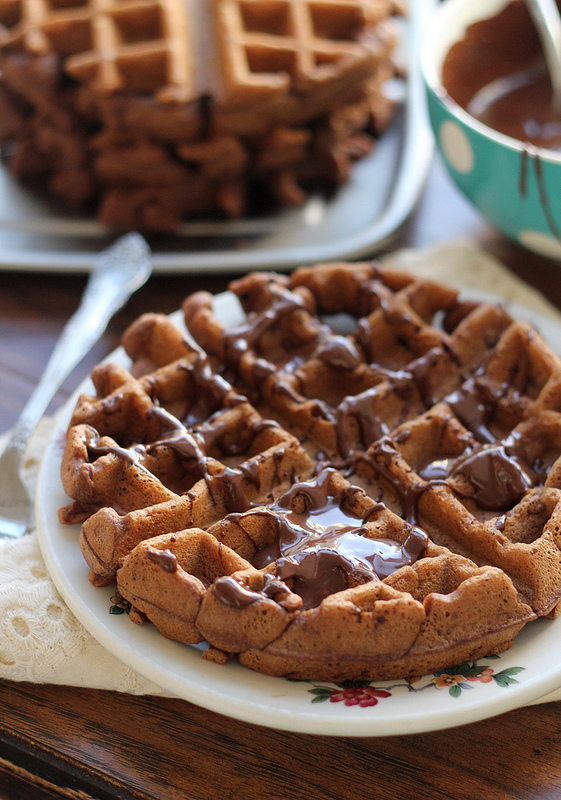 I have a no beer before breakfast policy.
You can thank a Spring Fling at Tufts in my youthful heyday that had me drinking from a keg right as dawn was breaking for that.
(In case you were wondering. Hangovers that set in at 1pm? Sub-optimal.)
And it doesn't help that by the time you turn 26 (and a half!) your body turns on you so that where once you'd be able to pull yourself together enough to make it to dinner that night, now you are out for the count for at least 48 hours.
Not cool, body. Not. Cool.
This is especially tragic come fall when it seems like all the best craft beers come out of hiding: pumpkin, oktoberfest, cider-y, spiced up things that taste like all of autumn jumped into a bottle and had a fiesta in your mouth. And you want to drink ALL OF THEM.
Sigh.
Hence why I was UBER excited when Divine Chocolate and I paired up to bring you both local craft beers AND fair trade feel-good delicious chocolate at every meal. FOR A MONTH. So once a week, I will be sharing chocolate-and-beer infused meal.
Prepare yourself. Things are about to get tasty.
We are kicking it off with breakfast or, as you might know it, "THE MOST IMPORTANT MEAL OF THE DAY".
And what better place to start than with chocolate stout waffles! They are rich, with deep cocoa notes from both Divine's cocoa powder and Brooklyn Brewery's limited edition Black Chocolate Stout. And then I also topped them with a chocolate-peanut butter syrup. Oops. (Not.)
So while they are probably not an every day kind of breakfast choice, when you're looking for something to make your morning a little extra special, these are it.Plus they could totally double as dessert.
Though no judgment if you eat them for breakfast (or…lunch. As we did.)
Disclosure: While I received free products to sample and use in these recipes, I was not compensated for this post and all thoughts and opinions are my own!
Chocolate Stout Waffles with Chocolate-Peanut Butter Syrup
Breakfast goes decadent with these chocolate stout waffles smothered in chocolate-peanut butter syrup.
Ingredients
For the chocolate stout waffles
2 cups all purpose flour
¼ cup cocoa powder
1 teaspoon salt
4 teaspoons baking powder
2 Tablespoons sugar
5 Tablespoons unsalted butter
1 teaspoon vanilla extract
¾ cup milk
1 cup chocolate stout beer
2 large eggs
For the chocolate peanut butter syrup
5.3 oz bittersweet chocolate
⅓ cup smooth peanut butter
pinch of sea salt
Instructions
In a large bowl, whisk together the flour, cocoa powder, salt, baking powder, and sugar. Set aside.
Combine the butter and milk in a pot and simmer until butter is melted.
Make a well in the center of the flour mixture and pour in the milk/butter mix, vanilla extract, beer, and eggs. Whisk until just combined. Let rest in the refrigerator for 20 minutes.
In the meantime, make the chocolate sauce. Combine the chocolate and peanut butter in a microwave-safe bowl. Microwave in 30-second increments, stirring after each one, until chocolate and peanut butter are melted into each other. Stir in the sea salt, to taste.
When the waffle batter is done resting, preheat a waffle iron. Cook according to manufacturer's directions. Drizzle with the chocolate-peanut butter syrup.
Notes
An Eats Well With Others Original