A blueberry breakfast crumb cake that's practically bursting with berry flavor and the best way to wake up in the morning.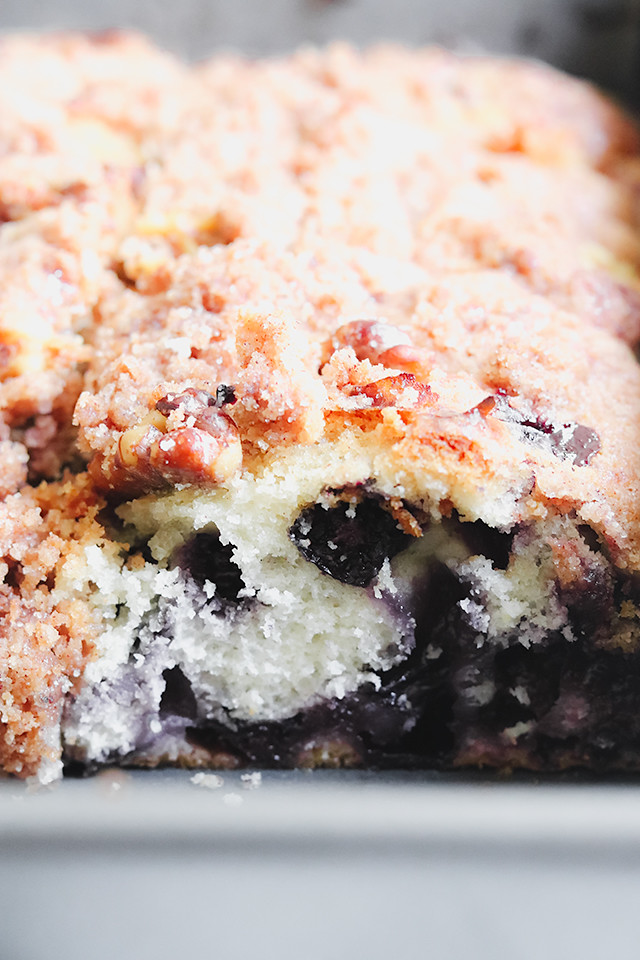 I'm trying to write this while listening to a lecture on diabetes management, WELCOME TO THE IRONY OF MY LIFE.
Basically I tell people not to eat cake all day…and then I come home and eat cake.
It totally makes sense. Really.
But in my defense, if you're someone who likes berries and cake and summer (aka if you have a pulse) then you will LOVE this cake. It's impossible not to.
It comes from the recipe genius of Maida Heatter who is, I don't know, only the QUEEN OF BAKING. She literally wrote critically acclaimed cookbooks well into her ninetieth decade of life and I pretty much want to be her when I grow up.
This cake is positively bursting with blueberries and is somehow incredibly moist and fluffy while only containing half of a stick of butter in its batter. A touch of orange zest brightens up its flavor even more while a rich cinnamon crumb topping will have you licking your plate (and baking pan) clean just to make sure even the tiniest bit doesn't fall by the wayside.
We ate it for breakfast. And dessert. And "just a little slice won't hurt anybody" for a midday snack, an approach that I highly recommend.
Blueberry Breakfast Crumb Cake
A blueberry breakfast crumb cake that's practically bursting with berry flavor and the best way to wake up in the morning.
Ingredients
For the topping
⅓ cup (40 g) sifted all purpose flour
½ cup (100 g) sugar
1 tsp ground cinnamon
2 oz unsalted butter, cold
For the cake
2 cups (240 g) sifted all purpose flour
2 tsp baking powder
½ tsp salt
2 oz unsalted butter, room temperature
1 tsp vanilla extract
¾ cup (150 g) sugar
1 large egg
½ cup milk
finely grated zest of 1 orange
2 cups fresh blueberries
½ cup walnuts, roughly chopped
Instructions
For the topping
Whisk together the flour, sugar, and cinnamon in a small bowl. Using a pastry blender or your fingers, cut the butter into the flour until it resembles course crumbs. Set aside.
For the cake
Heat oven to 375F. Grease a 9-inch square baking pan. Set aside.
In a medium bowl, whisk together the flour, baking powder, and salt. Set aside.
In the bowl of a stand mixer fitted with the paddle attachment, cream together the butter, vanilla, and sugar until light and fluffy, for 3-4 minutes. Add in the egg and beat for another minute or until well combined. Add the flour mixture in three additions and the milk in two additions, alternating between the two and scraping down the sides after each addition. Mix until just combined.
Remove the bowl from the stand mixer and stir in the orange zest and blueberries, mixing only until just combined. Pour the batter into the prepared pan and spread in an even layer.
Sprinkle the walnuts on top of the batter and then top with the crumb topping.
Bake for 50 minutes or until the top has browned. Allow to cool for 30 minutes before serving.