A refreshing heirloom tomato salad with watermelon, feta, and pistachios. It's topped off with a simple red wine vinaigrette and is a perfect light meal on a warm day.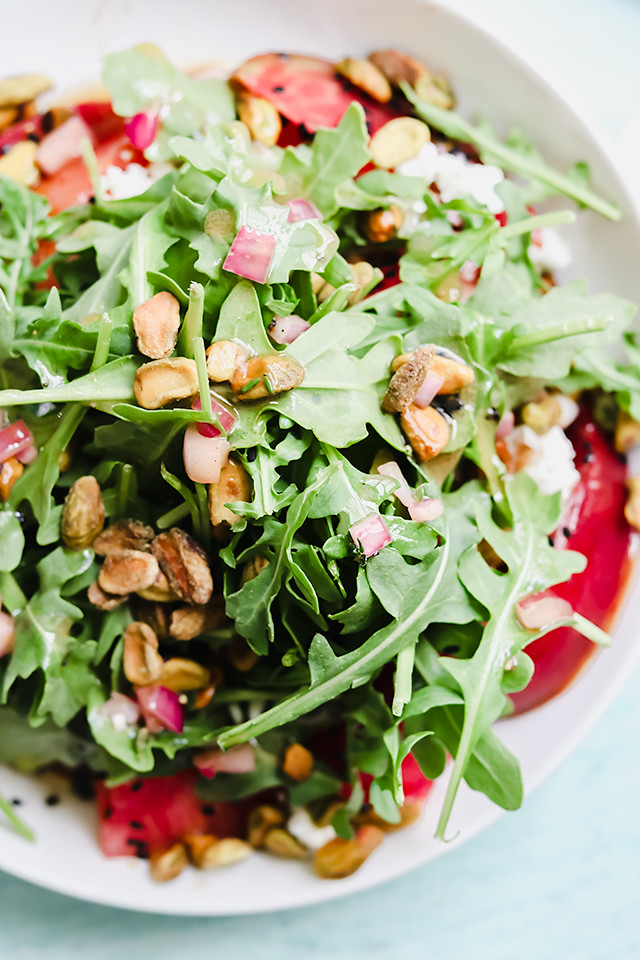 The list of "don'ts" this summer feels like it far outweighs the "dos". I'm trying not to find it disheartening that we won't have any lazy summer days of heading to the playground so Remy (and we) can play in the sprinklers, no spur of the moment trips to the Central Park Zoo (ahem, PUBLIC BATHROOMS).
Even small (masked) bbqs in our parents' backyards feel incredibly stressful to me, as I have to remind the adults to PUT YOUR MASK ON far more often than I do my 4 year old, who somehow seems to get it way more than her grandparents do.
On the flip side we are (knock on wood) healthy, have childcare for the summer figured out (don't ask me about September, mmkay), and have a whole season of summer produce still to consume. WE CAN DO THIS. One day at a time.
Arguably one of the best parts of summer is the ability to make an entire meal of fresh produce without having to turn on the oven.
And no one can take that away from me.
This is one that I actually made at the tail end of last summer, but just ran out of time to post it. It's not exactly the type of thing you want to hear about in October unless, of course, you live on the Equator.
It's a super fresh salad that gets loaded with summer produce and is as easy to throw together as, say, mixing together cereal and milk in a bowl.
Make the dressing ahead of time and you're really golden.
The recipe for this heirloom tomato salad comes from Joanne Chang's sweet-and-savory second cookbook Flour, Too. It's one that I haven't explored much but really should if the recipes are all as good as this.
For this salad, which is filled with fresh heirloom tomato slices, cold watermelon cubes, arugula, salty feta, and crunchy toasted pistachios, she finds inspiration from a local Middle Eastern restaurant and claims to have once eaten all four servings that this makes in one sitting.
Me too, Joanne. Me too.
Heirloom Tomato Salad with Watermelon, Feta, and Pistachios
A refreshing heirloom tomato salad with watermelon, feta, and pistachios. It's topped off with a simple red wine vinaigrette and is a perfect light meal on a warm day.
Ingredients
For the red wine vinaigrette
1 shallot, minced
2 tbsp red wine vinegar
2 tsp lemon juice
2 tsp dijon mustard
1 tsp honey
¾ cup olive oil
½ tsp kosher salt
¼ tsp freshly ground black pepper
½ tsp thyme leaves
For the salad
½ cup shelled pistachios
4-6 medium ripe heirloom tomatoes, cut into ½-inch thick slices
¼ tsp kosher salt
1 cup crumbled feta cheese
2 cups cubed seeded watermelon
4 oz arugula
1 tbsp nigella seeds
Instructions
For the vinaigrette
Whisk together the shallot, vinegar, lemon juice, mustard, and honey in a small bowl until well combined. Slowly drizzle in the olive oil, whisking continuously while you add it. Whisk until it has completely emulsified and combined with the other ingredients. Whisk in the salt, black pepper, and thyme.
For the salad
Toast the pistachios either in the oven or on the stovetop until golden brown. Set aside to cool.
Arrange the tomato slices on 4 salad plates. Sprinkle with the salt and drizzle each serving with 1 tbsp of the vinaigrette. Sprinkle each plate with the feta cheese and then top it with the watermelon. Divide the arugula, pistachios, and nigella seeds among the plates. Drizzle with the remaining vinaigrette. Serve immediately.