A cheesy herbed tomato and gruyere pie filled with roasted cherry tomatoes and basil.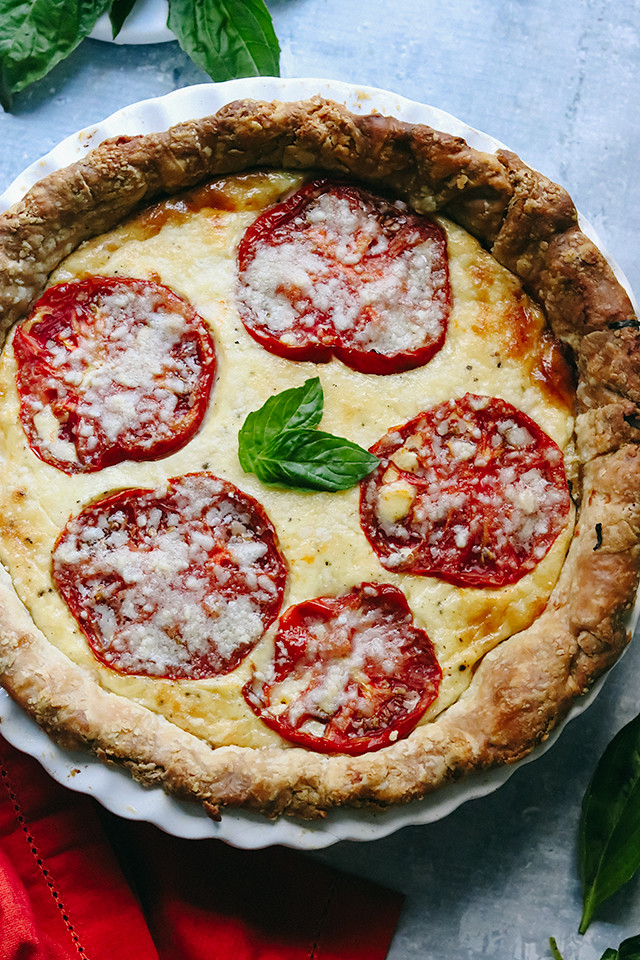 Tomato pie that will change your life!!
And your dinner plans.
Roasted cherry tomatoes, caramelized onions, and basil topped with a cheese layer, then fresh tomato slices, THEN MORE CHEESE.
Let's do this.
Truth talk time: this is my first tomato pie.
I've eternally been turned off by the idea of mayo in my pie + my husband claims to not like "cooked tomatoes" (WHO IS HE), which have been major roadblocks to any tomato pie adventures.
Spoiler alert: this pie contains both. And we still loved it!!
Such a pleasant surprise, and one that I wholeheartedly attribute to the fact that Melissa Clark is a genius and turns any recipe she touches to gold. That's the only possible explanation.
This recipe is from her newest cookbook, Dinner In French, so it's kind of a Frenchified version of a southern classic.
Gruyere in place of cheddar. Creme fraiche swapped in for some of the mayo (and because it's magical). And, what I think is the biggest selling point, a filling of roasted caramelized tomatoes, deeply browned onions, and fresh basil.
It's bright, creamy, cheesy and just so so rich and delicious.
As I said – LIFE CHANGING.
Herbed Tomato and Gruyere Pie
A cheesy herbed tomato and gruyere pie filled with roasted cherry tomatoes and basil.
Ingredients
For the crust
1¼ cups (162 g) all purpose flour
½ tsp kosher salt
pinch of sugar
8 tbsp (113 g) cold unsalted butter, cut into cubes
⅓ cup ice water
For the filling
1 large or 2 small heirloom tomatoes, sliced into ¼-inch thick rounds
¾ tsp kosher salt, divided, plus more as needed
1 pint cherry tomatoes, halved
3 tbsp olive oil, divided
1 tsp fresh thyme leaves
1 tbsp unsalted butter
1 large onion, thinly sliced
2 garlic cloves, minced
1 large egg
4 oz Gruyere or Swiss cheese, grated
⅓ cup (3 oz) creme fraiche
⅓ cup plus 2 tbsp (2 oz) grated Parmesan cheese, divided
⅓ cup (3 oz) mayonnaise
¼ tsp freshly ground black pepper
½ cup fresh basil leaves, chopped
Instructions
For the crust
Whisk together the flour, salt, and sugar in a medium bowl. Cut the butter into the flour mixture either with your hands or a pastry cutter until it is the texture of wet sand and the largest butter piece is about the size of a pea. Slowly pour in the ice water, a few tbsp at a time, and mixing with your hands after each addition, just until the dough comes together. Pat the dough into a disc and wrap in plastic wrap. Refrigerate for at least 1 hour or overnight.
On a lightly floured work surface, roll out the dough to a 12-inch round. Fit the dough to a 9-inch pie plate. Crimp the edges as desired. Use a fork to poke holes all around the bottom and sides of the dough. Chill for 30 minutes and up to 1 day.
When ready to bake, heat oven to 425F.
Grease a piece of foil and use it to line the chilled pie crust, greased side down. Top with pie weights to completely fill the foil. Bake for 15 minutes. Remove from the oven and lift off the foil and pie weights. Return to the oven and bake for another 5-7 minutes, or until just baked through and starting to turn golden on the edges. Allow to cool to room temperature.
For the filling
While the pie crust cools, heat oven to 500F.
Sprinkle the tomato slices with ¼ tsp of the salt and place on a a colander in the sink to drain.
Meanwhile, prepare the rest of the filling. In a medium bowl, toss the cherry tomatoes with 2 tbsp of oil, the thyme, and ½ tsp salt. Spread on a parchment-lined baking sheet and roast for 12-15 minutes, or until the tomatoes are caramelized.
While the tomatoes are roasting, heat the remaining 1 tbsp of olive oil and the butter in a medium skillet over medium-high heat. Stir in the sliced onion along with ap inch of salt. Cook until the until is lightly browned, about 7-10 minutes. Stir in the garlic and cook until fragrant, about 1 minute. Scrape the mixture into a bowl.
In a separate bowl, whisk together the egg, gruyere, creme fraiche, ⅓ cup parmesan cheese, mayonnaise, salt, and black pepper. Set aside.
Add the roasted cherry tomatoes into the bowl with the onion mixture along with the basil. Toss until combined. Season to taste with salt and black pepper, then pour into the par-baked pie crust. Top with the cheese mixture. Pat the tomato slices dry and then place them on top of the cheese. Sprinkle with the remaining 2 tbsp of parmesan cheese.
Decrease the oven temperature to 375F. Bake the pie for 30 minutes, or until the filling is golden. Allow to cool slightly then serve warm or at room temperature.