Both fresh and dried cherries make these double cherry Greek yogurt scones to absolutely burst with fresh sweet fruity flavor.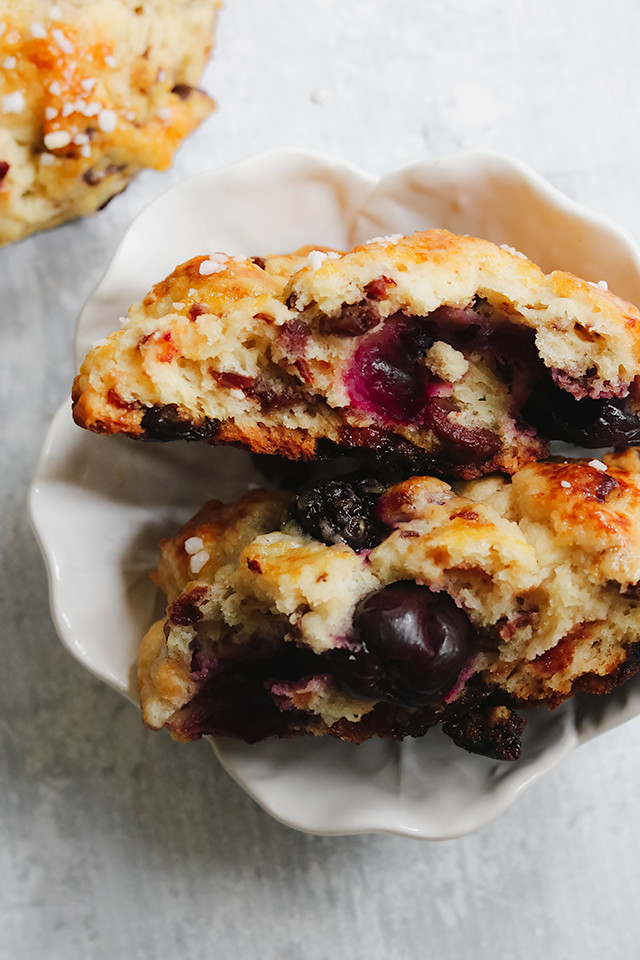 Moving on from my rhubarb obsession to my next summer fruit love – CHERRIES.
I want to eat them in the morning, at night, for breakfast, to snack on…basically all the time.
Unfortunately there's only approximately two weeks of the year when they're not a gazillion dollars a pound, so I really have to narrow down my consumption to those 14 days. Good thing there's no such thing as a cherry overdose or I would be in trouble.
If you too are a card carrying member of Cherry Addicts Anonymous, then you NEEEEEEEEED to try these scones.
They feature both dried and fresh cherries so they're absolutely bursting with juicy cherry flavor.
These come together pretty quickly in your stand mixer, so you can get your cherry fix without having to expend too much energy.
Due to the inclusion of creme fraiche and Greek yogurt in the batter, they're a bit more cakey than you're average scone but in my opinion that's a good thing.
Always up for cake for breakfast. (You can put that on my tombstone.)
Double Cherry Greek Yogurt Scones
Both fresh and dried cherries make these double cherry Greek yogurt scones to absolutely burst with fresh sweet fruity flavor.
Ingredients
2¾ cups (385 g) all purpose flour
1 cup (200 g) dried cherries
⅓ cup (70 g) sugar
1½ tsp baking powder
½ tsp baking soda
½ tsp kosher salt
½ cup (115 g) butter, cold
½ cup (120 g) buttermilk
½ cup (120 g) creme fraiche
½ cup (120 g) full fat Greek yogurt
1 large egg, room temperature
2 tsp grated lemon zest
1 tsp vanilla extract
8 oz (225 g) whole sweet dark cherries, pitted
1 large egg yolk, for egg wash
2 tbsp sanding sugar or pearl sugar, for garnish
Instructions
Heat oven to 350F. Line a baking sheet with parchment paper and set aside.
Meanwhile, mix the flour, dried cherries, sugar, baking powder, baking soda, and salt in the bowl of a stand mixer fitted with the paddle attachment on low speed until combined. Cut the butter into 8-10 pieces and add it to the flour. Mix for 20-30 seconds on low, or just until the butter is starting to break down.
In a separate medium bowl, whisk together the buttermilk, creme fraiche, Greek yogurt, egg, lemon zest, and vanilla. Start the mixer running on low and then slowly pour the liquid mixture into the batter. Once it has all been added, mix for another 10-15 seconds or until just combined and the dough starts to come together.
Add the fresh cherries to the mixer and fold it in with your hands, picking up any loose flour at the bottom of the bowl and incorporating it into the batter.
Scoop the batter onto the prepared baking pan in baseball-sized balls of dough so that you have eight scones. Whisk the egg yolk in a small bowl and brush it onto the top of the scones. Sprinkle with the sanding or pearl sugar.
Bake for 30-40 minutes, rotating the baking sheet midway through, or until the scones are browned all over and firm to the touch. Allow to cool for 30 minutes before serving.