Sweet and spicy join forces in these addictive ancho honey roasted sweet potato and black bean tacos.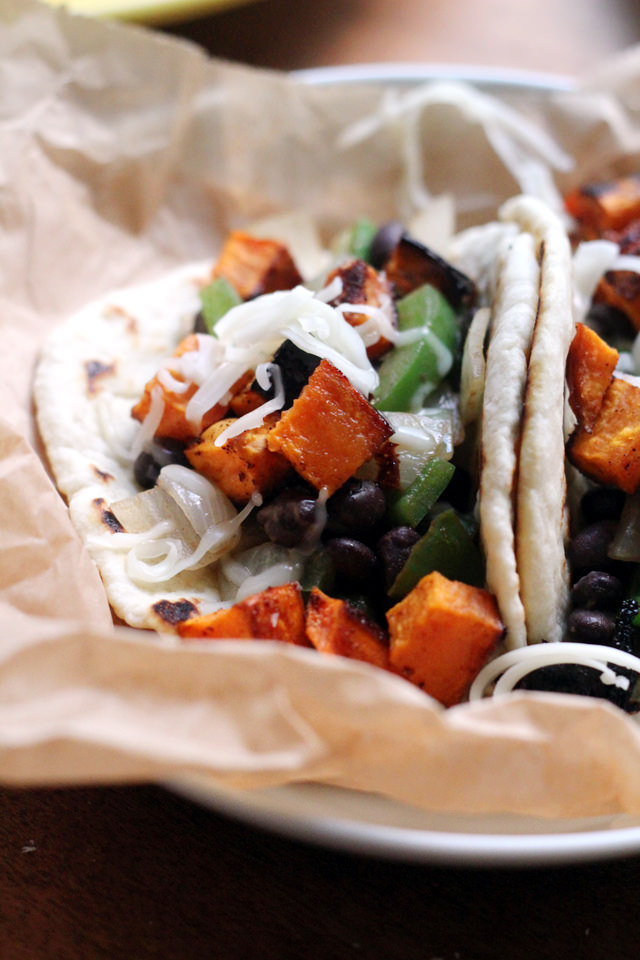 It's only right that we kick off this new era of "recipes for people who don't want to spend 3 hours in the kitchen every night" with TACOS.
AKA the ultimate "anything goes" meal.
AKA my weeknight meal S A V I O R.
Also, it was National Taco Day this past Sunday, which was when I originally made these. Soooooo not intentional because I don't have my life together like that, but kismet nonetheless.
It's only taken me 28 years, but I'm finally beginning to realize that the answer to many of life's dinner stress problems is PREP.
You've already discovered this?!? I thought so.
Basically, if I think I'm going to crave roasted sweet potatoes all week (<– always), then I should probably spend my Sunday downtime roasting a week's worth of sweet potatoes so that on Tuesday at 8pm when I don't feel like turning on my oven, I don't end up curled up on my couch in fetal position crying.
Not that that has ever happened.
(Okay, maybe five times.)
Lately, I've taken to roasting my sweet potatoes with a sweet spicy blend of Tate+Lyle® Honey Granules and ancho chili powder. The honey granules, which are a blend of cane sugar and honey, melt in the oven and caramelize, enhancing the natural sweetness of the sweet potatoes with delectable honey flavor. And the spice against the sweet is just a flavor explosion waiting to happen.
Paired with a simple saute of smoked paprika spiced bell peppers, onions, and black beans, this is a taco filling worth it's salt.
And worth it's slot in your weeknight dinner rotation. For realsies.
Tate+Lyle® Honey Granules are EXTREMELY versatile and can be used in sweet as well as savory recipes. Try them as a sugar substitute in your favorite baked good or as a fluid honey replacement! They can be substituted 1:1 for sugar and fluid honey, just make sure to add an extra 1/4 cup of liquid when 1 cup of fluid honey is being removed.

Ancho Honey Roasted Sweet Potato and Black Bean Tacos
Sweet and spicy join forces in these addictive ancho honey roasted sweet potato and black bean tacos.
Ingredients
3 tbsp olive oil, divided
1 lb sweet potato, peeled and cut into ½-inch dice
2 tbsp Tate+Lyle Honey Granules
1 tbsp ancho chili powder
salt and black pepper, to taste
1 onion, chopped
1 green bell pepper, chopped
1 (15 oz) can black beans
1 tsp smoked paprika
½ lb mozzarella or cheddar cheese, grated
12 corn or flour tortillas
Instructions
Heat oven to 450F.
Toss the sweet potato cubes with 2 tbsp olive oil, the honey granules, and the chili powder. Spread on a parchment-lined baking sheet and season with salt and black pepper. Roast for 20-30 minutes, or until tender.
Meanwhile, heat the remaining tbsp of olive oil in a large nonstick skillet over medium heat. Add the onion and bell pepper to the pan and cook for 3-4 minutes. Add the black beans, smoked paprika, and salt and black pepper, to taste. Cook until warmed through, 2-3 minutes.
Warm the tortillas slightly until soft. Fill with the bean mixture, sweet potatoes, and grated cheese.
Notes
An Eats Well With Others Original
I was selected for this opportunity as a member of Clever Girls and the content and opinions expressed here are all my own.