Sweet and spicy tofu noodles filled with fresh, crisp vegetables and shallow fried tofu. An easy weeknight meal!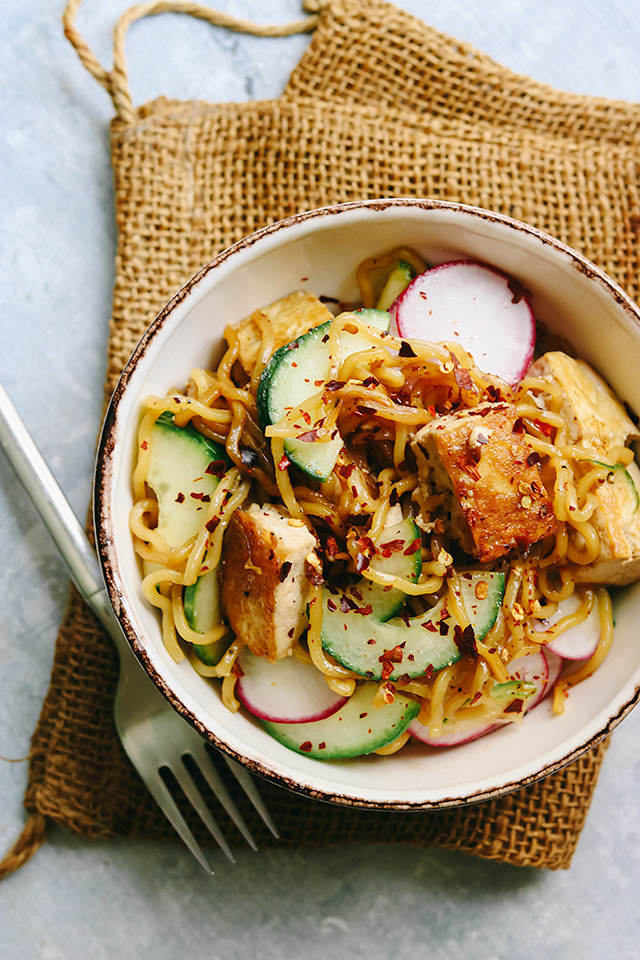 Give me a big bowl of sweet spicy salty crispy crunchy chewy noodles and I'm one happy gal.
Tell me it can be made in less than 30 minutes on a weeknight and I'll be EXUBERANT.
We need more meals like this in the world, and pronto.
Here's the breakdown:
Shallow fried tofu cubes that are perfectly crispy on the outside, soft on the inside are tossed with chewy fresh ramen noodles (I used these, not sponsored I just love them), a sweet and savory soy-brown sugar sauce, and raw veggies. It's quick, it's easy, it's kid-tested (and approved), and it's delicious!
In full disclosure, frying tofu is one of the complete and total banes of my existence, so make sure if you're going to do it that you have a good nonstick skillet. In theory once the tofu has fried enough to form a crust, it should pop right off the pan but that has not been my true life experience with it. Cook with caution (and/or a lot of curse words).
If you're not super into tofu, this would also be great with chicken, salmon, or even a hard boiled egg. Pick your protein and get cooking!
Sweet and Spicy Tofu Noodles
Sweet and spicy tofu noodles filled with fresh, crisp vegetables and shallow fried tofu. An easy weeknight meal!
Ingredients
1.5 lb extra firm tofu, drained
2 tbsp canola oil
2 tbsp sesame oil
10 oz fresh ramen noodles
4 garlic cloves, minced
1 (1-inch) piece of ginger, thinly sliced
1 small bunch of scallions, whites and greens separated, cut into matchsticks
⅓ cup tamari or soy sauce
3 tbsp dark brown sugar
1 tsp black pepper (or to taste)
pinch of red pepper flakes
1 large English cucumber, seeded, quartered and thinly sliced
4 radishes, thinly sliced
Instructions
Cut the tofu into 1-inch cubes. Heat a large cast iron or nonstick skillet over medium-high heat. Add the canola oil and 1 tbsp of the sesame oil to the pan. Once hot and shimmering, add the tofu in a single layer and fry on all sides, turning as needed, until golden. Remove to a paper towel-lined plate and repeat with remaining tofu. Set aside.
Cook the ramen according to package directions. Drain and rinse in cold water to prevent the noodles from sticking. Set aside.
Add the remaining tbsp of sesame oil, garlic, ginger, and scallion whites to the pan that you cooked the tofu in. Decrease the heat to medium and cook until fragrant, about 1 minute.
Add the noodles to the pan along with the soy sauce, brown sugar, black pepper, and red pepper flakes. Toss until the noodles are completely coated in the sauce. Toss in the tofu, cucumber, radish, and scallion greens. Serve warm or at room temperature.