Summer doesn't have to mean an end to warm cozy meals! This Calabrese-inspired romano bean and potato ragout is made with seasonal vegetables and familiar flavors – the ultimate feel-good food. 
This post was sponsored by Pompeian. As always, my thoughts and opinions are my own. Thank you for supporting the brands that keep me inspired in the kitchen.
This is the one time in your life when someone is going to give you permission to fight fire with fire.
And by that I mean 90 degree weather with 90 degree stew. Plus red pepper flakes.
Plus I want to bathe in a hot tub full of this. <–Normal reaction.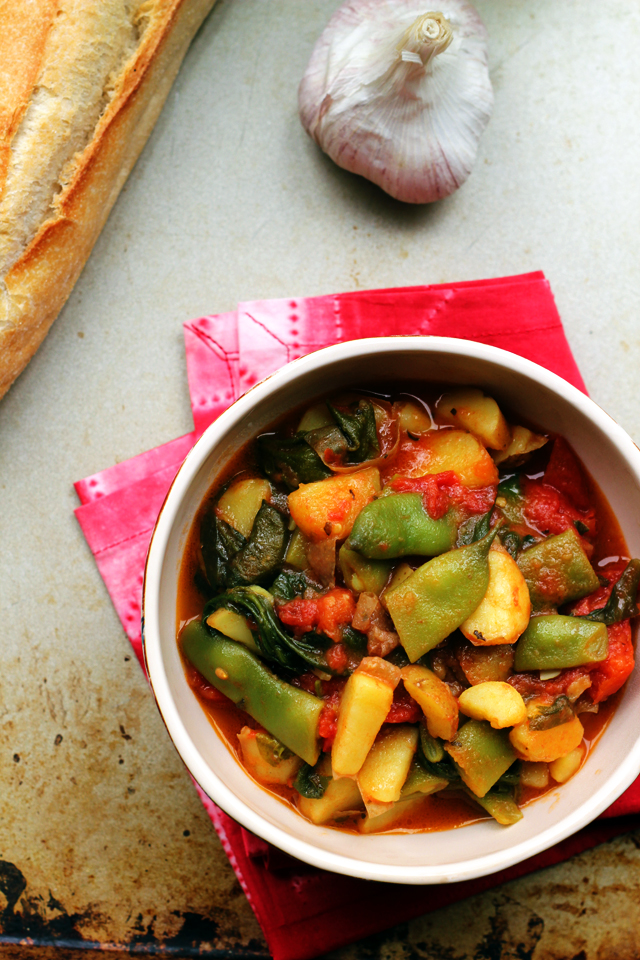 I got a big bag full of Romano beans in my CSA last week and at first they incurred some MAJOR head scratching because AN ITALIAN BEAN?! That I've never heard of?!
How could this be possible.
I still have no answers for these rhetorical questions, but after a lot of pacing and an inappropriate amount of interweb searching, I can at least tell you that apparently Romano beans are the pride and joy of the Italian bean scene. They're kind of like green beans, but flatter and heartier.
And they stew really well.
(Sources: Google, Wikipedia, My Kitchen)
Yes, I get that it is ninety million degrees where you are, but simple stews like this are perfect for summer eating because they really let the produce of the season shine. However, this is also a double-edged sword in that, because the ingredients are so few, you really have to make sure that each one is of good quality; even one off-flavor component can ruin the whole pot. All of the veggies I used in this dish were locally sourced, which made them as fresh as possible at the exclusion of me actually heading over to the farm to pluck them off a tree that very day.
And then there was the olive oil.
Olive oil has always been a bit of a head scratcher for me because at the grocery store there always seems to be about a million bottles with no discriminating information about what distinguishes the extra virgin olive oil from the cold pressed extra virgin olive oil from the extra extra virgin olive oil with a cherry on top, nor is there a blinking neon arrow pointing to the one I should bring home with me. Bummer.
I still don't claim to be an expert, but with a little help from my friends over at Pompeian, at least I now know how to taste it properly! They hosted a webcast recently for all of us Pompeian #PantryInsiders, along with one of their top olive oil experts, Dr. Luisito Cercaci, where they schooled us in the fine art of olive oil tasting. And because I am an olive oil enthusiast, and I want everyone to have only positive experiences with olive oil always, I shall share my knowledge. <3
First, you want to make sure your olive oil is warm. To do this, you can pour the amount that you want to use for your tasting into a small cup and warm it up in your hands. This allows the flavors of the olive oil to really come alive and ripen. Next, you want to smell the olive oil for a good 10-15 seconds, trying to take in just how fruity it is. Some olive oils will have more floral notes, some will be fruity, some will be grassy – each one is special in its own way. Finally, the actual TASTING! To really taste olive oil, you have to take a few sips into your mouth and then sweep it around your tongue while making this very cool slurping sound. This will help you to characterize the bitterness of the oil. Different oils can have very different flavor profiles, and because of this, they each have their own niche for what they are best used for. For this stew in particular, I used Pompeian's Arbequina Varietal, which has a very fruity smell and a delicate bittersweetness, redolent of nuts such as almonds. These flavors pair perfectly with a big bowl of veggies and compliment the sweet notes that they bring to this stew.
On that note.
Who's going hot tub stew bathing with me?
You know you want to.

Calabrese Romano Bean and Potato Ragu
Summer doesn't have to mean an end to warm cozy meals! This Calabrese-inspired romano bean and potato ragout is made with seasonal vegetables and familiar flavors - the ultimate feel-good food.
Ingredients
1 lb romano beans or string beans
24 oz fingerling potatoes
½ cup Arbequina extra virgin olive oil, divided
2 garlic cloves, thinly sliced
sea salt and freshly ground black pepper, to taste
1 cup water
1 tsp red pepper flakes
1 tsp dried oregano
1 lb spinach, washed and dried
28 oz canned whole tomatoes
Instructions
Cut each bean into three pieces, crosswise. Set aside. Cut the potatoes in half lengthwise and then cut crosswise into ¼-inch slices.
Put the potatoes in a large pot and cover with cold water. Bring to a boil and then simmer for one minute. Drain.
In a large pot, heat ¼ cup olive oil over medium heat. Add in the potatoes and saute until tender and starting to brown, about 10 minutes. Stir in the garlic and salt, to taste. Cook for a minute, then remove the potato mixture to a bowl and set aside.
In the same pot, heat the remaining olive oil along with the water. Stir in the romano beans, red pepper flakes, and oregano. Cook until the beans are tender, about 10 minutes. Stir in the spinach and cook until wilted.
Pour potatoes and the juice from the tomatoes into the pot, and then crush the whole tomatoes with your hand as you add them to the pot. Cook until tomatoes start to break down and mixture starts to thicken, about 10 minutes. Season to taste with salt and pepper, and then serve warm.
Notes
Adapted from
Bottega: Bold Italian Flavors from the Heart of California's Wine Country
For more summer stews, check out these: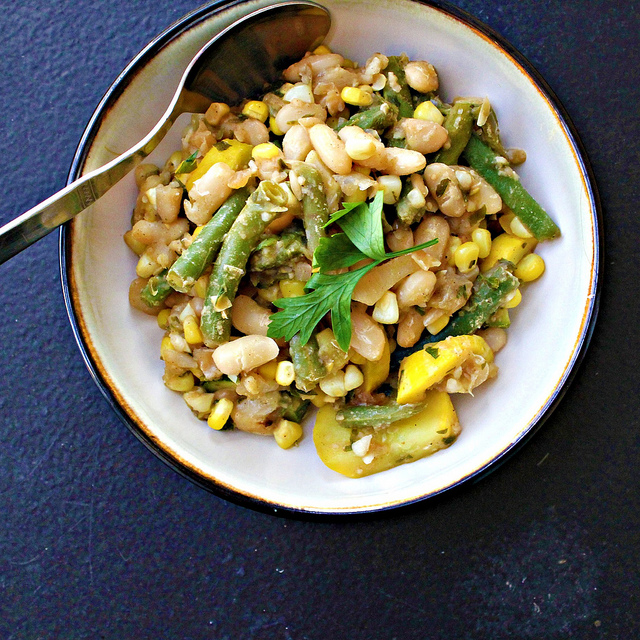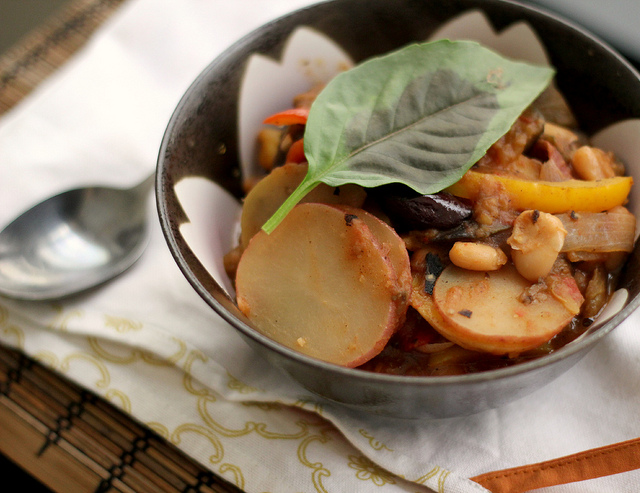 Summer Potatoes Stewed with Eggplant, Peppers, and Olives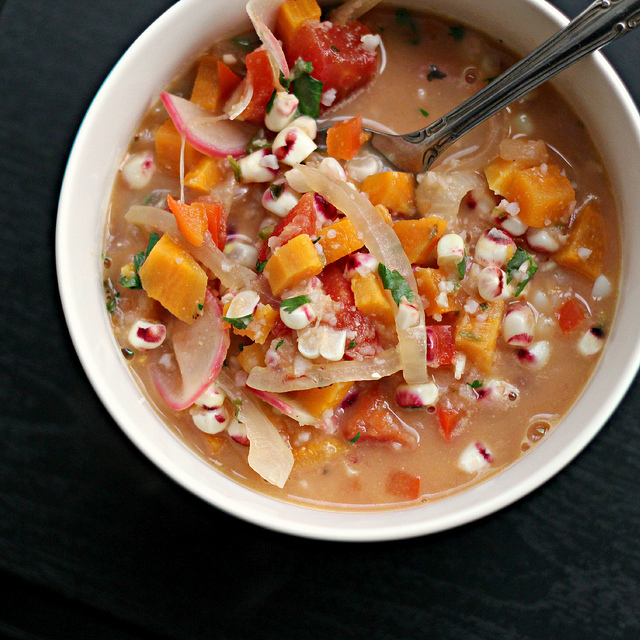 From Around the Web:
Summer Vegetable Curry from 101 Cookbooks
Tomato Artichoke Lentil Stew from A Couple Cooks
Country-Style Vegetable Stew from Dana Treat
Vegetarian Tortilla Soup from Cookie + Kate
Chilled Carrot Soup with Scape-Pistachio Pesto from Healthy Delicious