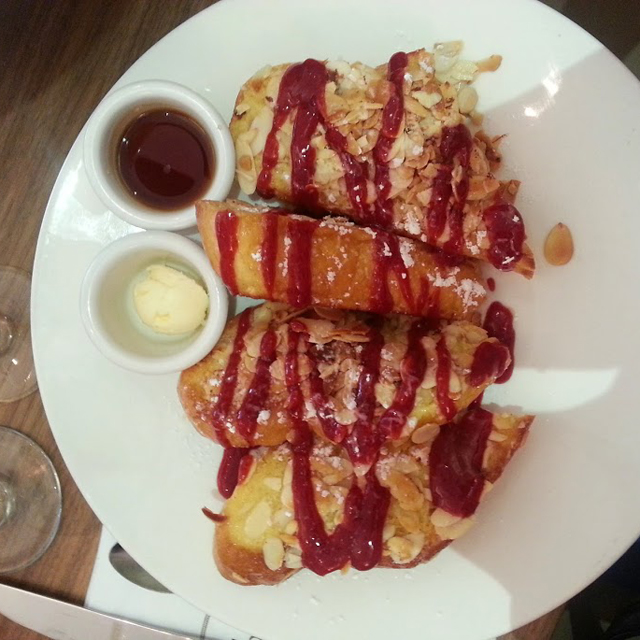 1. Apparently the only way I can be coerced into doing wedding related stuff is with bribery. In the form of Sarabeth's almond-crusted French toast and a triple berry mimosa. I know you don't blame me.
2. On a somewhat related note, someone actually let me loose in Macy's with one of those scanner thingies. If you are wondering how many Fiestaware plates I registered for and in how many colors, the answers are "many" and "all of the above".
3. I may or may not have planned the color scheme of my dinnerware around the colors of my stand mixers. (Yes, I have two. In an NYC apartment. I hate me, too.)
4. There is also a set of All Clad copper core pots and pans with my name on it in an inventory facility somewhere, courtesy of my grandmother-in-law. Can it be my bridal shower yet?!?
5. Can we discuss kiwis?! And how I spent my whole life thinking I was allergic to them because whenever I ate them as a child my tongue went numb. And then I ate one yesterday (because I like to test my limits) (don't worry, I made sure there was a hospital within a one block radius before I did it) and nothing happened. NOTHING. Other than me falling back in love with kiwis.
6. I really hope this happens with puppies someday too.
7. But…what should I DO with all these kiwis that I have now impulse purchased because I am obviously cured of my allergies and therefore must make up for 27 years of lost time?!
8. If there is no hot water for the fifth day in a row when I go to shower tomorrow. You should probably say a prayer for the maintenance people in my building. Okay, maybe two prayers.
9. I am always super impressed by the fortitude of those who fast for an ENTIRE MONTH during Ramadan…but especially when Ramadan falls during the dog days of summer when it is FOREVER until sundown. Never one to NOT help a girl out, I guest posted for Meriem of Culinary Couture because she is observing this month. Summer Naan-wiches with Feta White Bean Hummus. You won't even have to turn on an oven. Get it!