This roasted eggplant and swiss chard lasagna is filled with vegetables but has just the right amount of cheese to make it taste like comfort food. A perfect balance!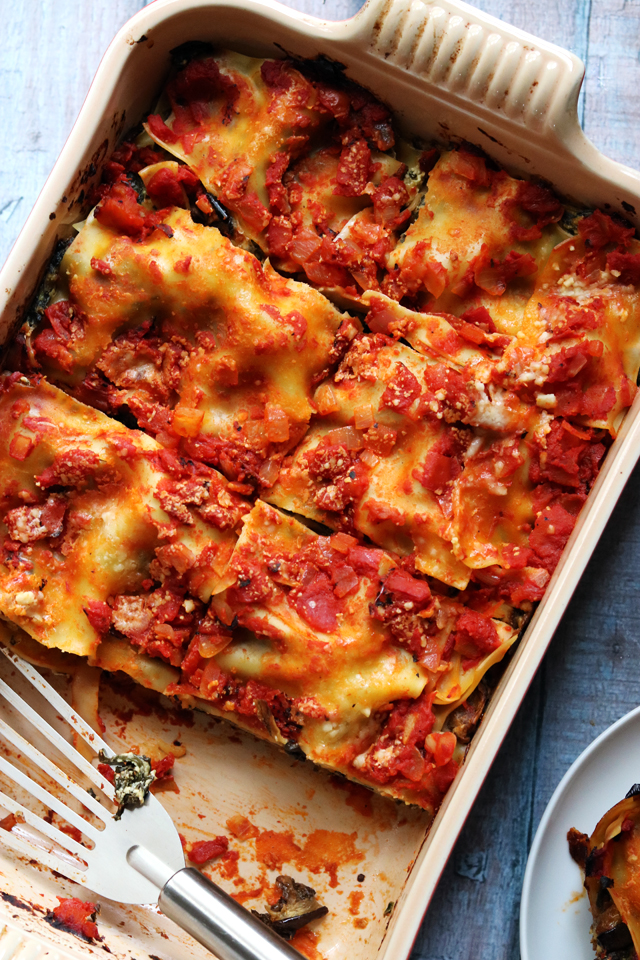 Can I tell you what feels really satisfying?
When you sneak not one, but two least favorite vegetables into a meal and the whole family eats it. WITHOUT COMPLAINTS.
Unheard of.
(Until now.)
And I use the term "sneak" really loosely since I'm actually not a fan of surreptitious vegetable consumption. I'm more the type to hover over my family members while they eat while shrieking, "See! I knew you liked "insert random produce item here". It's not annoying at all, really.
In the case of this lasagna, the veggies are totally there! In plain sight!
I'm sure that if I had tried to hide them my child (and my husband) would have refused to eat it. They are super confusing in that way.
Also really satisfying?
Having a huge casserole of a healthy-ish (but still comfort-full) dinner ready to go in the fridge.
Yes, it takes a little bit of legwork to get it done but once you get there, you have dinner for 4 days with about an hour of effort.
#workingmomwin
So how does this work?
First you salt your eggplant for 30 minutes to help reduce any excess bitterness. You can skip this step if you're using super fresh eggplant, but most of us who are getting it from the supermarket should probably just do it. It then gets roasted while you do all of the rest of the prep, including: noodle parboiling, swiss chard sauteeing, and ricotta filling mixing.
Next comes the alternating layering of noodles with all of the filling options mentioned above plus two kinds of cheese (mozzarella and pecorino, FTW!).
Cover with foil, pop it in the oven, and put your legs up.
You just cooked a veggie-filled dinner that everyone will eat!!! YOU EARNED IT.
Roasted Eggplant and Swiss Chard Lasagna
This roasted eggplant and swiss chard lasagna is filled with vegetables but has just the right amount of cheese to make it taste like comfort food. A perfect balance!
Ingredients
1 lb dried lasagna noodles
2 cups tomato sauce
1½ lb eggplant, sliced cross-wise ¼-inch thick
3 tbsp olive oil, divided
2 tbsp butter
½ onion, diced
3 garlic cloves, minced
1½ lb chard, stems removed and leaves thinly sliced
½ cup dry white wine
1 cup ricotta
1 large egg
¾ cup pecorino romano
8 oz fresh mozzarella, thinly sliced and torn into small pieces
Instructions
Spread the eggplant slices out on two baking sheets in a single layer. Sprinkle with salt and let sit for 30 minutes, then blot dry.
Meanwhile, bring a large pot of water to a boil and parboil the lasagna noodles until al dente. Drain and set aside.
Heat oven to 400F. Brush the tops of the eggplant slices with olive oil (about a tbsp total). Bake for 30 minutes. Chop coarsely.
While the eggplant roasts, heat 2 tbsp of the olive oil and the butter in a large skillet. Add the onion and garlic and saute for 3 minutes over medium heat. Stir in the chard and sprinkle with ½ tsp salt. Cook until wilted, about 5 minutes. Stir in the wine and then cover the pot. Cook until the chard is tender and the liquid has evaporated, about 10 minutes. Remove the chard mixture to a cutting board and finely chop it.
In a medium bowl, stir together the ricotta with ⅓ cup water, the egg, and the chard. Season to taste with salt and black pepper.
Grease a 9x13-inch baking dish with oil. Spread 1 cup of the tomato sauce over the bottom and then cover it with a layer of the pasta. Top with a quarter of the pecorino, eggplant, ricotta mixture, and mozzarella. Add another layer of pasta and then repeat for three more layers. End with a layer of pasta and then top with the remaining cup of sauce. Cover with aluminum foil and bake for 30 minutes. Remove the foil and bake for an additional 5-10 minutes. Allow to rest for 5-10 minutes before cutting and serving.