Crunchy tortilla-crusted salmon sliders topped with avocado and a spicy chipotle crema.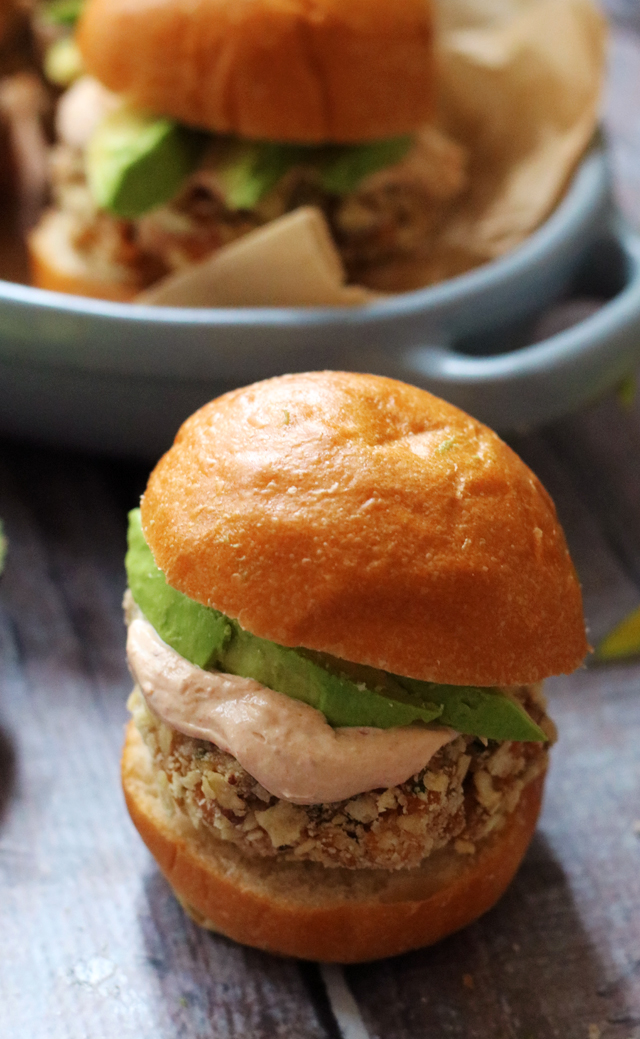 So there's a Superbowl or something this weekend?
I'll be working (<– SHOCKER) so maybe that's why I've been a little bit oblivious to it all. (Also, football = not my thang.) Part of me (okay, all of me) hopes that people will be so focused on the game that they'll be less inclined to come to the hospital…but probably if they're sick enough to require ICU level care then they'll be coming regardless.
In other news, I only have three 27 hour calls left!!!
The countdown starts NOW.
Okay, but if I were going to be home for the Superbowl, I would totally be making these sliders for dinner.
Crunchy spicy tortilla-crusted salmon burgers in mini form topped with avocado slices and a creamy chipotle crema.
They basically scream P A R T Y.
Those adorable slider buns, tho.
I kind of want to hug them.
Or shove them in my mouth in one bite.
These would also be awesome with a thick layer of guac on top in place of the sliced avocados, if you're making it anyway. Or melty pepperjack cheese. Or both.
Build-your-own-tortilla-salmon-slider bar? I like the way you think.

Tortilla-Crusted Salmon Sliders with Chipotle Crema
Crunchy tortilla-crusted salmon sliders topped with avocado and a spicy chipotle crema.
Ingredients
For the sliders
1 cup tortilla chip crumbs
1 pound boneless, skinless salmon filet
1 shallot, minced
2 garlic cloves, minced
1 large egg
⅓ cup seasoned bread crumbs
1 tablespoon adobo sauce from a can of chipotle peppers in adobo
½ teaspoon chipotle chili powder
½ teaspoon smoked paprika
½ teaspoon ground cumin
½ teaspoon salt
½ teaspoon black pepper
2 tablespoons chopped fresh parsley
3 to 4 tablespoons olive oil
8 slider buns
2 cups butter lettuce
2 avocados, sliced
For the chipotle crema
½ cup greek yogurt or sour cream
1 chipotle pepper
1 teaspoon adobo sauce
Instructions
Spread the tortilla crumbs out on a large plate. Set aside.
Cut the salmon fillet into large chunks and then place in the food processor. Pulse until it is in smaller pieces but not completely ground. Remove it to a large bowl and then mix in the shallot, garlic, egg, bread crumbs, adobo sauce, chili powder, smoked paprika, cumin, salt, pepper, and parsley. Stir to combine. Form the salmon mixture into 8 sliders.
Bread each slider with the tortilla crumbs so that they are completed coated.
Heat 2 tbsp of the olive oil in a large nonstick skillet over medium heat. Add half of the sliders to the pan and cook until golden brown, about 2-3 minutes per side. If needed, turn down the heat to low and cover the skillet, then cook for another minute or two to ensure the salmon gets cooked through. Add the remaining oil to the pan and repeat with the remaining sliders.
To assemble the sliders, top each bun with a slider, a layer of lettuce, some avocado slices, and the chipotle crema. Serve immediately.
For the chipotle crema
Add the yogurt, chipotle pepper, and adobo sauce to the bowl of a food processor. Puree until smooth. Season to taste with salt and black pepper.