Babkallah is a decadent chocolate swirled loaf that is a mash up of babka and challah breads. Perfect for special occasions or weekend mornings.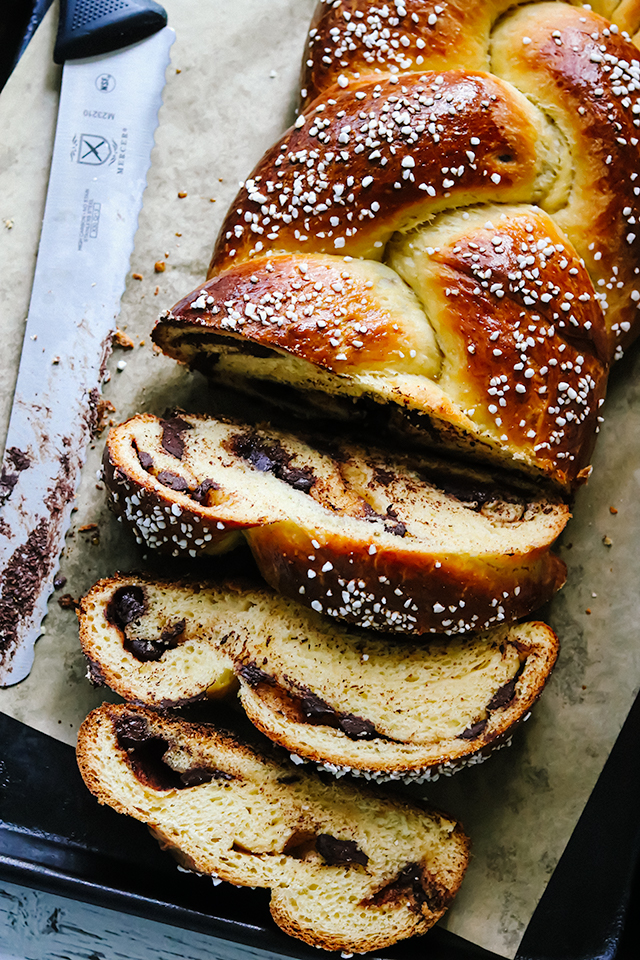 Oh, you don't spend your days wondering what would happen if your favorite loaves of bread could walk, talk, date, meet, and get married?
Weird.
Well, even if you don't have questions, I HAVE ANSWERS.
At least for babka and challah, two of the arguably best enriched dough breads on this earth. 
Let's just say they make really cute babies. I can hardly handle it.
This hybrid loaf is the brain child of Claire Saffitz, and it first appeared in Bon Appetit in the fall of 2014 and then again in her cookbook, Dessert Person, that was published in 2020. 
It combines airy and rich challah dough with babka's chocolate-cinnamon swirls to make one loaf that is decadent and worthy of special occasions (or, you know, weekend breakfasts). It's one of those breads where you will keep going back for "just one more slice", only to find that you've somehow eaten the whole loaf in one morning.
Its really delicious on its own, but I would bet that it also makes for some out of this world French toast.
To start, you'll make an enriched yeast dough, which basically means a dough that is infused with eggs, butter, and sugar. You can make it by hand or using the stand mixer, whichever seems easier to you.
After mixing, the dough will rise until it doubles in size, about 2 hours in a warm spot.
While it's rising, you can prepare the filling, which is a simple mixture of chopped chocolate, cinnamon, brown sugar, and salt. If you're feeling lazy, you can just use a chocolate spread (think nutella) or a storebought jam for the filling.
Once the dough has risen, you'll divide it into three equal portions and shape each portion into a long skinny rectangle. The rectangles get brushed with butter and the chocolate-cinnamon mixture is sprinkled on top. Each dough portion is rolled into a spiral and then the chocolate-swirled ropes are braided together to form this traditional challah shape. 
The dough rises once more, then it's brushed with egg wash and topped with sugar crystals (I used pearl sugar but demerara sugar is another great option) before popping it into the oven. After baking it will be a gorgeous deep brown hue. 
Since the loaf does need quite a bit of rising time, I recommend making it the day before you plan on eating it so that it's ready to go in the morning. As with most loaves, it will have a better texture if you let it cool completely before cutting into it, and that will be very hard to do if you're waiting hungrily nearby.
We let it cool overnight and it was still fresh and perfect the next morning!
Babkallah
Babkallah is a decadent chocolate swirled loaf that is a mash up of babka and challah breads. Perfect for special occasions or weekend mornings.
Ingredients
For the dough
½ cup (113 g) whole milk
2.25 tsp active dry yeast
⅓ cup (70 g) sugar
4 large egg yolks
1 tsp vanilla extract
3 cups (390 g) all purpose flour
1 tsp Diamond Crystal kosher salt
4 oz (113 g) unsalted butter, room temperature
Filling and Assembly
6 oz (170 g) semisweet chocolate, finely chopped
⅓ cup (65 g) packed brown sugar
1½ tsp cinnamon
pinch of kosher salt
4 tbsp (57 g) unsalted butter, melted and cooled
1 large egg, beaten
pearl sugar, for sprinkling on top
Instructions
For the dough
Warm the milk on the stovetop over low heat until it's about 105F. Pour into a large bowl. Whisk in the yeast until it is dissolved, then let it rest until the yeast becomes foamy, about 5-10 minutes. This will indicate that the yeast is active and ready to rise. If the yeast never foams up then discard and start again with new yeast.
Add the sugar, egg yolks, and vanilla to the yeast mixture. Whisk to combine. Add in the flour, salt, and butter. Mix with a wooden spoon (or your hands) until a rough dough forms. Turn the dough onto a lightly floured work surface and knead for 8-10 minutes, or until smooth. (Alternatively, you can knead it in a stand mixer fitted with the dough hook on medium speed for 5-8 minutes.)
Place the dough in a large greased bowl. Cover with plastic wrap and allow to rise in a warm place until doubled in size, about 1.5-2.5 hours.
For filling and assembly
In a small bowl, stir together the chocolate, brown sugar, cinnamon, and salt.
Once the dough has risen, turn it out onto a clean work surface. Divide it into three equal pieces. Shape each dough piece into a rope that's about 12 inches long. Roll each piece into a 12x6-inch rectangle.
Brush each dough rectangle with the butter. Sprinkle with the chocolate mixture, dividing it evenly among the 3 portions of dough, leaving a ½-inch border along one long edge of the dough. Starting on the long edge without the clean border, roll each rectangle to form a spiraled log. Pinch the seams to seal.
Place the logs seam side down on a parchment-lined baking sheet. Pinch all three logs together at one end and then braid them. Pinch the opposite ends together to seal the braid together. Tuck both dough ends underneath the braid. Cover loosely with plastic wrap and let rise in a warm place until it is 1.5x its original size, about 1-2 hours.
Meanwhile, heat oven to 350F.
When ready to bake, brush the braid with the egg. Sprinkle with the pearl sugar. Bake until the bread is a deep brown, about 35-45 minutes.
Allow to cool completely on a wire rack before cutting.