An antipasto pasta salad that takes all of the vegetarian components of an Italian antipasto platter and combines them in one delicious pasta dish!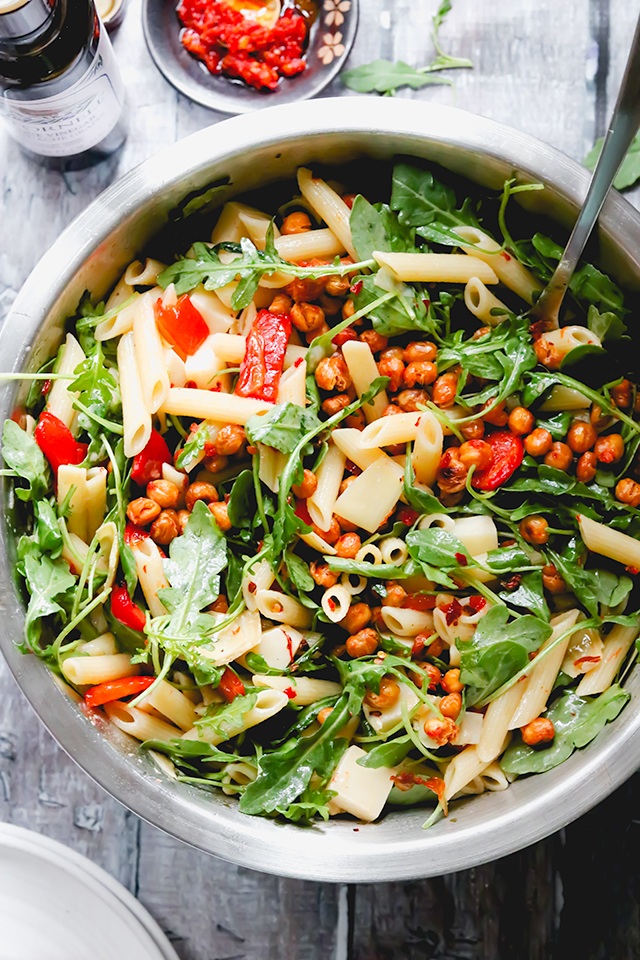 Growing up in my very very very Italian household, no holiday or family gathering was complete without a traditional antipasto platter.
Cured meats, lots of different cheeses, marinated vegetables, and a medley of olives were staple features. And of course lots of Italian bread to soak it all up with!
Keep in mind, this was just the starter course. Looking back, it's shocking to me that we ever had any room for actual dinner after eating all of that.
Recently, I was craving those salty, briny flavors so I decided to turn them into a pasta salad!
I no longer eat meat, so all of the salamis and dried sausages were off the table, along with olives since my husband and child stage a protest if they even think I'm going to include them in one of their meals. 
Instead, this vegetarian antipasto pasta salad includes lots of marinated veggies, spiced up crispy chickpeas, and cubes of provolone cheese. It's dressed in a simple red wine vinaigrette with loads of arugula added in for color and a great contrasting bitterness. 
Probably the best part about this antipasto pasta salad is that it's made with mostly pantry ingredients, meaning you can throw it together on a whim whenever the craving strikes.
Most of the prep work involves pouring things out of jars, so it comes together quickly. I made it from start to finish in the time it took to roast the chickpeas (about 20 minutes, not including the time to preheat the oven). 
It's perfect eaten at room temperature or straight from the fridge, making it great for school or work lunches.
Vegetarian Antipasto Pasta Salad Ingredients
The ingredient list is pretty short and simple, and full of pantry staples that can be sourced year-round.
Olive oil – this forms the dressing for the salad, so make sure you're using something that's a little higher quality and tastes good to you because the flavor will really come through.
Canned chickpeas – these are drained, rinsed, and patted dry and then crisped up in the oven. I love these little crunchy bites in salads of all kinds!
Calabrian chili paste – this is the one specialty ingredient that you'll need for this recipe. I love this stuff and put it on everything but if you don't want to splurge on it, then red pepper flakes are an acceptable substitute.
Penne – or any tube-shaped pasta!
Marinated artichoke hearts – look for the kind that are jarred in oil because they have the best flavor. You'll drain the hearts but not rinse them so they still hold on to some of that great flavor.
Jarred roasted red peppers – love the smoky sweetness that these add.
Garlic – it just wouldn't be an Italian-inspired recipe without it!
Red wine vinegar – adds the perfect tanginess.
Arugula – or any green that you like! Spinach, baby chard, or baby kale would also be great here.
Provolone cheese – an aged semi-hard cheese with a fairly mild flavor. If you can't find it, then you can use cubed mozzarella instead.
How To Make Vegetarian Antipasto Pasta Salad
Pasta salad should be quick and easy enough to prepare in the time it takes to boil water! Here's how we can make that happen.
I like to multi-task as much as possible when cooking, so the first thing we're going to do is get our chickpeas in the oven to allow them to roast while we're preparing the rest of the salad. Toss the chickpeas with olive oil, salt, pepper, and the Calabrian chili paste and then pop them into the oven.
Once the chickpeas are in the oven, we will put a big pot of salted water on the stove to boil.
While the water is heating up, we'll mix together the artichoke hearts, roasted red peppers, olive oil, and vinegar together in a large bowl.
When the chickpeas and pasta are done cooking, they'll get mixed into the bowl with the veggies and dressing, along with the arugula and the provolone cheese. Done and yum!
Vegetarian Antipasto Pasta Salad
An antipasto pasta salad that takes all of the vegetarian components of an Italian antipasto platter and combines them in one delicious pasta dish!
Ingredients
1 (15 oz) can chickpeas, drained, rinsed, and patted dry
½ cup + 1 tbsp olive oil, divided
1 tbsp Calabrian chili paste
salt and black pepper, to taste
1 lb penne
6.5 oz marinated artichoke hearts, drained and coarsely chopped
1 lb roasted red peppers, roughly chopped
2 garlic cloves, grated
2 tbsp red wine vinegar
8 oz arugula
8 oz provolone, cut into ½-inch dice
Instructions
Heat oven to 400F.
In a large bowl, toss the chickpeas with 1 tbsp of olive oil, chili paste, and salt to taste. Spread on a parchment-lined baking sheet and roast until crispy, about 20 minutes.
Meanwhile, bring a large pot of salted water to a boil. Once boiling, add the penne to the pot and cook according to package directions. Drain, rinse with cold water to bring it room temperature, and set aside.
While the pasta is cooking, toss the artichokes, roasted red peppers, grated garlic cloves, and the remaining ½ cup olive oil together in the bowl you used to prep the chickpeas. Add in the cooked pasta and then toss again. Stir in the arugula, provolone cubes, and crispy chickpeas. Season to taste with salt and black pepper. Serve cold or at room temperature.
Notes
An Eats Well With Others Original