Blueberry macarons flavored with freeze-dried blueberry powder and filled with a barely sweet blueberry mascarpone filling.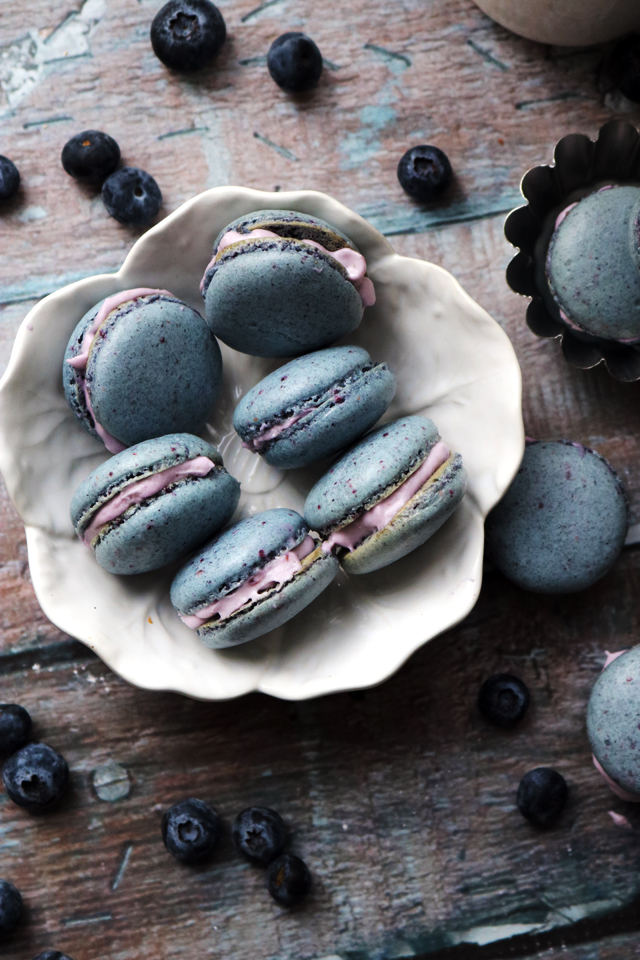 There's no better time than the afternoon before your daughter's first birthday party to figure out whether your ELECTRIC (<–GROAN) oven can handle macaron baking.
I mean, it's not like you have an 18-inch sheet cake and a sugar free triple layer smash cake and DINNER still to make, or anything like that.
Yeah, about that…..
But guys! Good news!
My oven makes BEAUTIFUL macarons!!!
I'm so happy to have found that out a month before we have to move out and I have to get used to a whole new oven.
I have the best timing. Really. See above.
Or maybe the oven has nothing to do with it and somehow by not making macarons for almost two years, I've somehow refined my skillz?
Or born-again beginner's luck?
Whatever kind of hocus pocus was in the air that day, hey! I'll take it.
As I've mentioned only ad nauseum on Instagram stories and maybe once or twice on here, Remy's birthday was Pout Pout Fish themed and Pout Pout fish is (you guessed it) BLUE. With purple dots.
So these macarons are kind of in homage to that, but also my kid really loves blueberries and so do I.
SO. Blueberry macarons!
The shells themselves are flavored with freeze-dried blueberries and colored with a touch of food coloring gel. The gel typically makes the batter less stable, so if you're a macaron newbie you might want to avoid it and just go with whatever natural coloring the macs take on. Your call!
Because macs are generally so so super sweet, the filling is really not. It is made of a barely sweetened homemade blueberry jam that gets whipped into mascarpone and cream cheese. It's lightly tart and tangy with some great fruity flavor mixed in and it also just happens to be the most perfect lilac hue. They were a hit at the party and my only regret is not making a double batch so I could hoard some for myself – you live and you learn.
Blueberry Macarons with Blueberry Mascarpone Cream
Blueberry macarons flavored with freeze-dried blueberry powder and filled with a barely sweet blueberry mascarpone filling.
Ingredients
For the macarons
115 grams sifted almond flour
230 grams powdered sugar
1 tbsp freeze-dried blueberry powdered
144 grams egg white
72 grams granulated sugar
2 grams kosher salt
blue food coloring gel
For the blueberry mascarpone filling
⅓ cup fresh blueberries
2 tbsp sugar
zest of half a lemon
pinch of salt
8 oz mascarpone, room temperature
4 oz cream cheese, room temperature
Instructions
Sift together the almond flour, powdered sugar, and blueberry powder into a large bowl. If there are almond flour pieces that won't pass through the sifter, then grind them in a spice grinder or small food processor until they do.
In the bowl of a stand mixer fitted with the whisk attachment, combine the egg whites, sugar, salt, and coloring gel. Beat on medium (speed 4) for 3 minutes. Increase the speed to medium-high (speed 6) and beat for another 3 minutes. Increase the speed to 8 and beat for another 3 minutes. Increase it to 10 and beat for one more minute. When you lift the whisk, the meringue should be stuck to it. Lightly tap it against the side of the bowl until it falls off.
Pour the dry ingredients into the meringue. Fold them into the meringue using the "fold-and-smash" method (fold and then subsequently smash and smear against the side of the bowl). Mix until the batter is lavalike and when you spoon some of the batter out and drop it back in, it completely incorporates within about 20 seconds.
Transfer half of the batter to a piping bag fitted with a ½-inch round tip. Line two baking sheets with parchment paper. Pipe the macarons into evenly sized and spaced circles, making sure to keep the piping bag straight up and down as you do so.
Rap the baking sheet hard against the counter, twice. Turn ninety degrees and rap another two times. Let rest for 45-60 minutes.
Meanwhile, preheat the oven to 275F.
Bake the macarons, one tray at a time, on the rack farthest from the oven's flame for 20-25 minutes, or until they can easily be lifted off the baking pan without sticking. Allow to cool completely on the pans.
Repeat with remaining batter.
For the blueberry mascarpone filling
Combine the blueberries, sugar, lemon zest, and salt in a small pot over medium heat. Cook until berries have burst and mixture has thickened, about 10 minutes. Remove from the heat and allow to cool completely.
Beat together the mascarpone and cream cheese in the bowl of a stand mixer fitted with the paddle attachment on medium-high speed for 3-4 minutes or until fluffy. Add the blueberry jam mixture and mix until fully incorporated.
Pipe the filling onto the flat side of half of the macarons and then top them with a second, similarly sized macaron. Refrigerate in an airtight container overnight.