Mac and cheese gets an autumnal makeover in this rigatoni torte with fall vegetables.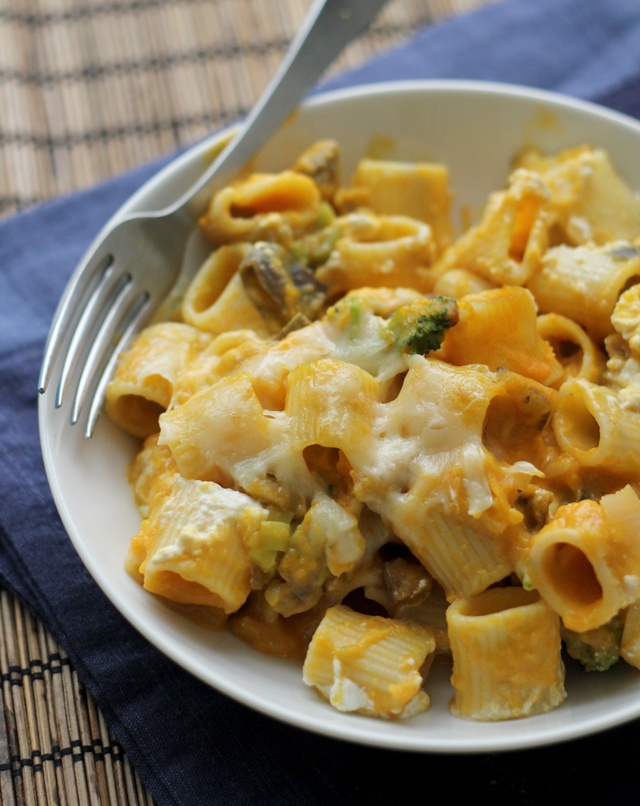 Here's the secret of Italian food. And I'm allowed to tell you because I'm all born-and-bred 100% full-blooded and all that jazz. But if you tell anyone, well.
Let's just say I know a few people in the "waste management" industry. Capisce?
JOKING. Breathe. Be calm. No one is going to get offed. Pinky swear.
But really. The secret is that Italians like to give fancy names to really simple foods.
They're kind of lazy arrogant like that. They take a lot of pride in really stupid things. Like taking midday naps.
This is in direct contrast to the French who give their cuisine impossible-to-pronounce names because it is near impossible to make.
(Croissants. Need I say more?)
For instance, while "torte" literally means "cake" in Italian, this is actually a "what-would-happen-if-baked-ziti-and-mac-and-cheese-had-a-baby" kind of situation and not really a "cake-made-of-pasta" kind of situation.
And doesn't that just sound so much more manageable?
This "torte" does kind of step it up by using butternut squash soup in place of tomato sauce and getting stuffed with all the end of summer/fall vegetables. All of which I was able to buy locally (boo-yah for leaving a smaller carbon footprint!).
And it's baked in a springform pan. Which….I guess makes it a cake and definitely makes it seem much more impressive? Though if you want to dispense with all of this posturing, you can totally bake it in a 9×13-inch pan and it will still be just as fantastical.
One year ago…Lasagna Soup, Curried Red Lentil Burgers with Mango Slaw
Rigatoni Torte with Fall Vegetables
Mac and cheese gets an autumnal makeover in this rigatoni torte with fall vegetables.
Ingredients
3 sprigs fresh sage
1 medium eggplant, cut into ½-inch cubes
1 large leek, white and green parts sliced
12 oz broccoli, cut into 1½-inch florets
1 lb rigatoni
2 tbsp flour
32 oz butternut squash soup
2 cups grated Gruyere, divided
1 tsp truffle oil
1 cup ricotta cheese
Instructions
Preheat oven to 350. Spray a 10-inch springform pan with cooking spray. Place on a parchment-lined baking sheet and set aside.
Bring a large pot of salted water to a boil with the sage in it. Add the eggplant to the pot and boil, covered, for 5 minutes. Remove eggplant with a slotted spoon.
Add the leek slices to the same pot of water and boil for 2 minutes. Remove to a bowl. Add the broccoli to the pot and boil for 1 minute. Remove to a bowl. Discard the sage leaves.
Bring the water back to a boil and cook the rigatoni for 3 minutes less than it's recommended cooking time. Drain, rinse under cold water, and transfer to a large bowl.
Heat the butternut squash soup over medium heat. Stir in the flour and simmer until starting to thicken. Stir in half of the gruyere, simmering until melted. Mix the vegetables, pasta, and truffle oil into the sauce. Season to taste with salt.
Pour ⅓ of the pasta/veggie mix into the springform pan. Top with half of the ricotta cheese. Repeat with another layer of pasta and the remaining ricotta. Top with the remaining pasta and sprinkle with the gruyere.
Bake for 30 minutes or until the cheese is melted and the top is browned. Let stand for 5 minutes before unmolding and cutting.
Notes
Adapted from
Vegetarian Times
Nutrition Information
Serving size:
⅛th of recipe