Tacos get southwestern-ified with a quick deep in the deep fryer followed by a smoky hummus and spicy root veggie filling.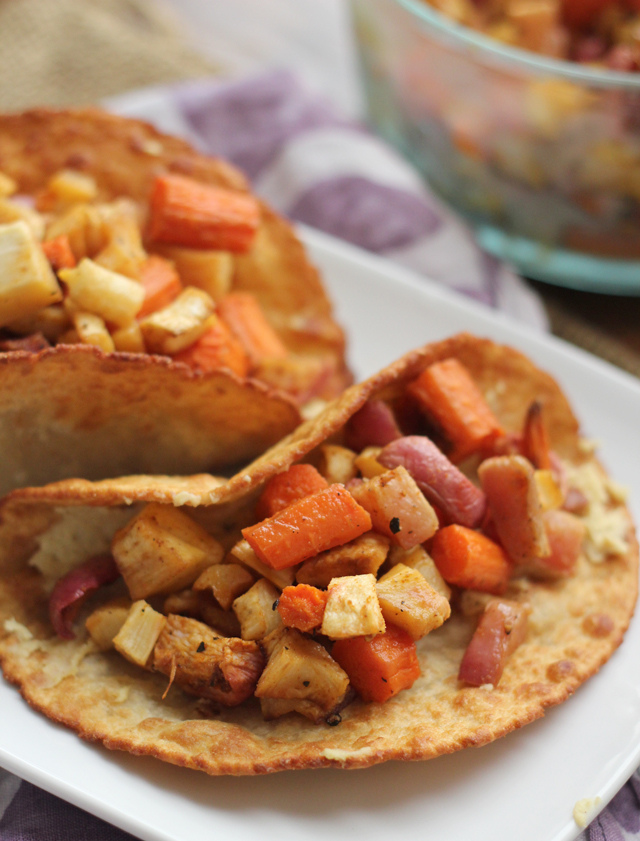 Sometimes I think I give off vegan vibes.
All too often I'll tell someone I'm vegetarian and BOOM. All of a sudden milk is a dirty word, the cheese platter has been removed from my line of vision, and eggs are treated as if they're a controlled substance.
Meanwhile there I am daydreaming about runny yolks and melty brie and occasionally shoving cream cheese frosting in my face. Which would kind of make me the worst vegan ever.
If I were. But I'm not.
(Did you hear that mom? I'm N.O.T. Just breathe.)
She gets kind of, um, emphatic/hyperventilate-y about my no meat status. So we might need a moment.
Okay? Okay.
You guys might have noticed this, but I'm really into stuffing everything-but-the-kitchen-sink into a taco shell.
Mostly because handheld foods make me squeal with glee.
Partly because that means I can smother whatever it is I'm eating in cheese.
And more than I'd care to admit because the.boy will almost certainly eat them no matter what's inside.
I mean, if I said to him, "Hey babe, we're having roasted parsnips, carrots and turnips with hummus for dinner tonight", he'd respond with the look of a thousand deaths.
And put himself to bed without dinner.
But if I say "Tacos!!!". He's all like "YES. You're the BEST.EVER.COOLEST.GIRFLFRIEND.EVER."
Not exactly in those words, but basically.
So tacos it is. Done and done.
And they're vegan. Not that you'd know it because they're so BIG on flavor.
I won't tell if you won't.
This post is part of The New Southwest Cookbook Spotlight sponsored by Hippocrene and hosted at girlichef.
When I was looking through The New Southwest trying to decide what to make for this week, pretty much every recipe popped out at me. Then I realized that I couldn't possibly NOT make a big pan of chile-spiced roasted root veggies or smoky hummus or wrap them all up in a puffy crispy fluffy taco shell. So I did. And they were pretty great. Even sans cheese (though I do think they'd be even more perfect with a fried egg on top. But what isn't?).
Vegan Puffy Tacos with Cumin-Spiced Hummus
Tacos get southwestern-ified with a quick deep in the deep fryer followed by a smoky hummus and spicy root veggie filling.
Ingredients
For the taco shells
1 cup corn oil, for frying
6 corn tortillas
For the cumin-spiced hummus
2 tbsp tahini
1½ cups cooked chickpeas
1½ tsp ground cumin
¾ tsp salt
½ tsp ground oregano
½ tsp ground white pepper
2 tbsp olive oil
¼ cup lemon juice
For the taco filling
1 lb parsnips, peeled, cut into 1-inch pieces
1 lb carrots, peeled, cut into 1-inch pieces
4 small turnips, cut into 1-inch pieces
2 tbsp olive oil
1 tsp salt
1 tsp freshly ground black pepper
1 tsp ground ancho chile pepper
Instructions
To make the taco shells, heat the oil in a large heavy-bottomed pot until it reaches 350F on a candy or frying thermometer. Prick the tortillas with a fork 4-6 times. Add a tortilla to the oil and fry it for 20 seconds on each side. Only pierce any bubbles that take up more than half of the tortilla, leaving the rest. Using tongs, carefully fold the tortilla in half and hold it into the oil for 10 more seconds. Place the fried tortilla on a paper towel-lined plate to drain and cool. Repeat with the remaining tortillas.
To make the hummus, combine the tahini, chickpeas, cumin, salt, oregano, and white pepper in the bowl of a food processor. Pulse until it is a paste. With the food processor still running, stream in the olive oil and the lemon juice, scraping down the sides of the bowl as necessary. Set aside.
To make the filling, preheat the oven to 400. Toss the parsnips, carrots, and turnips in a large bowl with the olive oil, salt, pepper and ancho chile powder so that they are evenly coated. Spread on a baking sheet in an even layer and roast for 30 minutes. Toss and roast for another 20 minutes or until the veggies are fork tender. Set aside to cool. Coarsely chop veggies into smaller pieces.
To assemble the tacos, spread the bottom of the shells with a thick layer of hummus. Carefully top with the filling and serve immediately.
Notes
Adapted from
The New Southwest: Classic Flavors with a Modern Twist