This red black and blue berry pie is filled with all of spring and summer's best berries! It is sweet, tart, and encased in the best all butter pie crust.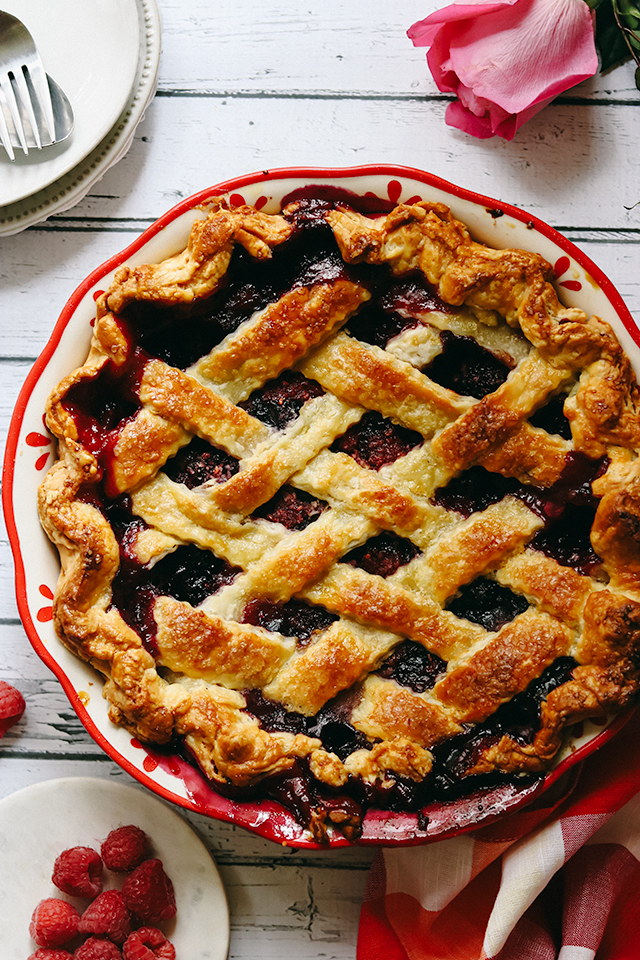 We're only a few weeks into the warm weather months but my pie love is in full force, raring to go.
It's trying to get me to break out my white jeans already, but I'm resisting.
TOO SOON.
Ask me again in two weeks. (After I've had time to gather my strength to try them on, eek.)
The hardest part of this pie season (other than shimmying into last year's shorts) is the unending decision fatigue.
Do I go all berry? One berry? Cherry? Rhubarb? Stone fruit? Custard? Frangipane? Pudding?
That is basically my brain, all spring and summer long. It's not an easy place to be.
So when I made the spur of the moment decision to bake a pie for myself for mother's day a few weeks back, I cut myself some slack. Instead of spending hours ruminating on the "perfect filling" (<– quite the conundrum since they're all perfect in their own way), I just went with whatever I had in my fridge, which, thankfully for me, was EVERY BERRY.
All the berries!
Not to anger all of my other pie babies but…this ended up being hands down THE BEST berry pie I've ever made.
The raspberries, blackberries, and blueberries all came together in beautiful fruit harmony, each adding their own textural and flavor dimensions to make a pie that was sweet, tart, juicy, and overall just so well balanced.
If you've ever imagined what a perfect berry pie tastes like….THAT WAS THIS PIE. Not even an exaggeration.
It starts off with my absolute favorite all butter pie crust, which comes from the Four & Twenty Blackbirds pie book. What I love about it is that is has a hint of sweetness to it but also a bit of tang from the inclusion of apple cider vinegar. It's the kind of pie crust that you could eat all on it's own because it is just so tasty.
I make it by hand in a large bowl and it is SO EASY but you could also bring it together in a food processor if you don't want to get your hands dirty.
In addition to adding flavor, the apple cider vinegar also helps to tenderize the dough, making it more pliable so that it's easier to roll out. The less time you spend working the dough, the flakier and crisper it will be. That's just science.
Onto the filling, which is honestly as easy as it gets when it comes to pie.
Just toss all of your ingredients together in a bowl and pour it into the crust. You can mix up your berry ratios depending on what you have lurking in the fridge. The only word of caution I'll give is that I would avoid strawberries here since they tend to be a bit wetter than these other berries and I can't promise that the filling will set up as well if you add them to the mix. 
The only other kind of oddball thing about this recipe is that I use ground up tapioca pearls as my thickener. I buy the pearls whole and just blitz them in my spice grinder before adding them to the filling. They help the filling to set up perfectly every time without adding the starchy aftertaste that other thickeners (cornstarch, I'm looking at you) can have. Arrowroot starch is another good option if you can't find the tapioca pearls, but cornstarch will also work in a pinch.
Red Black and Blue Berry Pie
This red black and blue berry pie is filled with all of spring and summer's best berries! It is sweet, tart, and encased in the best all butter pie crust.
Ingredients
For the crust
2½ cups all purpose flour
1 tsp kosher salt
1 tbsp sugar
½ lb (2 sticks) cold unsalted butter, cut into ½-inch pieces
1 cup cold water
¼ cup cider vinegar
1 cup ice
For the filling
For the filling
6 oz blackberries
12 oz raspberries
11 oz blueberries
2 tbsp fresh lemon juice
½ cup sugar
¼ cup packed dark brown sugar
3 tbsp tapioca pearls, ground
½ tsp cinnamon
¼ tsp cardamom
½ tsp kosher salt
2 dashes angostura bitters
egg wash (1 large egg whisked with 1 tsp water and a pinch of salt)
demerara sugar, for finishing
Instructions
For the crust
Whisk together the flour, salt, and sugar in a large bowl. Add the butter to the flour mixture and toss to coat. Using a pastry blender, cut the butter into the flour until only pea-sized pieces of butter (or smaller) remain.
In a separate small bowl, combine the water, cider vinegar, and ice. Sprinkle 2 tbsp of the ice water mixture over the flour-butter mixture. Toss with your hands until fully incorporated. Add more of the ice water, 1-2 tbsp at a time, using your hands to mix. Add just enough of the water mixture so that the dough comes together into a ball. Split the dough in half and shape each half into a flat disc. Wrap in plastic wrap and refrigerate for at least 1 hour.
Roll out one of the pie discs into an 11-inch round. Use this to line a 9-inch pie plate leaving a 1-inch overhang around the edges. Wrap in plastic wrap and freeze overnight.
The next day, roll out the second pie crust disc into an 11-inch round. Using a pizza cutter, cut into long thin strips for the lattice. Place back in the refrigerator to chill for at least 30 minutes while you prepare the filling.
For the filling
In a large bowl, stir together the blackberries, raspberries, blueberries, lemon juice, sugars, tapioca, cinnamon, cardamom, salt, and bitters.
Remove the pie shell from the freezer and let sit at room temperature for 5 minutes so that the edges can thaw a bit. Pour the filling into the pie shell.
Arrange the lattice strips on top and crimp as desired.
Place the pie in the freezer for 10-15 minutes to set the pastry. Meanwhile, heat the oven to 425F.
Remove the pie from the freezer and brush the top of the pastry with the egg wash to coat, taking care not to drag the filling onto the pie crust or it will burn. Sprinkle with the demerara sugar.
Place the pie on a rimmed baking sheet on the lowest rack of the oven. Bake for 20-25 minutes, or until the pastry is set and starting to brown. Lower the oven temperature to 375F. Move the pie to the middle rack and continue to bake until bubbling in the center, about 35-40 minutes.
Allow to cool completely on a wire rack before serving.