This spicy cumin tofu and cauliflower stir fry is a vegetarian version of a traditional northern Chinese lamb dish that is filled with heat, smoke, and intense flavor.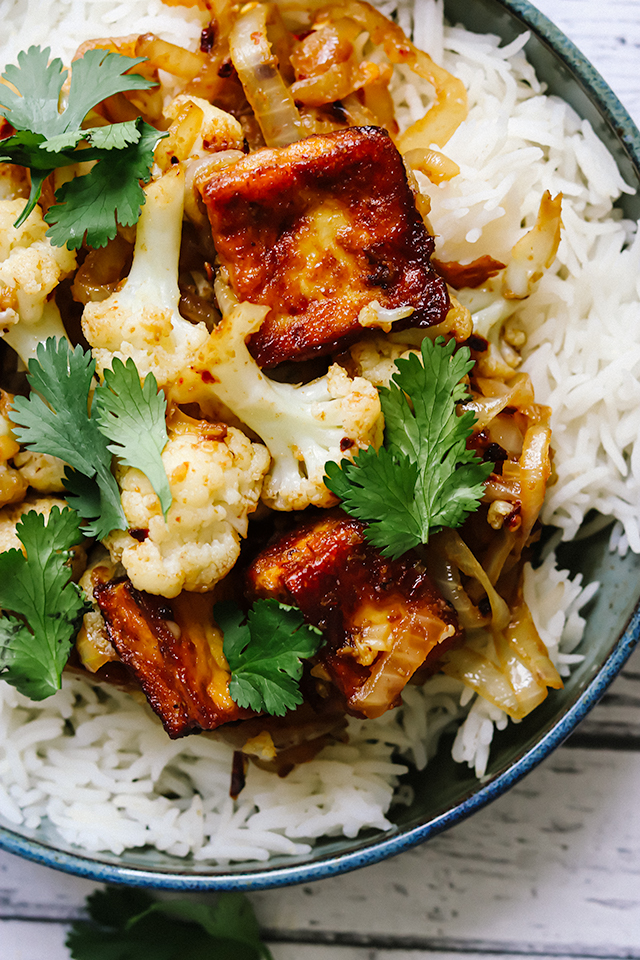 I hope you're in the mood for a mouth-numbing, flavor bomb food experience, because this is tofu stir fry like you've never seen it before.
Perfectly seasoned after a quick marinade bath and then fried into crispy, caramelized, spice-crusted nuggets of joy.
I mean, SO MUCH YES.
This recipe is from Hetty McKinnon's latest cookbook – To Asia, With Love – which is basically a compendium of vegetarian Asian-ish recipes, some more traditional and some with modern fusion twists.
Other than Indian food, I haven't cooked a lot of food from Asia in my kitchen mostly because the majority of the cookbooks out there have been very meat-heavy and I felt awkward about trying to adapt (/appropriate?) recipes that I wasn't familiar with. BUT! This book has revolutionized my approach to Asian cuisine and has given me SO MUCH inspiration in the kitchen.
There's a chapter on noodles, pages and pages of homemade dumpling variations, and a whole section on "things that go with rice". I don't know about you, but I need more of all of those things in my life.
This cumin tofu stir fry is in the latter chapter and is a vegetarian take on cumin lamb, a super spicy dish that originated in the northwestern parts of China in Chinese Muslim communities. It mixes stir fry techniques with Middle Eastern spices (namely cumin) to make a dish that is fiery, smoky, and completely addictive. Unlike other stir fries, which feature a sauce, this is a dry stir fry using only spices to season the food.
To make this, you'll start by marinating your tofu in a simple soy sauce/shaoxing wine mixture that infuses it with salt. Next, toss the tofu cubes in potato starch and give them a quick shallow fry so that they get all crispy.
In this same pan, you'll stir fry your aromatics (onion, garlic, and ginger) and then add your cauliflower to the mix, cooking it until it gets barely fork-tender. Now is when the magic happens – add your tofu back into the pan along with the SPICE. The spice blend here is a simple mix of cumin and red pepper flakes – a whopping two teaspoons of them. It burns all right, but in the best way. If you're not into spicy food, you can cut back on the heat or use a milder pepper flake but I loved it as is. 
So so easy, and so very delicious!
Spicy Cumin Tofu and Cauliflower Stir Fry
This spicy cumin tofu and cauliflower stir fry is a vegetarian version of a traditional northern Chinese lamb dish that is filled with heat, smoke, and intense flavor.
Ingredients
vegetable oil, for frying
1 onion, finely sliced
1 long red chile, sliced diagonally
1-inch ginger, peeled and minced
1 garlic clove, minced
10.5 oz cauliflower, cut into bite-sized florets
handful of cilantro
sea salt, to taste
For the marinated tofu
1 tbsp soy sauce
1 tbsp shaoxing rice wine
½ tsp sea salt
1 lb extra firm tofu, cut into ¾-inch cubes
3 tbsp potato starch or cornstarch
For the spice mix
2 tbsp ground cumin
2 tsp red pepper flakes
½ tsp sugar
½ tsp sea salt
Instructions
For the marinated tofu, whisk together the soy sauce, shaoxing rice wine, and sea salt in a large bowl. Add the tofu to the bowl and toss to combine. Allow to sit at room temperature for 20-30 minutes.
Meanwhile, make the spice mix: whisk together the cumin, red pepper flakes, sugar, and salt in a small bowl. Set aside.
When ready to cook. drain the tofu well. Place the potato starch into a large, deep bowl. Add the tofu to this bowl and toss to combine so that the tofu gets completely coated in the starch.
Drizzle vegetable oil over a large nonstick skillet and heat over high heat. Once hot, add the tofu to the pan in a single layer. Decrease the heat to medium and cook, without moving or touching, for 1-2 minutes or until golden. Flip and cook on the other side for another 1-2 minutes. Transfer the tofu to a paper towel-lined plate and wipe out the pan.
Add more oil to the pan and heat again over medium-high heat. Add the onion, chile, ginger, and garlic. Stir fry for 1 minute, or until fragrant. Add in the cauliflower and cook for another 4-6 minutes, or until the cauliflower is just tender. Add in the tofu and the prepared spice mix. Stir to combine. Remove from the heat and season to taste with salt and black pepper.
Serve topped with cilantro over a bed of rice.