This Indian butter paneer is better than anything you can order from your local takeout restaurant! It is drenched in a creamy and lightly spicy coconut cashew sauce with peas and fried cheese in every bite. Plus, it pairs perfectly with a wine from Weekly Tasting who is sponsoring the amazing giveaway below!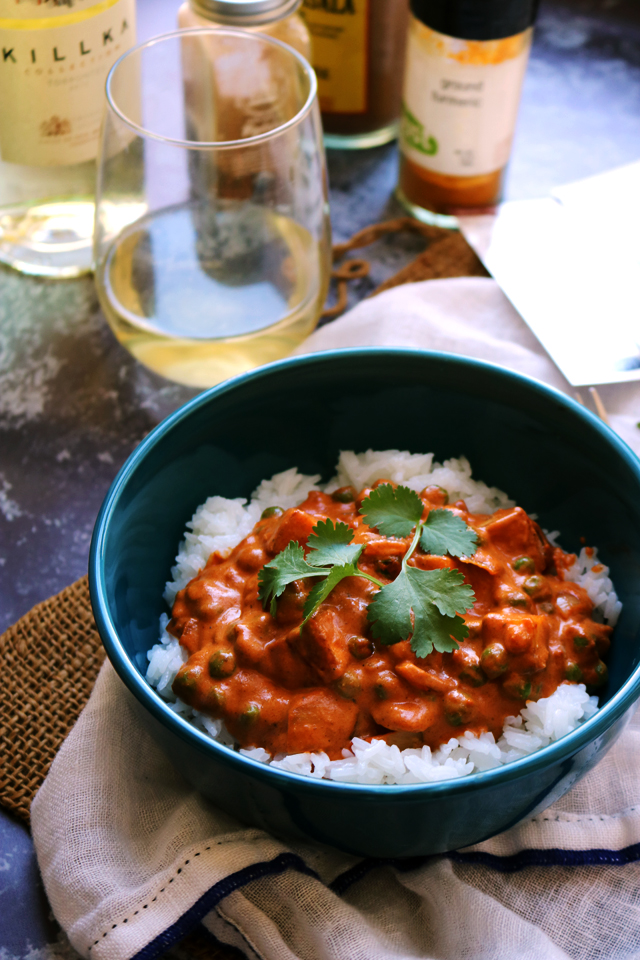 I dare you to find me something better in life than fried cheese and good wine.
Okay, fine:
fried cheese sauced with the most perfect creamy curry flavors served with a wine that is perfectly paired with it on a Friday night will the full knowledge that there are TWO WHOLE weekend days ahead of you.
!!!!
The best.
Made better by the fact that your formally picky 11 month old basically licked her high chair tray clean while eating it and your husband said it was pretty much the best thing you'd ever cooked for him.
BOOM.
It's the little things.
Those of you who know me are wondering how my totally wine-pairing-inept self managed to find a wine to perfectly pair with curry, of all things!
Easy: I outsourced it.
And let me say, it was about time.
Usually when I'm trying to pick out wine to go with a meal, I just walk into the liquor store, close my eyes, point randomly, and hope for the best. For the record, this is not the best tactic and ends up with me making a lot of wine-infused risotto once we declare the bottle totally undrinkable. Every. Damn. Time.
Enter: Weekly Tasting. A wine delivery service that delivers FOUR (!!!) bottles of wine to you every week that have been hand-selected by one of Weekly Tasting's sommeliers. Along with the wine comes a set of tasting cards that really go into detail on the background of each of the wines, describing where they come from, what they're about, and what types of foods they would be friends with. They even feature recipes. It's awesome and so helpful for people like me who love wine and want to know more about it but have no idea where to start. Each shipment is $69.99 for 4 bottles and comes with free shipping, so that's less than 20 bucks a bottle – totally affordable! And because it's not a club, you'll only receive packs you've selected and can pick and choose the weeks you get a delivery based on the options available.
In addition to getting to taste and experience really good wine, the other thing I loved about this was that I got to support female entrepreneurs in the process! The two sommeliers behind these awesome wine pairings are both female and obviously both awesome. Laura Maniec is one of only 32 female Master Sommeliers in the world and Elizabeth Schneider is a seasoned sommelier with over a decade of experience who also hosts the Wine For Normal People podcast. Impressive.
As if getting wine wasn't good enough, each shipment comes with a link to a 10-minute video that gives you even more details about the wine, as well as access to the label recognition app and a personal online wine cellar where you can share your favorite bottles of wine with your friends and/or compare notes with others about each shipment. The Weekly Tasting site has now officially launched and ready to go, so be sure to check it out!
Not that I ever need an excuse to make Indian cuisine, but the theme for this first wine shipment was Wine To Go With Takeout Food, and once I saw that one of the wines paired well with intense flavors, like Indian, Thai, or Mexican, I pretty much hit the ground running and didn't look back.
This recipe is a vegetarian version of the fan favorite butter chicken in which the chicken is replaced with fried cubes of paneer cheese. Plus, (and this is the best part of all) it actually has NO BUTTER. None. Zilch. The sauce instead gets its creaminess from a mixture of blended cashews, rich full fat coconut milk, tomato paste and Greek yogurt. It is richly spiced with hot curry powder, garam masala, and a dash of Thai red curry paste (not authentic, but very tasty). I also threw in a few handfuls of frozen peas because it just felt right.
The wine I paired it with was from the Bodegas Salentein Killka Collection. It has a lot of power and intensity while being very clean and fresh-tasting. Though it is ripe with a lot of floral and fruity aromas, these aren't strong in the flavor profile so it can easily accompany more flavor-rich and overpowering dishes like this butter paneer.
Weekly Tasting, in all of their awesomeness, is giving away a $300 Amazon gift card to one of my lucky readers! Enter below to sign up for the giveaway and learn more about the newest way to experience wine. Must be 21+ to enter and live in the U.S. Not applicable to entrants in MA, UT, TX, IL or AZ.
Indian Butter Paneer with Creamy Coconut Cashew Sauce
This Indian butter paneer is better than anything you can order from your local takeout restaurant! It is drenched in a creamy and lightly spicy coconut cashew sauce with peas and fried cheese in every bite.
Ingredients
¼ cup canola oil
8 oz paneer, cut into ½-inch cubes
14 oz full fat coconut milk
½ cup cashews
5 oz tomato paste
¼ cup full fat Greek yogurt
1 small onion, diced
4 cloves garlic, minced
1 tbsp minced ginger
2 tsp vindaloo or other spicy curry powder
2 tsp thai red curry paste
2 tbsp garam masala
½ tsp turmeric
salt, to taste
8 oz frozen peas
cooked jasmine rice, for serving
Instructions
Heat the oil in a deep cast-iron skillet over medium-high heat. Add the paneer to pan in batches making sure not to crowd the pan. Fry until browned and crispy, about 3-4 minutes and then remove to a paper towel-lined plate. Repeat until all paneer is fried. Reserve the oil in the pan.
Meanwhile, combine the coconut milk and cashews in a blender bowl. Blend until totally smooth. Add in the tomato paste and Greek yogurt. Blend again until well combined. Reserve the sauce.
In the pot used to cook the paneer, reheat the remaining oil over medium heat. Add the onion, garlic, and ginger to the pan. Saute for 4-5 minutes until onion is tender and translucent.Stir in the spices and saute for 1-2 minutes, or until toasted. Add the sauce to the pan along with the paneer and peas. Bring to a low simmer and cook until heated through. Season to taste with salt and black pepper. Serve over cooked jasmine rice.
Disclosure: This post is sponsored by Weekly Tasting. As always, my thoughts and opinions are my own. Thank you for supporting the brands that keep me inspired in the kitchen.