The summery flavor of elote gets baked into the coziest Mexican street corn and zucchini baked macaroni and cheese. It is super cheesy with the perfect amount of heat.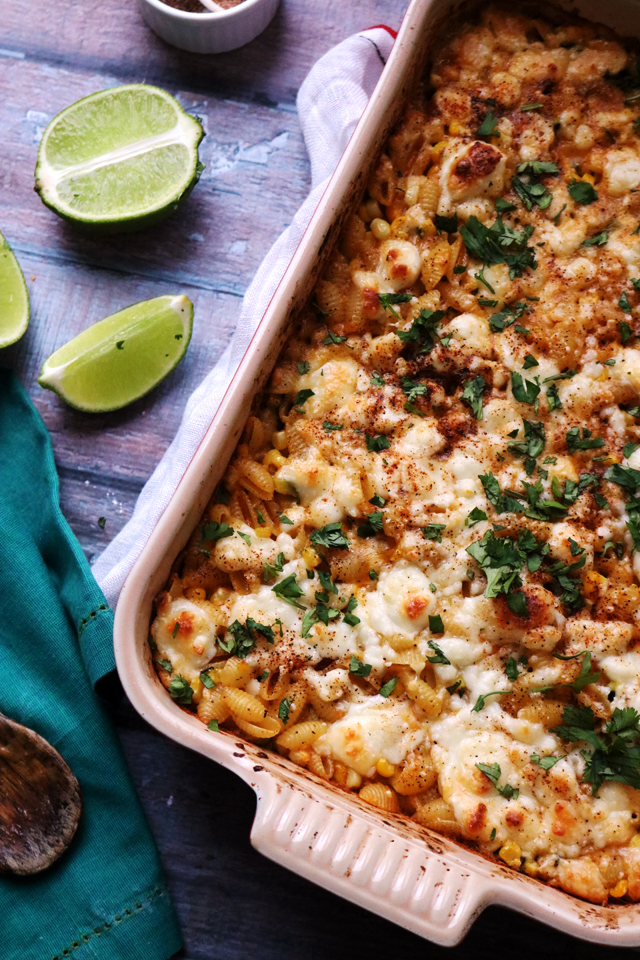 I'm never going to learn from my mistakes.
Like, today, I spent the whole day apartment hunting.
AND I DIDN'T EVEN BRING A FLASK.
My day would have been much more enjoyable had I gotten to take a shot every time the overenthusiastic looked-like-he-was-18 broker I was with said the phrase "spacious flexed 1 bedroom".
Just saying.
I mean, this guy was really trying. He kept calling buildings he saw as we were walking around midtown to see if there were any apartments he could show.
But it just felt like a bad date train wreck situation…like, it was SO SO SO bad but I couldn't stop it from happening or extricate myself from the situation and I don't know why.
And seriously if I never again hear the word "flexed" used to describe adding an inappropriately placed wall to an already too-small living room to create the illusion of a second bedroom…it will be too soon.
So if you need me, I'll be trying to shake the whole day off.
One hot shower + one hot bowl of this mac and cheese should do the trick.
THIS MAC AND CHEESE (!!!!!!!!!!!!)
It's like all your summer street corn dreams come true. With a heavy dose of carbs and cheese because WHY NOT but also because it is still rather cold round these parts and we need something to warm our bones.
You start off by making a street corn spice mix. This gets mixed into the cheese sauce and ALSO gets sprinkled on top so it gets all warm and toasty and rich in the oven. Plus you'll probably have extra to save for all the actual street corn you'll be eating this summer (<– you can thank me later).
The cheese sauce is just a basic cheddar with a roux base. Some crumbled cotija gets mixed in at the last second to give it that extra street corn flair.
And FINALLY this whole hellagood mixture is topped with even more heavy handfuls of cheese and then baked to glorious gooey cheesy perfection.
It's perfect for when you're wallowing in fruitless apartment hunting self pity. But also for those moments when you feel like eating something so bad, yet so good.

Mexican Street Corn and Zucchini Baked Macaroni and Cheese
The summery flavor of elote gets baked into the coziest Mexican street corn and zucchini baked macaroni and cheese. It is super cheesy with the perfect amount of heat.
Ingredients
For the spice mix
2 tsp garlic powder
2 tsp ancho chile powder
2 tsp smoked paprika
1½ tsp salt
1 tsp cayenne pepper
1 tsp black pepper
For the mac and cheese
4 tbsp unsalted butter, divided
2 ears sweet corn kernels
1 large zucchini, trimmed and cut into ¼-inch cubes
2 tbsp flour
1½ cups whole milk
12 oz white cheddar cheese, shredded
¼ cup minced cilantro, divided
1 lb cavatelli pasta, cooked al dente and drained
6 oz cotija cheese, crumbled, divided
juice of 1 lime
Instructions
To make the spice mix, mix together the garlic powder, chile powder, smoked paprika, salt, cayenne pepper, and black pepper in a small bowl. Set aside.
Heat oven to 375F. Grease a 9x13-inch baking pan.
Melt 2 tbsp of the butter in a medium pot over medium heat. Add the corn and zucchini to the pan and saute until zucchini is tender, about 5-6 minutes. Remove from the pot and set aside.
Melt the remaining 2 tbsp of butter over medium heat in the same pot that you cooked the corn. Add the flour to the pot and cook, stirring constantly with a whisk, for 2 minutes. Slowly stir in the milk a little bit at a time. Cook until the mixture thickens enough to coat the back of a spoon, stirring constantly.
Stir in the cheese, 1 tbsp of the spice mix, and 2 tbsp of the cilantro. Cook until cheese is fully melted. Season to taste with the spice mix, making sure to reserve at least 1½ tsp for the topping.
Mix the cooked pasta with the cheese sauce in the prepared baking pan. Fold in the corn mixture, 2 oz of the cotija cheese, and the lime juice. Season to taste with salt and black pepper.
Top with the remaining cotija cheese, spice blend, and cilantro.
Bake for 20-25 minutes or until lightly golden on top and bubbling. Let cool for 10 minutes before serving.