This EXTRA LARGE funfetti sheet cake is perfect for a children's birthday party! It serves a large crowd (about 50 people) and is fluffy, delicious, and so festive.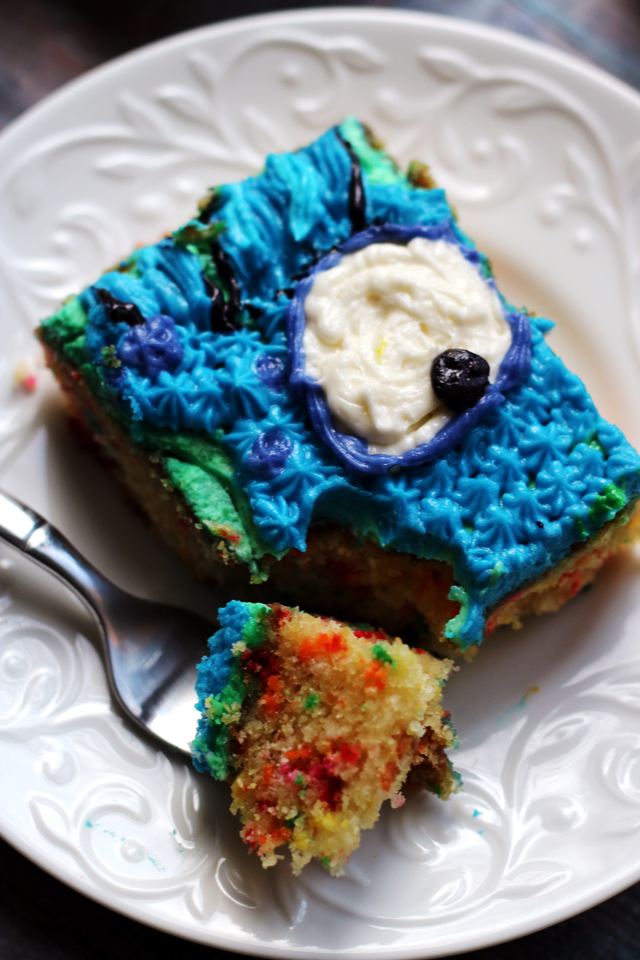 Remember when I promised you AN ENTIRE POST dedicated to Remy's first birthday?!?
THIS IS IT.
Kind of.
It's at least a post about her cake! And by "her" cake, I mean the cake that I made for everyone but her and not the cake she actually ate.
Hmm. That's a mind-twister, isn't it.
Okay, so here's the deal:
I'm a crazy control freak first time mother whose child is not allowed to have refined sugar. Not on her birthday, not on special occasions, NEVER.
Juice is like contraband in our house and I've almost tackled select individuals who suggested that chocolate cake should be one of her first foods. Ahem.
(I realize this is highly controversial, especially in mom-world, but the way I see it is that right now my kid thinks that fruit is the best most sweetest thing EVER and she wants to eat it for all of her meals. And I would much rather she feel that way about fruit than cake or cookies for as long as I can. Part of my reticence is that she is not a very good eater at baseline and so I'd rather the little she does eat be chock full of good quality calories.
I'm sure that someday she'll go to school and steal an Oreo from some kid's lunchbox, and that will be the end of me and my food micromanaging ways. But until then…..)
All that to say, I made two cakes (!!!!)
A smash cake that was (mostly) refined sugar free except for the frosting and the sprinkles. My child took one frosting lick and then decided it would be much more fun to squeeze the cake through her fingers and try to pick the sprinkles off one by one than it would be to actually eat it.
And the most giant funfetti cake that you ever did see!!!!!
Complete with a big blue pouty fish. It doesn't get any better.
I cannot take credit for the funfetti cake decorating (though I did nail that smash cake ombre, if I do say so myself). All of the pout pout fish decorations were piped by my mother-in-law who has much more refined fine motor skills, children's cake decorating experience, and patience than myself. She really did a great job with it and it was adorable.
The cake itself was large, in charge, and perfect for a crowd. I mean, really, who doesn't LOVE funfetti!!
The original recipe is from Sally's Baking Addiction, though I did end up doubling it. Our cakes were the same size length- and width-wise, but I was looking for something a bit thicker and closer to the dimensions of a bakery style sheet cake. This ended up doubling the baking time and while I was a bit worried that the edges would be dry, they absolutely weren't.
We did end up having tons left over though (<– NOT a bad thing), so check out her recipe if you think you would want a thinner (or smaller) cake layer. I also think the thicker cake gave a better cake:frosting ratio and helped offset some of the super sweetness of the buttercream. I'm a frosting lover, so you know if I say this, I really mean it!
Funfetti Sheet Cake
This EXTRA LARGE funfetti sheet cake is perfect for a children's birthday party! It serves a large crowd (about 50 people) and is fluffy, delicious, and so festive.
Ingredients
2 cups unsalted butter, softened
4 cups sugar
4 large eggs
5 tsp vanilla extract
1 cup plain yogurt
4½ cups all purpose flour
2 tsp baking soda
1 tsp salt
2 cups whole milk
1 cup rainbow sprinkles
For the buttercream
1 cup unsalted butter, softened to room temperature
4 cups confectioner's sugar
2-3 tbsp heavy cream
2 tsp vanilla extract
pinch of salt
Instructions
Heat oven to 350F.
Grease a 12x18x3-inch baking pan with baking spray. Line with parchment paper and spray again. Set aside.
In the bowl of a stand mixer fitted with the paddle attachment, cream together the butter and sugar until light and fluffy, about 4-5 minutes on medium-high speed. Add in the eggs and vanilla. Mix until combined, about 2-3 minutes. Scrape down the sides of the bowl, then add in the yogurt and mix until combined, about 1-2 minutes.
In a large bowl, whisk together the flour, baking soda, and salt. Add half of the flour mixture to the batter and mix on low speed until just combined. Add in half the milk and mix on low until just combined. Repeat with remaining flour mixture and milk. Using a large rubber spatula or wooden spoon, fold in the sprinkles.
Pour the cake batter into the prepared pan and smooth into an even layer using an offset spatula. Bake for 40-45 minutes, rotating once halfway through, until the center is set and a toothpick inserted in the center comes out clean.
Allow to cool completely in the pan on a wire rack. Turn upside down onto a foam board when ready to frost or frost inside the pan.
To make the buttercream, put the butter in the bowl of a stand mixer fitted with the paddle attachment. Beat until light and creamy, about 2 minutes. Add the powdered sugar, cream, vanilla, and salt. Mix on low for a minute and then increase speed to high. Beat for 3 minutes. Frost cake as desired.