Cherry coconut almond cake – a tender and delicious summer snacking cake that is filled with nutty coconut and almond flavors.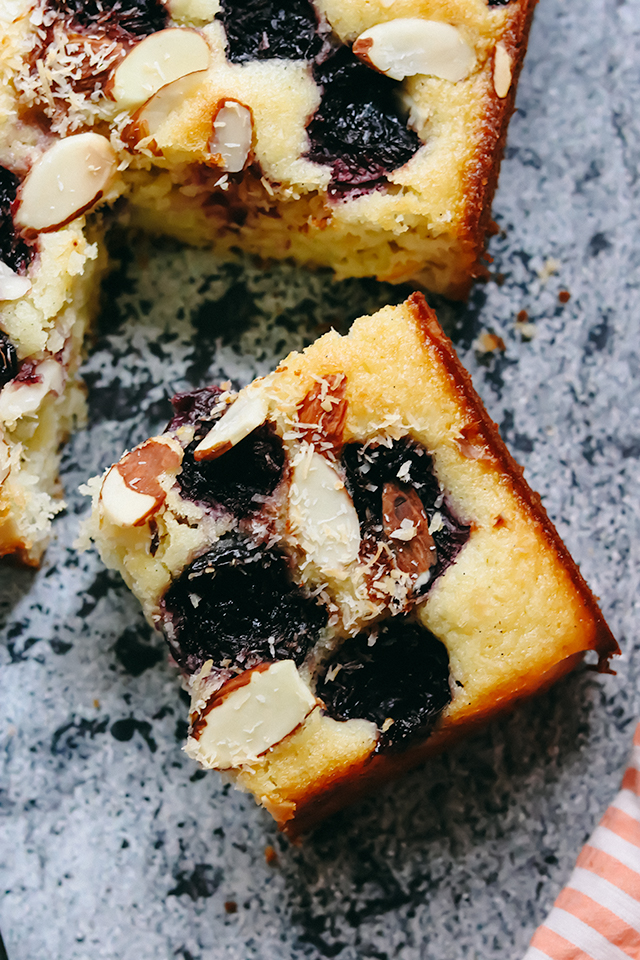 The truth about this cherry coconut almond cake is that if you make it tonight, it will be absolutely gone by lunchtime tomorrow.
It doesn't matter how many people live in your house or how hungry you think you'll be tonight or how much pizza you plan on ordering.
No matter what your life circumstances, you will spend the evening and the morning and probably the mid-morning cutting yourself just one more small sliver until you realize you've eaten an entire cake in less than twelve hours.
Not sure if that's a warning or a ringing endorsement (the latter, totally and completely the latter), but it's the truth, plain and simple.
This, my friends, is not a drill.
But let me tell you how I really feel: insert ALL THE HEART-EYES EMOJIS. Where to even begin?
The first truly wonderful (and equally as dangerous) thing about this cake is that it is ridiculously easy to make. It gets whisked together in one bowl and you can/will be popping it into the oven within ten minutes of pulling the ingredients out of your pantry.
It's almost TOO simple, if you know what I mean.
The base of the cake is made of a mix of all purpose flour, almond flour, and coconut, which come together to give it a delicate and tender crumb that is slightly nutty and somehow makes the cherries really sing. You can make it more or less coconutty by replacing the oil with coconut oil or adding a dash of coconut extract, but made as written it has just enough coconut flavor to bring everything together but not enough to offend the coconut skeptics that may live in your house. My husband is one such human and he was not offended by its coconutty-ness. In fact he inhaled three slices and would have eaten more if Remy and I hadn't barricaded the remainder of the cake with our bodies in protest.
So there's that.
Also, because this cake is dotted with good-for-you things like FRUIT and NUTS, it a million percent counts as a breakfast food.
And a snack food. And a dessert food. Possibly even a dinner food.
Which is how we ate it (all of the above).
In the event that your refrigerator is bereft of a cherry overload, don't fret because you can simply replace the cherries with pretty much any berry or stone fruit that's available. It will still be deliciously perfect for munching on at all hours of the day.
Onward for cake!
Cherry Coconut Almond Cake
Cherry coconut almond cake - a tender and delicious summer snacking cake that is filled with nutty coconut and almond flavors.
Ingredients
¾ cups (150 g) plus 1.5 tsp sugar
2 large eggs
1 cup (240 ml) buttermilk, shaken
½ cup (120 ml) neutral oil
1 tsp vanilla extract
¾ tsp kosher salt
1 cup (128 g) all purpose flour
½ cup (55 g) almond flour
½ cup (40 g) + 1 tbsp unsweetened shredded coconut
2 tsp baking powder
1 cup (140 g) halved cherries, fresh or frozen
2 tbsp sliced almonds
Instructions
Heat oven to 350F. Grease an 8-inch square baking pan and line with parchment paper. Set aside.
In a large bowl, whisk together ¾ cup (150 g) of the sugar and the eggs until well combined and foamy, about 1 minute. Add in the buttermilk, oil, vanilla, and salt. Whisk again until completely combined.
Add the flour, almond flour, ½ cup (40 g) coconut, and the baking powder to the wet ingredients. Whisk until well combined.
Pour the cake batter into the prepared baking pan. Scatter the cherries over the top of the cake. Top with the remaining coconut, the almonds, and the remaining 1.5 tsp sugar.
Bake for 35-45 minutes, or until golden and a center inserted in the center comes out clean. Allow to cool in the pan for 15 minutes, then remove to a wire rack to cool completely.