This creamy bucatini with zucchini, peas, and spinach is stuffed full of fresh veggies, so easy, and super delicious!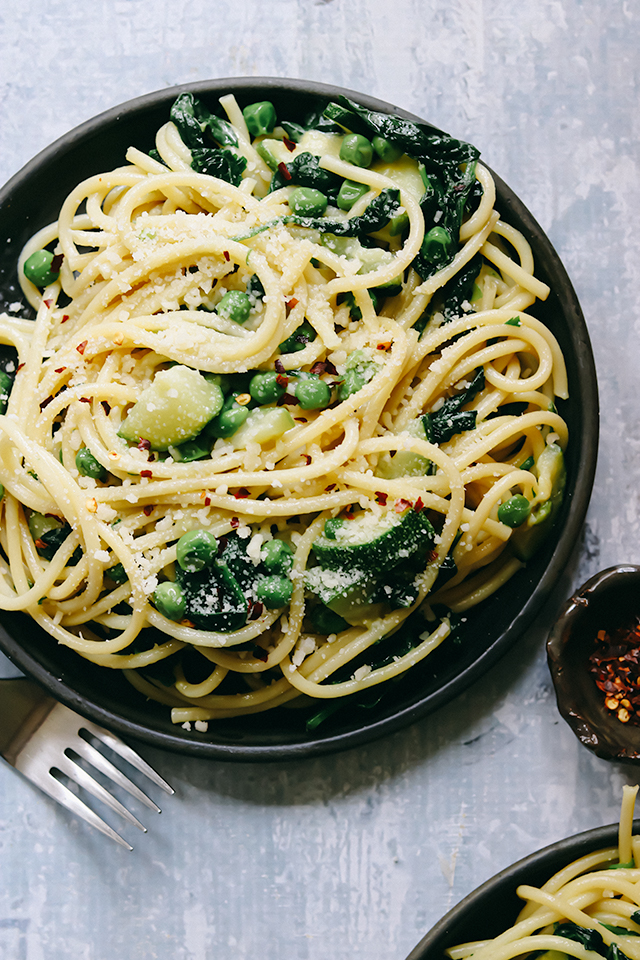 We're pouring our ENTIRE crisper drawer (and even an item or two from the freezer) into a pound of pasta today, adding some cream, and calling it dinner!!
Really pretty psyched about that.
It basically couldn't be easier and it might get our significant others off our back about the ice cream canister that's been taking up prime real estate (unused) in the freezer for the better half of a year.
WIN/WIN.
I really want you to think of this less as a strict recipe and more as a guide for using up whatever's currently lurking in the depths of your fridge or growing with overabundance in your garden. This should be a meal of convenience, not stress!
I've chosen to use zucchini, an entire pound of spinach, and a bag of frozen peas as my veg mix-ins, but really anything green-ish that is needing to be used up will get the job done.
Sugar snaps, snow peas, yellow summer squash, kale, chard, fava beans, arugula, broccoli….all are welcome.
The original inspiration for this recipe comes from Nigel Slater's Greenfeast: Spring, Summer cookbook, which is basically an encyclopedia of simple ways to use spring and summer produce. There's also an Autumn, Winter volume that I've made a few delicious things from, though I'm not sure that any have made it to the blog (yet). 
As with most of Nigel's recipes, the instructions and ingredient amounts are kind of loose and occasionally vague, leaving a lot of room for interpretation and adaptation based on where life leads you. It's a good reminder that, unlike baking, cooking is an art rather than a science and there is often not one "right" way to make a dish. It's fine (recommended, even!) to experiment and make it your own.
In the case of this recipe, I adapted the cooking technique for the vegetables to streamline it a little bit more. Nigel had you boiling spinach in one pot, then sauteing zucchini in another and it was just too many dirty dishes for me. 
Instead, we're boiling pasta in one pot, making our vegetable sauce in another, and then mixing it all together in one gloriously creamy, very green mess. All together, it will come together in the time it takes for your pasta water to boil and really couldn't be more simple.
If you're using different vegetables than I did, you may need to adjust your cooking order or times a bit. Start with the vegetable that will take the longest to cook (in this case, zucchini), then add in the next quickest, and make sure to end with anything frozen. 
Top with generous amounts of parmesan cheese and red pepper flakes before serving, and get ready for an extremely satisfying meal.
Creamy Bucatini with Zucchini, Peas, and Spinach
This creamy bucatini with zucchini, peas, and spinach is stuffed full of fresh veggies, so easy, and super delicious!
Ingredients
4 tbsp butter
4 tbsp olive oil
2 medium zucchini, quartered lengthwise then thinly sliced into quarter moons
1 lb baby spinach
4 cups frozen peas
small bunch of parsley, leaves minced
salt and black pepper, to taste
1 cup heavy cream
1 lb bucatini
grated parmesan cheese, for serving
red pepper flakes, for serving
Instructions
Combine the butter and olive oil in a large heavy-bottomed pan over medium heat. Add the zucchini and fry for 7-8 minutes, or until it starts to color. Add in the spinach, a handful at a time, until wilted. Stir in the peas and parsley and cook until peas are heated through. Season to taste with salt and black pepper.
Pour the cream into the vegetables and allow to simmer for a minute.
Meanwhile, bring a large pot of salted water to a boil. Cook the bucatini according to package directions. Drain and toss with the vegetable and cream sauce. Season again to taste. Divide among serving bowls and top with parmesan cheese and red pepper flakes, as desired.