A rich cranberry orange bundt cake that is perfect for weekend or holiday brunches! The cake has a lovely dense crumb with the tart citrus and cranberry punctuating every bite.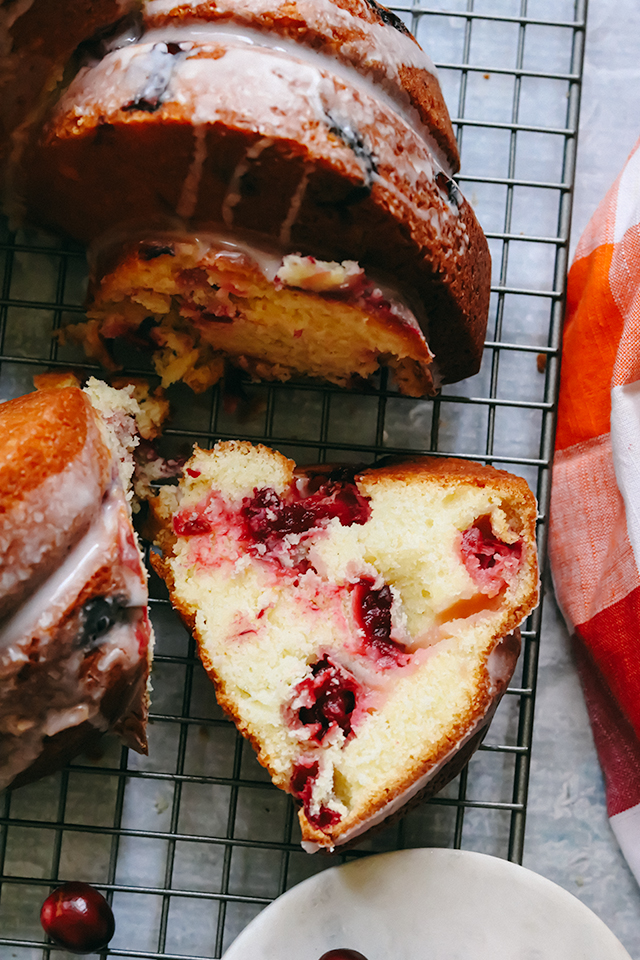 If you're getting a little tired of pie and pumpkin, then do I have a bundt cake for you!!
Full disclosure that I could NEVER be bored of pie but I'm also never going to be mad about breakfast cake, especially one that's as stunningly delicious as this cranberry orange bundt cake! It combines cranberries and burst of citrus flavor into a dense buttery pound cake base to make a cake worthy of your holiday celebrations.
There are some flavor combinations that are just meant to be, and cranberry orange is one of them! The sweeter orange citrus complements the cranberry tartness to make this dessert really sing. It's maybe not as well known as some of the other holiday flavor pairings that we know and love (peppermint chocolate, I'm looking at you) but it is worthy of our attention.
I will often choose fruity or citrusy desserts over rich chocolate desserts, so this cake really speaks to my sweet tooth cravings. It's bright with bursts of berry scattered throughout a dense and buttery pound cake base.
As I alluded to, we ate it for breakfast but it is certainly indulgent enough to be served for dessert as well.
This cake is based on one from Sarah Kieffer's The Vanilla Bean Baking Book and starts with a fairly basic bundt cake that can be adapted to many flavors and seasons. If you're not a huge fan of cranberries, then other berries such as raspberries or blueberries can be substituted in. Even leftover (homemade, not jellied) cranberry sauce could work here! You could also make this more lemon than orange forward by substituting the zest and juice of one with another.
After baking, the cake is topped with a simple powdered sugar glaze that is also perfectly amenable to adaptation. Feel free to infuse it with even more citrus flavor or even a little bit of booze (it's the holidays, after all). Or, if you're looking for a simpler bake, just omit the glaze entirely! The cake will still be delicious all on its own.
As with any bundt pan, especially if you're using a more intricately-designed one, make sure you grease it really well. And then grease it again. I use baking spray for this because it can get into all the crevices in a way that greasing with butter and flour just can't. I've had my fair share of broken bundt cake traumas, so please learn from my mistakes!
I really hope you'll give this beautiful bundt a try this holiday season, whether for a special breakfast or brunch, or as an addition to your dessert offerings. 
It has been such a bright spot in our mornings and I can't wait to bake it again and again over the next few months.
Cranberry Orange Bundt Cake
A rich cranberry orange bundt cake that is perfect for weekend or holiday brunches! The cake has a lovely dense crumb with the tart citrus and cranberry punctuating every bite.
Ingredients
For the cranberry orange bundt cake
3 cups (426 g) all purpose flour
1 tsp baking powder
¾ tsp kosher salt
¾ lb (340 g) unsalted butter, room temperature
2¼ cups (446 g) sugar
1 tbsp grated orange or lemon zest
5 large eggs, room temperature
2 tsp vanilla extract
1 tbsp Cointreau
¼ cup orange juice
1 tbsp lemon juice
¼ cup heavy cream
2 cups (227 g) cranberries, fresh or frozen
For the powdered sugar glaze
1½ cups (170 g) powdered sugar
2-4 tbsp whole milk
½ tsp vanilla extract
pinch of salt
Instructions
For the cranberry orange bundt cake
Heat oven to 325F. Grease a 12 cup bundt pan. Set aside.
In a medium bowl, whisk together the flour, baking powder, and salt. Set aside.
Cream together the butter, sugar, and citrus zest in the bowl of a stand mixer fitted with the paddle attachment on medium speed until light and fluffy, about 4 minutes. Add in the eggs, one at a time, mixing well after each addition. Add the vanilla and Cointreau, then mix on low to combine.
Add in a third of the flour mixture and mix on low until combined. Add in the orange and lemon juice. Mix on low to combine. Add half of the remaining flour followed by the heavy cream. Mix on low until just incorporated. Add in the remaining flour and mix on low until just combined.
Pour the cranberries into the batter and mix by hand with a spatula to combine.
Scoop the batter into the prepared baking pan and smooth into an even layer. Bake for 60-75 minutes, or until a toothpick inserted in the center comes out with just a bit of crumb.
Transfer to a wire rack to cool for 25 minutes, then invert the cake out of the pan and allow to cool completely on a wire rack.
For the powdered sugar glaze
Whisk together the powdered sugar, 2 tbsp of milk, vanilla, and salt in a medium bowl. Add more milk a tablespoon at a time until the icing reaches the preferred consistency (it should be pourable).
Pour over the cooled bundt cake and allow to set for a few minutes before cutting and serving.