This healthy Thai basil pesto potato salad is full of fresh flavor. It's mayo-free and super easy to make – perfect for your next summer gathering.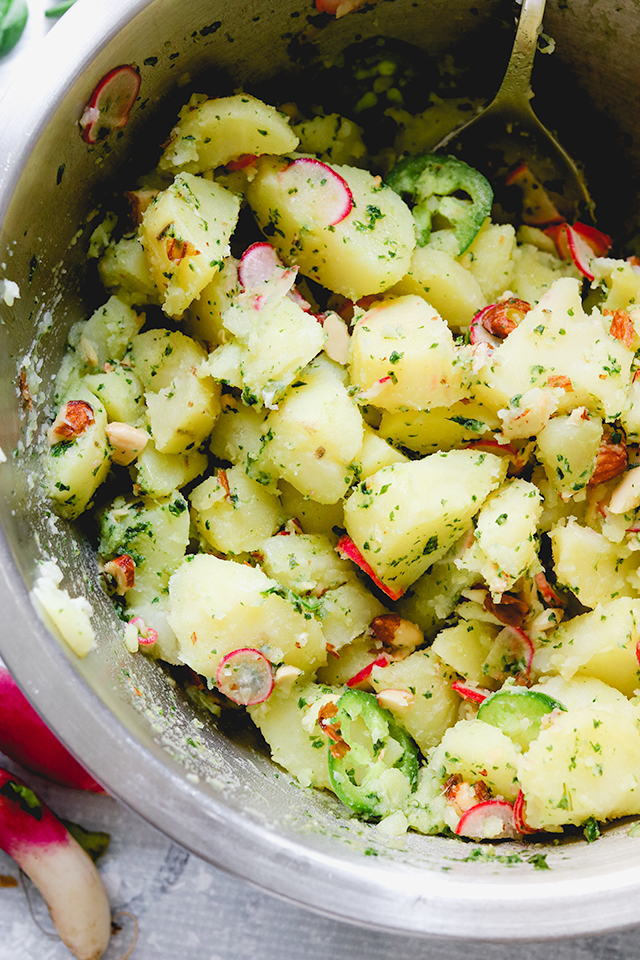 The mayo-hater in me is doing jumping jacks for this potato salad!!
FINALLY, a fresh and delicious option for those of us who don't want to eat a gloppy gloopy mess that's been spoiling in the sun all day. 
Cheers to that.
Those of you who are fainting in shock at the idea of someone not liking mayo (similar to what my BFF did the other day when I informed her of my disdain for ketchup), I've actually become so much more tolerant of it in my old age. Generally, I can deal with it in things as a small component, but definitely not as the main sauce that something is bathing in.
And never straight up on a sandwich. Nuh uh, no way.
Also, I've come to genuinely like kewpie mayo and homemade mayo but Hellmann's and basically any other storebought mayo is a no go.
(It's really fun to live with me, I swear.)
All that to say, welcome to the land of mayo-free salads!
I hope you'll stay awhile. 
This potato salad takes the idea of classic, herb-forward French potato salads and gives it a Thai spin. It's dressed in a Thai basil pesto that is seasoned with ginger, garlic, and lime juice. Plus, of course, Thai basil, which is slightly sweeter and more licorice-y than its Italian counterpart. 
Also in the mix here: quick-pickled radishes and chopped almonds for texture, and sliced jalapenos for SPICE. 
Each bite is a real flavor explosion and will knock the socks off your summer bbqs. Bonus that it's vegan, gluten-free, egg-free, dairy-free, and basically perfect for serving to a high dietary needs crowd.
In addition to being tasty, this recipe is also surprisingly simple and easy to make.
First you'll need to boil your potatoes in salted water (pretty standard while making potato salad) and the rest of the components come together in the meantime! You'll get your radishes quick pickling, and then you'll whiz together the pesto in a blender or food processor. Finally you'll chop up the almonds and jalapenos, then mix everything together.
Because it's mayo free, it can easily be made ahead of time and is perfect as a potluck dish or as a summer side dish to burgers, sandwiches, or pretty much any bbq staple.
Thai Basil Pesto Potato Salad
This healthy Thai basil pesto potato salad is full of fresh flavor. It's mayo-free and super easy to make - perfect for your next summer gathering.
Ingredients
2.5 lb medium Yukon gold potatoes, peeled and cut into 1-inch pieces
kosher salt
2 oz breakfast radishes, thinly sliced
3 tbsp fresh lime juice
flaked sea salt
1 garlic clove, roughly chopped
1 tbsp peeled and roughly chopped ginger
1 cup Thai basil
¼ cup olive oil
1 large jalapeno, thinly sliced into rounds
¼ cup roasted, salted almonds, chopped
Instructions
Put the potatoes in a large saucepan and add enough cold water to cover. Add salt to the water and bring to a simmer. Cook for 10 minutes, or until the potatoes are fork-tender. Drain and set aside to cool for 15 minutes.
Meanwhile, mix the sliced radishes with 1 tbsp of the lime juice and ¼ tsp flaked sea salt. Set aside to lightly pickle.
In a blender or food processor, combine the garlic, ginger, basil, 1 tsp flaked sea salt, and ¼ cup olive oil. Puree to a paste.
In a large bowl, combine the cooked potatoes, remaining 2 tbsp of lime juice, Thai basil pesto, pickled radishes (and their pickling liquid), sliced jalapenos, and almonds. Serve warm or at room temperature.