Make the most of cherry season with this simple cherry crumb pie! It features a filling made from fresh cherries and a buttery crumble topping.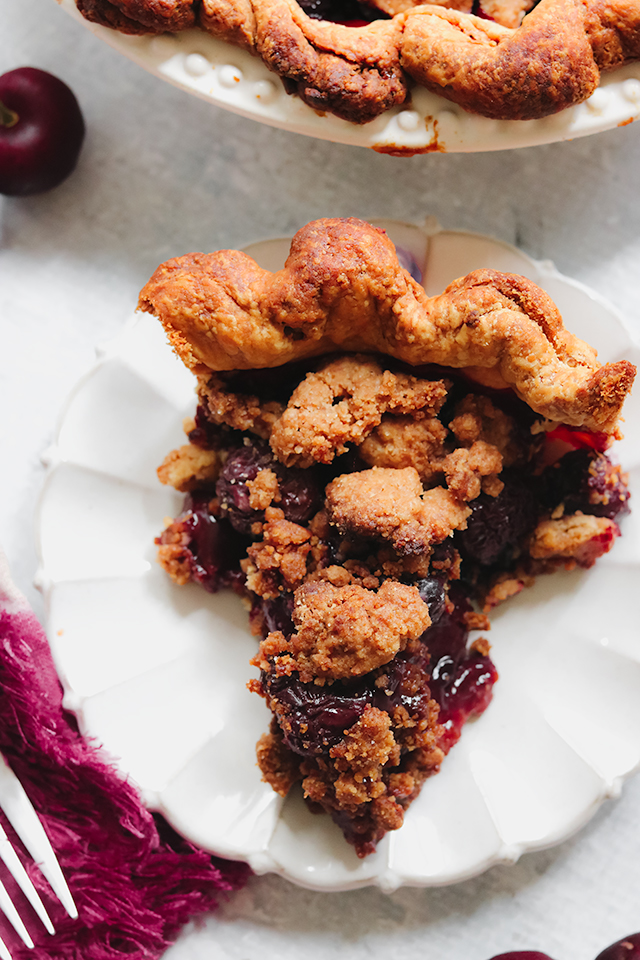 You know I couldn't let a holiday weekend go by without a new pie recipe, right??
I admit it: I'm addicted to pie baking, and I'm not at all sorry about it. Neither would you be if you invited me to your 4th of July gathering and I showed up with this beauty.
(hint hint)
Juicy, slightly tart fresh cherries that get cooked down into a perfectly sweet filling, encased in a mega flaky all butter crust and topped with subtly spiced seriously addicting crumb topping – does anything sound more perfect than that??
Top it with a scoop of vanilla ice cream or freshly whipped cream and you're really doing something right.
Let's delve into the details.
How to make the perfect flaky pie crust:
This pie crust uses a pretty unique technique called fraisage to make an insanely flaky, crisp crust. Fraisage is the fancy French term for using your hand to scrape the dough across your work surface, creating super thin sheets of butter in the process. As the butter cooks, it creates steam pockets in the dough that make flaky layers. The thinner and more evenly distributed the butter pieces are in the dough, the flakier your crust will be.
I tend to use European butters when making pie crust (Kerrygold and Plugra are two favorites) because they have a higher fat content, which will also make for a flakier, richer crust. However, any old grocery store brand of butter will do in a pinch.
Whatever butter you decide to use, another key to a great crust is to make sure it is COLD. Butter that is too warm will incorporate into the flour too much and create more of a cookie texture than a flaky crust.
What kind of cherries should I use for my pie?
That all depends on what kind of pie you're making!
This pie calls for fresh, sweet cherries that have been pitted before baking. The pitting process is equal parts annoying and stress relieving. I use a cherry pitter to do this (a worthwhile investment if you love cherry pie as much as I do) but you can also use a straw to push the pits out of the cherries. The pitting process is a messy one, so make sure to do it over the sink and whatever you do, DO NOT WEAR WHITE while doing it. Consider yourself warned.
Frozen cherries will also work here and – BONUS! They're already pre-pitted. The cooking time for frozen cherries will be a bit less than for fresh cherries because they cook down more easily. Just keep an eye on your pie and pull it out once the filling is bubbling all over (especially in the center).
I do not recommend sour cherries for this pie, because they will require more sugar to make it taste good. However, I do have a sour cherry pie recipe that is the bee's knees if that's what you're wanting.
I hope you'll give this cherry crumb pie a try during cherry season this year! Between the addictive cherry filling and the crispy buttery crumb topping, you really get the best of the pie / crumble / crisp world by making this.
And since there's no such thing as too much pie, here are a few of my other sweet cherry pie favorites to try:
Cherry Crumb Pie
Make the most of cherry season with this simple cherry crumb pie! It features a filling made from fresh cherries and a buttery crumble topping.
Ingredients
For the crust
1 cup (140 g) flour
2 tsp sugar
½ tsp kosher salt
9 tbsp (130 g) unsalted butter, cold
1 large egg yolk
2 tbsp (30 g) whole milk
For the crumb topping
4 tbsp (60 g) unsalted butter
1 cup (120 g) cake flour
3 tbsp (40 g) brown sugar
3 tbsp (40 g) sugar
¼ tsp ground cinnamon
¼ tsp ground ginger
¼ tsp kosher salt
For the filling
3 lb (1360 g) sweet cherries, stemmed and pitted
½ cup (100 g) sugar
¼ cup (30 g) cornstarch
½ tsp vanilla extract
¼ tsp kosher salt
Instructions
For the crust
Combine the flour, sugar, and salt in the bowl of a stand mixer fitted with the paddle attachment. Mix for 10-15 seconds or until combined.
Cut the butter into 12 pieces and add it to the mixer bowl. Paddle slowly until the mixture starts to hold together when you press it, but there are still some pecan-size pieces of butter, about 30-45 seconds.
In a small bowl, whisk together the egg yolk and the milk. Pour into the flour-butter mixture. Mix on low speed just until it comes together, about 30 seconds.
Pour the dough onto a clean work surface and gather it into a mound. Using the heel of your hand, smear the dough across the work surface, starting at the top of the mound and smearing it out towards the edges of the work surface. This helps to make thin sheets of butter throughout the dough. Do this, making your way around the dough, until most of the larger butter chunks are smeared and the dough comes together.
Gather the dough into a disc and wrap tightly with plastic wrap. Refrigerate for at least 1 hour before using.
For the crumbs
Heat oven to 350F. Line a baking sheet with parchment paper and set aside.
Melt the butter in the microwave or on the stovetop.
In a medium bowl, whisk together the flour, brown sugar, sugar, cinnamon, ginger, and salt. Drizzle the melted butter over the top and use a rubber spatula to stir it together. Mix with your hands until the mixture comes together to form crumbs.
Spread the crumbs on the parchment-lined baking sheet and bake for 15 minutes. Remove from the oven and allow to cool completely.
Crumbs can be stored in an airtight container in the fridge for 1 month.
To assemble
Remove the dough disc from the fridge and let it rest for about 15 minutes, or until slightly softened (you may need less time if it is warm in your kitchen).
On a lightly floured work surface, roll the dough into an 11-inch circle. Dock it all over with a fork, then fit it into a 9-inch pie plate, pressing it into the edges and sides. Trim the dough so that there is a 1-inch overhang around the sides of the pie plate. Crimp as desired.
Refrigerate for 30 minutes.
Heat oven to 425F. Place the pie plate on a baking sheet. Line the dough with parchment paper and fill with pie weights all the way to the top.
Bake for 15-17 minutes, or until the edges are set. Remove from the oven and lift the pie weights and parchment out of the crust. Return to the oven and bake for another 3-5 minutes, or until the bottom appears set. Allow to cool completely.
Decrease the oven temperature to 350F.
In a large bowl, toss the cherries with the sugar, cornstarch, vanilla, and salt until well combined. Pour into the prepared pie crust. Sprinkle evenly with the crumbs.
Place on a baking sheet and bake for 60-70 minutes, or until the crumbs are golden and the filling is bubbling all over. Allow to cool completely on a wire rack before serving.