A deliciously creamy spring chowder filled with asparagus, peas, and of course – potatoes!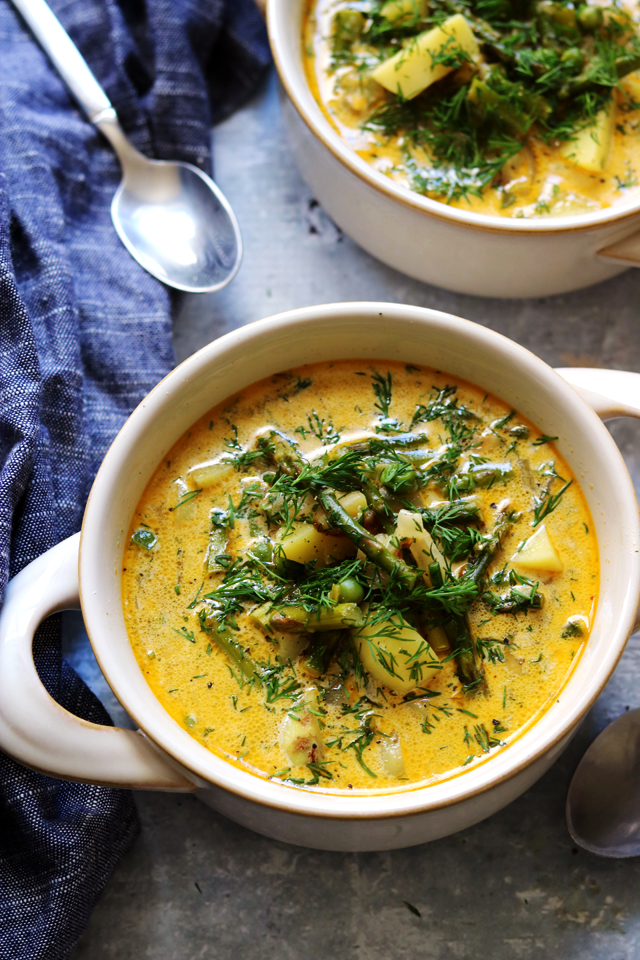 Calling all soup lovers!!!!!
I know you're out there – the diehards who could slurp on a bowl all spring and summer long, no matter the A/C situation.
But also even the lukewarmers who kind of like soup but are maybe more fair weather friends.
And EVEN the soup haters – I think you're gonna like what I have to show you.
This is a SPRING CHOWDER.
Sounds kind of like an oxymoron, but I swear it's not!!!!!!
It's thick and hearty and creamy like a warm hug. But it's also filled with lots of green and fresh herby flavor. So….SPRING.
So much of the flavor in this soup comes from a base of lightly caramelized alliums. You've got the whole gang here – leeks, onions, shallots, AND garlic. They get cooked for twenty minutes, which is just enough to give them a nice sweet/savory flavor but not fully caramelize them.
Simmer them with your favorite broth along with potato chunks, asparagus spears, and peas. Then top the whole thing off with a glug of cream and sprinkle of dill.
It's so fresh and delicious but also incredibly comforting.
Make a big pot on the weekend and eat it all week long – that's an order!
Spring Asparagus and Potato Chowder
A deliciously creamy spring chowder filled with asparagus, peas, and of course - potatoes!
Ingredients
2 tbsp olive oil
2 leeks, white and lean green parts, cleaned and thinly sliced
1 large onion, thinly sliced
1 large shallot, thinly sliced
2 garlic cloves, thinly sliced
kosher salt and black pepper, to taste
pinch of sugar
5 cups vegetable broth
1 lb yellow potatoes, peeled and cut into bite size cubes
1 lb asparagus, trimmed and cut into 1-inch lengths
1 cup peas
½ cup heavy cream
1 bunch of dill, minced
Instructions
Heat the olive oil in a large Dutch over or pot over medium-low heat. Add in the leeks, onion, shallot, and garlic. Season with salt, and the sugar, and turn the heat down to low. Allow to cook and slightly caramelize, stirring occasionally, for 20 minutes.
Pour in the broth, potatoes, asparagus, and peas. Bring the soup to a boil then lower heat to a simmer. Cook, uncovered, until the potatoes are soft. Mash some of them against the side of the pot to thicken the soup a bit.
Stir in the cream and season to taste with salt and black pepper. Stir in ¾ of the dill, reserving the remaining dill to garnish. Serve warm.