Mac and cheese gets hot hot hot in this buffalo cheddar mac and cheese with garlic croutons and broccoli.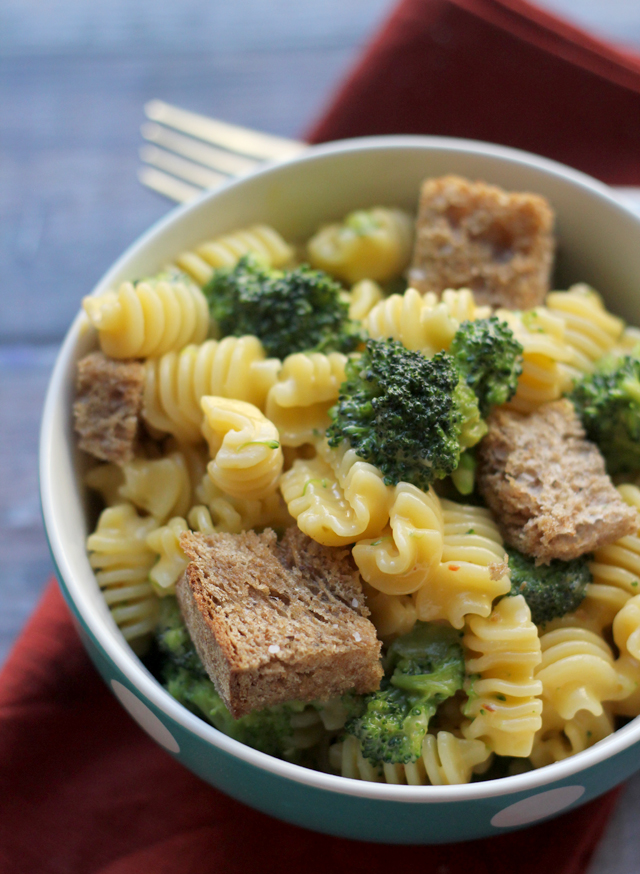 When MAC AND CHEESE MANIA WEEK just so happens to coincide with your birthday week?
Basically the definition of kismet.
Because we know that calories don't count on your birthday week, and calories also don't count on holidays (and what is MAC AND CHEESE MANIA WEEK if not a 120 hour holiday?).
And the last time I checked, a minus minus a minus equals a minus.
So the way I see it is that I'll be BURNING calories this week by eating mac and cheese.
My kind of math.
So now you're probably like what is MAC AND CHEESE MANIA WEEK and how can I get involved/justify eating carbs and cheese every day for a week straight.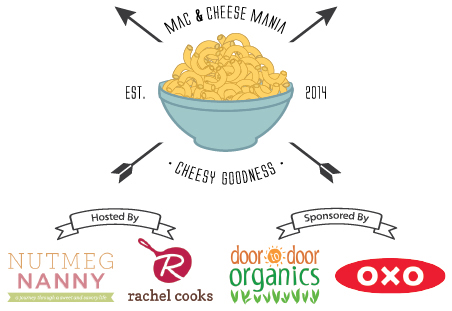 Well, it's a blogger-made holiday hosted by Rachel and Brandy and sponsored by Door to Door Organics and OXO, that celebrates everyone's favorite comfort food! A whole slew of fabulous bloggers (including yours truly) have come together to create every possible variety of mac and cheese that your hearts could desire.
There will also be great prizes up for grabs, including Door to Door Organics Gift Cards, OXO Gift Baskets, Zak Designs Prize Pack, a year's supply of Cabot cheese, a Vermont Creamery gift basket, a risotto kit from Marx Foods, Barilla Pasta, Anolon Advanced Bronze 4.5 Qt. Tapered Stockpot, Rachael Ray Stoneware Casseroval, Wusthof CLASSIC Studio Block Set, Microplane Graters and Kitchen Tools, a SavorX Starter Block with spices and Le Cordon Bleu by Swissmar oven to table roasters. Wow. That was a mouthful.
Head on over to  Rachel's and Brandy's blogs to find out more about how to win these fabulous items and to see what other great recipes have been cooked up for this fun event!

But first, let's discuss this mac and cheese and why you need it in your week. I stumbled across a spicy (no, but REALLY SPICY) buffalo sauce-infused cheddar cheese at Whole Foods last week (and it was on SALE, no less!) and just knew that I needed it in mac and cheese form with little bites of broccoli florets scattered throughout. For health.
I was originally hellbent on making my own breadcrumbs for a breadcrumb crust until I got bitten by a lazy (post 11 mile run) bug and didn't feel like breaking out my food processor. So croutons it was! These are extra special because they are tossed with a roasted garlic-infused olive oil, but if you don't have such a thing hanging around your cabinets, regular olive oil will do!
The resulting mac and cheese was MEGA creamy, MEGA cheesy, and BIG on spice. The.Boy and I sweated through every delicious bite.
And went back for seconds.
Because, birthday/holiday week negative calories. Gotta take advantage while we can.
One year ago…S'more Nut Bars
Two years ago…Barley Risotto with Roasted Brussels Sprouts, Apples and Champagne Honey Mustard, Chai-Spiced Cupcakes with Honey Frosting
Three years ago…Oven-Fried Chicken and Waffles  with a Pomegranate  Maple Syrup
Four years ago…Chocolate Coconut Banana Bread Pudding, Pork Chop Milanese with Arugula Salad
Five years ago…Crockpot Beef Stroganoff
Buffalo Cheddar Mac and Cheese with Garlic Croutons
Mac and cheese gets hot hot hot in this buffalo cheddar mac and cheese with garlic croutons and broccoli.
Ingredients
1 loaf whole wheat Italian bread, cut into cubes
¼ cup garlic-infused olive oil
salt and black pepper, to taste
1 lb pasta
4 cups broccoli florets, chopped
1½ cups milk, divided
2 tbsp flour
8 oz buffalo cheddar cheese, shredded
Instructions
Preheat oven to 400.
Toss bread cubes with garlic-infused olive oil. Spread out on a parchment-lined baking sheet. Sprinkle with salt and black pepper. Toast in the oven for 10-15 minutes, or until crispy on the outside.
Bring a pot of salted water to a boil. Add pasta and cook until according to package instructions, adding in the broccoli florets during the last 2 minutes of cooking. Strain.
Meanwhile, Bring 1 cup of milk to a simmer. Whisk together the remaining ½ cup milk and 2 tbsp flour. Pour into the simmering milk and whisk until warm and slightly thickened. Stir in the cheese, simmering until melted.
Toss the cheese sauce with the pasta and broccoli. Serve topped with garlicky croutons.
Notes
An Eats Well With Others Original
Nutrition Information
Serving size:
⅙th of recipe