The vibrant green in these mini muffins come solely from matcha powder, filling these green tea financiers with sweet herbal flavor.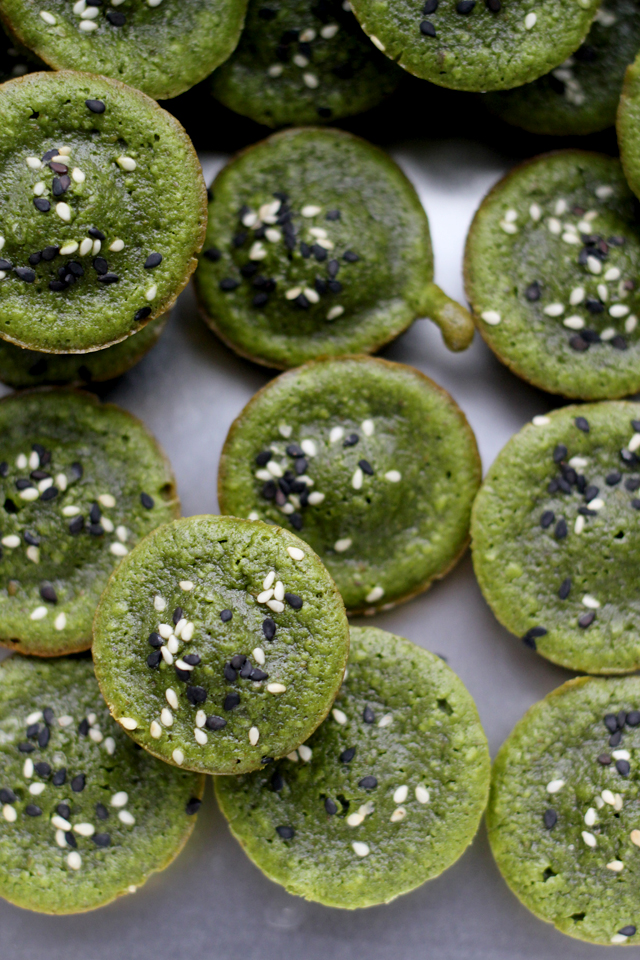 Don't run away screaming. 
YES these are a freaky shade of chlorophyll and YES they have an intimidating French name, which was certainly enough to send The.Boy running for the hills, if you want to know the truth (he wouldn't try even ONE.)
But the irony of these pinkies up mini cupcakes is that you make them…in…
…THE FOOD PROCESSOR.
Would could be more pedestrian than that?
And by pedestrian, I obviously mean un-French-pastry-like since French pastry is all about rules and precision and certainly would not approve of dumping all of your ingredients into a bowl with a mechanical blade and pressing go.
But here we are.
Left with little green subtly sweet bites (that for all intents and purposes are really a mini muffin/cupcake hybrid) that have hints of almond and sesame with some definite herbal green tea undertones.
These may come from humble beginnings, but if we're being honest, "financier" doesn't even do them justice in the end.
Take THAT, fancy French pastry names.
Take. That.
Two years ago…Roasted Garlic Cauliflower Soup
Three years ago…African Curried Coconut Soup with Chickpeas
Green Tea Financiers
The vibrant green in these mini muffins come from a green tea infusion, filling these green tea financiers with sweet herbal flavor.
Ingredients
For the sesame-salt:
2 tsp sesame seeds (mix of black and white)
⅛ tsp flaky sea salt
For the financiers
⅔ cup sliced almonds
½ cup sugar
1 tbsp white sesame seeds
5 tbsp (45 g) all purpose flour
2½ tsp green tea powder (matcha)
¼ tsp baking powder
pinch of salt
½ cup egg whites (about 4 large egg whites)
6 tbsp unsalted butter, melted and cooled slightly
Instructions
Heat the oven to 375. Grease a mini muffin tin.
For the sesame-salt mix, stir together the sesame seeds and sea salt in a small bowl. Sprinkle the greased muffin cups with ⅔ of the seed mixture, reserving the rest.
For the financiers, in the bowl of a food processor, blend together the almonds, sugar, white sesame seeds, flour, green tea, baking powder, and salt, until the nuts are finely ground. Add in the egg whites and butter and pulse until smooth, scraping down the bowl as needed.
Split the batter among the prepared muffin cups, then sprinkle the tops with the remaining sesame-salt mixture. Bake until the financiers are firm when pressed with a finger, about 12 minutes.
Let cool completely before removing from muffin cups.
Notes
Adapted from
Ready for Dessert: My Best Recipes