Incredibly flavorful harissa and manchego omelets paired with a harissa-baked potato skin salad make for a hearty and refreshing brunch! Serve it up to someone you love this weekend.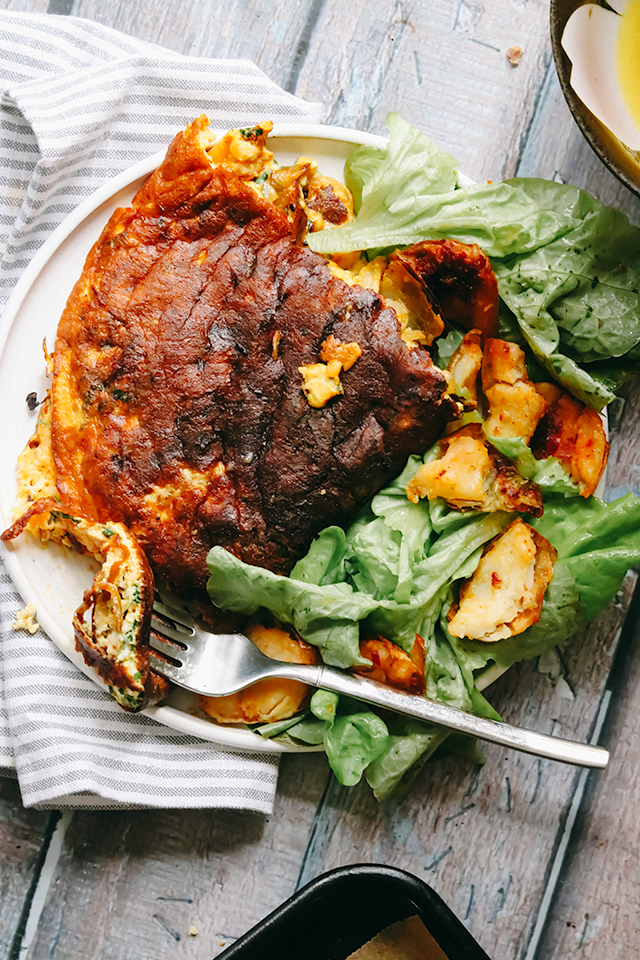 Any brunch dreamers out there?
It's the only meal where you can eat the most decadent sweet and savory over the top things, and it's almost expected of you. Like, if you go to brunch and just order the scrambled eggs, you'll be shamed. Seriously. Go eggs benedict or creme brulee french toast or ice cream sundae pancakes or go home.
I have aspirational goals to eat brunch for every meal of my life. There was one point in last year's spring lockdown when I came close!! 
But then life, work, a child waking up at the crack of dawn and stealing all of my motivation/life force kind of got in the way. 
So now brunch is (sadly) relegated to weekends, and only occasionally/not often enough. It is what it is.
If I want to get more brunchy foods in my life, then the real solution is to just make them for dinner. That's fine for the savory stuff but for things like pancakes/french toast, it's kind of a pandora's box. Where do you draw the line between dinner and dessert? How do you then explain to your five year old why pancakes with maple syrup are okay but a tub of ice cream isn't? You see the problem.
We have enough fights at the dinner table that I'm just going to plan on avoiding that one, thanks.
Fancy omelets for dinner it is!!
I stumbled on these recipes in Ottolenghi's Simple cookbook when I was searching for a way to use up two pounds (no lie) of manchego cheese that had been accidentally included in my grocery delivery (don't ask). 
Not only did they use up a bit of the manchego, but also the last dregs of a jar of harissa, some russet potatoes, and eggs. A cook-your-pantry win!
Let's actually discuss the salad first because it takes a bit more time. It's comprised of twice-baked harissa-spiced potato skin croutons, crispy fresh lettuce, and a simple and smoky cumin-infused lemon vinaigrette. The croutons take a bit of time because you'll first need to roast the russet potatoes, which takes about an hour, then scoop out the insides, season them, and roast them again. Pretty sure you could prep the potatoes ahead of time so that on the day of cooking you really just need to do that final bake. Or you could cheat and microwave the potatoes – no judgment.
To make the omelet, you'll start by cooking down an onion until it's browned and lightly caramelized. Then, you'll mix it into your omelet "batter" along with harissa, nigella seeds, and cilantro. Finally, you'll cook it in four batches (to make four omelets), sandwiching manchego cheese in-between each. They end up having a hint of spice but really just so much flavor.
It's an omelet like you've never had before and works for pretty much any meal that you want to cook it for.
Harissa and Manchego Omelets with Harissa-Baked Potato Skins
Incredibly flavorful harissa and manchego omelets paired with a harissa-baked potato skin salad make for a hearty and refreshing brunch! Serve it up to someone you love this weekend.
Ingredients
For the omelets
5 tbsp olive oil
1 large onion, thinly sliced
12 large eggs, lightly beaten
7 tbsp whole milk
4.5 tbsp rose harissa
2 tsp nigella seeds
¼ cup cilantro, roughly chopped
salt and black pepper
4 oz manchego, coarsely grated
For the harissa-baked potato skins
2.5 lb large russet potatoes
1 tbsp rose harissa
2 tbsp olive oil
1 small ice berg lettuce, cut into 1.25-inch wedges
2 tbsp lemon juice
2 tbsp olive oil
1 tsp cumin
salt, to taste
Instructions
For the omelets
Heat 3 tbsp olive oil in a medium pan over medium heat. Add the onion to the pan and saute for 15 minutes, or until caramelized and golden, stirring occasionally. Pour into a large bowl and allow to cool slightly.
Once cool enough to touch, add the eggs, milk, harissa, nigella seeds, cilantro, ½ tsp kosher salt, and black pepper to taste. Whisk to combine and break up the eggs. Set aside.
In a medium nonstick skillet, heat 2 tsp of oil. Add a quarter of the egg mixture to the pan and swirl so that it covers the whole pan. Once the eggs have browned on the bottom and are starting to set, sprinkle a quarter of the manchego on top of half of the omelet. Fiip the half with no cheese on it over the top of the cheese to form a half moon shape. Allow to cook for another minute or until set. Repeat with the remaining batter to get 4 omelets. Serve immediately.
For the harissa-baked potato skins
Heat oven to 450F.
Place the potatoes on a baking sheet and bake for 50-55 minutes or until they are easily pierced with a fork and are cooked all the way through. Remove from the oven and let cool. Once cool enough to touch, cut the potatoes in half lengthwise and scoop out the flesh so that there is a ¼-inch border left around the potatoes.
Tear the potato skins into 2-inch pieces and place in a large bowl. Toss with the harissa, olive oil, and ¼ tsp kosher salt. Spread on a parchment-lined baking sheet and roast for 12 minutes, flipping halfway through, or until crisp. Remove from the oven to cool slightly.
In a small bowl, whisk together the lemon juice, olive oil, cumin, and salt. Divide the lettuce among serving bowls. Top with the potato skins and drizzle with lemon dressing. Serve immediately.