Pasta primavera – a classic restaurant-style pasta dish made with plenty of roasted vegetables and a luscious parmesan cream sauce.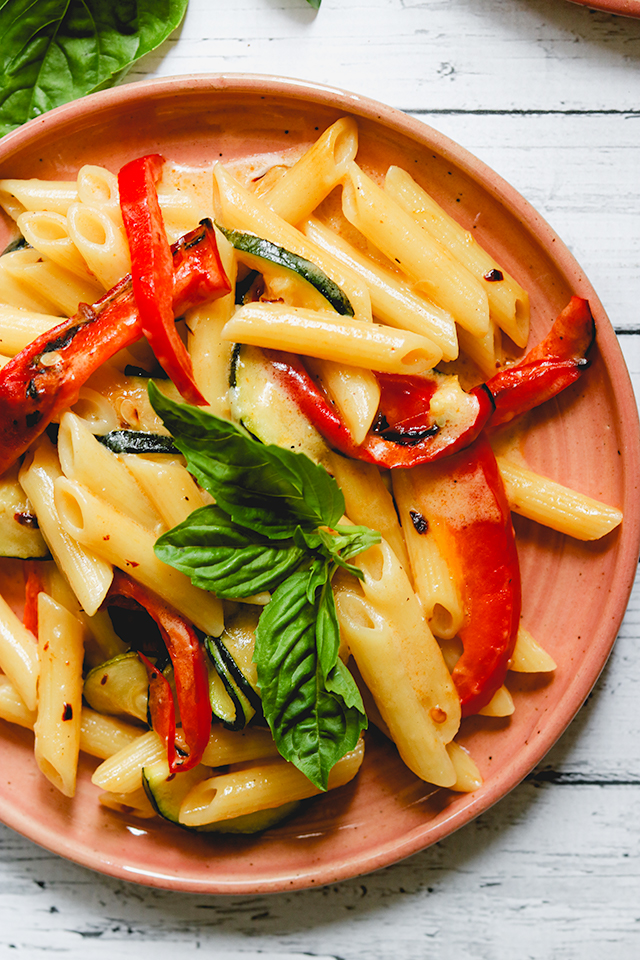 So-called "seasonal cooking" has come a long way since the 1980s when pasta primavera was created by the chefs at Le Cirque, a famous fine dining restaurant in NYC. At the time, it was a revolutionary dish, referred to by its creators as "the most talked-about dish in Manhattan".
Now we're busy making whipped cream out of chickpea cooking liquid and coffee out of mushrooms (no. just, NO.), and pasta primavera has become old (maybe even a bit passé) news.
Oh, how times have changed.
So while I'm sure you've tried this dish in some way, shape, or form, I'm throwing my own version into the mix. 
It's easy enough for weeknight cooking, completely family friendly, and absolutely delicious!
This recipe starts, as most excellent recipes do, with a sheet pan of roasted vegetables. When veggies are roasted, they become deeply flavorful, caramelized in all the best places, and just the best versions of themselves. It's also a lower stress way to cook them since you don't need to baby-sit them on the stove or worry about overcooking them. I chose to roast bell peppers and zucchini for this recipe, but pretty much any vegetable is fair game here, including asparagus, broccoli, eggplant, cauliflower, and peas.
While the vegetables are roasting, you'll cook your pasta and make your sauce. 
Stringy slurpy noodle-y pastas are more traditionally paired with primavera sauce (though it's tough to call something "traditional" when it's only been around for forty years), but I prefer a tube pasta for this dish. It's easier for little ones to eat, the ridges catch the sauce really well, and every so often you bite into one and get a gush of sauce in your mouth.
For the sauce, you'll melt down mascarpone cheese, parmigiano-reggiano (use the good quality stuff here if you can, please!), and whole milk down in a saucepan until the mixture is thick and creamy. 
I've said it before, but mascarpone cheese is my favorite trick for making easy cream sauces. It helps to thicken the sauce so that you don't need to waste time or energy make a roux and it has the best, decadent flavor. 
If you're not a fan of parmesan cheese, then other hard cheeses will work here including asiago, pecorino, or fontina. You could also use cream cheese in place of the mascarpone but it will have a bit more tang to it than this version of the recipe does.
Feel free to make it your own and, most importantly, enjoy! 
Pasta Primavera with Parmesan Cream Sauce
Pasta primavera - a classic restaurant-style pasta dish made with plenty of roasted vegetables and a luscious parmesan cream sauce.
Ingredients
2 tbsp olive oil
2 red bell peppers, seeded and thinly sliced
2 zucchini, halved lengthwise and thinly sliced
1 tsp red pepper flakes
salt and black pepper, to taste
1 lb penne
8 oz mascarpone cheese
1 cup grated parmigiano-reggiano
½ cup whole milk
Instructions
Heat oven to 450F. Line a sheet pan with parchment paper and set aside.
In a large bowl, toss together the olive oil, red bell peppers, zucchini, and red pepper flakes until well combined. Spread on the prepared baking sheet and season to taste with salt and black pepper. Roast for 20 minutes, or until the vegetables are caramelized and cooked through.
Meanwhile, bring a large pot of salted water to a boil and cook the pasta according to package directions. Drain and set aside.
Heat the mascarpone cheese, parmigiano-reggiano, and milk together in a medium saucepan until the cheeses have melted and the sauce has thickened slightly, about 4-5 minutes. Season to taste with salt and black pepper.
Toss the cooked pasta with the roasted vegetables and parmesan cream sauce. Serve immediately.
Notes
An Eats Well With Others Original