A rich double chocolate zucchini loaf that feels decadent enough for dessert, but also has vegetables making it totally breakfast-appropriate!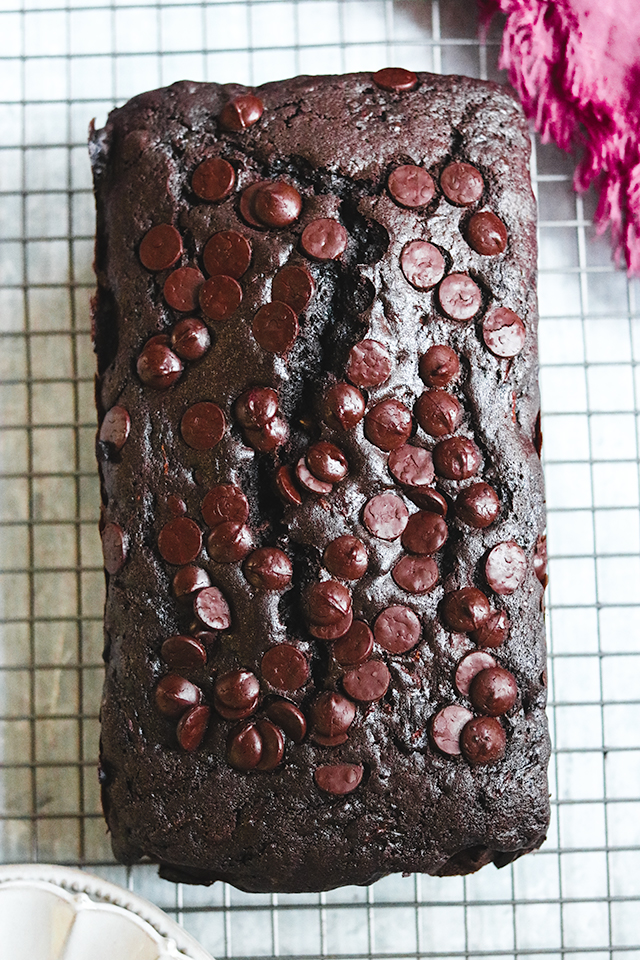 We're coming on that season when you can't turn left, right, or sideways without having zucchini foisted upon you from the overzealous gardeners in your life (cough mom, mother-in-law, I'M LOOKING AT YOU). 
And it's never the cute petite zucchini that you see it at the supermarket. Oh, no. It's the MONSTER zucchini that takes up a a whole city block in length and only fits in the refrigerator when you situate it diagonally on the bottom shelf. As someone who's fridge exists in a constant state of "stuffed-to-the-brim" this….is not ideal.
So I do what any warm-blooded human does in this situation – make zucchini bread!!!
After a lot of research, trials, errors, and toddler cake refusal, I've come to the conclusion that there are two zucchini bread camps in this world:
there are recipes whose sole purpose is to use up as much zucchini as possible, and in doing so sometimes sacrifice flavor, deliciousness, that oomph factor that causes you to return to the table (or wherever your zucchini cake is residing) at hourly intervals to slice off "just one more piece"
and then there are recipes that are delicious in their own right – and just happen to also have zucchini in them. These are the recipes you would go out of your way to make, even in the depths of winter when it is nowhere near zucchini season and no one is forcing zucchini consumption upon you.
I made this in February so….I'll let you take a wild guess which one this is.
This cake starts from humble beginnings and a mix of pantry staple ingredients but turns into something so much more than the sum of its parts.
It is rich, fudgy, utterly decadent and even passes the toddler sniff test (to this day, she has no idea there was zucchini in it and if you tell her I will come for you, mark my words).
How does something so simple turn into something so magical?? IT'S THE ZUCCHINI. Seriously.
The shreds of grated zucchini melt into the cake leaving little pockets of moistness everywhere, making the cake extra plush without an excessive amount of oil or butter. Pools of melty chocolate chips dotted throughout the cake don't hurt either.  
And did I mention that it is made in one bowl, by hand, no stand mixer needed?!?
I would say it's the perfect recipe to make with your kids but….then they'll know about the zucchini, so tread carefully.
This recipe is from the Midwest Made cookbook, which is one of my favorites for foolproof, comforting, straightforward bakes. Don't get me wrong, there are some more complicated recipes in there but Shauna Sever makes the process so simple that you'll somehow be making breakfast pastries without blinking an eye. She categorizes this as a "counter cake", and I love the term. May there ever be cakes on our counter, and hopefully the kind that you keep coming back to for sneak bites.
Double Chocolate Zucchini Loaf Cake
A rich double chocolate zucchini loaf that feels decadent enough for dessert, but also has vegetables making it totally breakfast-appropriate!
Ingredients
¾ cup + 2 tbsp (175 g) sugar
½ cup (113 g) unsalted butter, melted and cooled
3 large eggs, room temperature
1 tbsp vegetable oil
1 tsp vanilla extract
1.25 cups (160 g) all purpose flour
½ cup (48 g) unsweetened Dutch-processed cocoa powder
1 tsp baking powder
¾ tsp fine sea salt
¼ tsp baking soda
2 cups (225 g) grated zucchini
1 cup (175 g) semisweet chocolate chips, divided
Instructions
Heat oven to 350F with a rack positioned in the center of the oven. Grease a 9x5-inch loaf pan with baking spray and line it with parchment paper. Set aside.
In a large mixing bowl, whisk together the sugar, melted butter, eggs, vegetable oil, and vanilla. Sift the flour, cocoa powder, baking powder, salt, and baking soda over the top of the batter. Whisk to combine.
Add the zucchini to the mixing bowl and fold it into the batter with a flexible spatula. Fold in ¾ of the chocolate chips.
Pour the batter into the prepared baking pan, smoothing the top into an even layer. Sprinkle the remaining chocolate chips over the batter.
Bake for 1 hour, or until a toothpick inserted in the center comes out mostly clean (it may have some melted chocolate on it). Allow to cool in the pan for 20 minutes, then transfer to a wire rack to cool completely. Slice and serve.