Stay #TrendingInTheKitchen by finding delicious ways to eat healthier desserts this spring! These simple whipped yogurt almond cream bowls are made with protein-rich Greek yogurt, then topped with fresh figs and sweet-tart balsamic syrup – proof that dessert can be healthier and still taste good. 
[Disclosure: This post was sponsored by Pompeian. As always, my thoughts and opinions are my own. Thank you for supporting the brands that keep me inspired in the kitchen.]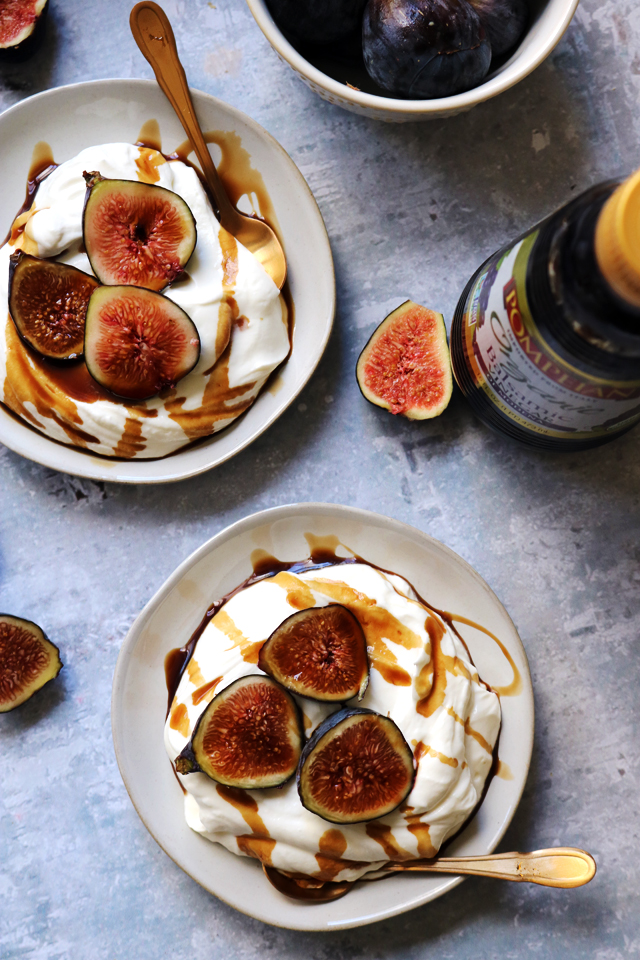 Back, back, waaayyyyyyyy baaaccckkk when I was a new blogger (so…in the Dark Ages), I was all about making healthier desserts.
You wouldn't know it by all of the butter I now (sometimes gratuitously) manage to work into my sweet treats, but it's true!!
Back then I really thought of myself as a "healthy food blogger" purist. I was much less of an "everything in moderation" kind of gal, and much more of an "Eat Kale. ONLY KALE" evangelist.
(Oh, how times have changed.)
(JK, I still eat plenty o'kale.)
My strategy for making healthy desserts back then meant taking recipes for unhealthy desserts (cakes, cookies, etc) and substituting the butter/sugar/oil with applesauce or mashed bananas. I don't know if you've ever tasted such a concoction, but it is nowhere near as delicious as its fully indulgent counterpart. It's not bad, per se, but it's just not really good.
Now that I'm embarking on this getting-back-to-pre-baby-weight/level-of-fitness journey, I'm back to being all about healthier desserts. However, this time my strategy is more about making desserts that are healthier to begin with rather than trying to make something really decadent, less so.
These whipped almond yogurt creams are the perfect example of that. Instead of making pure whipped heavy cream, you whip together a mixture of heavy cream and Greek yogurt that is flavored with a touch of powdered sugar and amaretto and then serve it topped with fresh fruit (<– the OG naturally healthy dessert, obviously) and a balsamic syrup drizzle.
The whipped yogurt mixture is so rich and satisfying, you honestly wouldn't even know that it's fairly good for you. My brother and husband could not believe that yogurt could be the base of so much decadence, but it can!
And – bonus – word on the street is that healthier springtime desserts are one of this years hottest trends! So even if you're an old person like me who catches onto the hottest fad approximately five years after it's come and gone, you can be the cool kid #trendinginthekitchen by making this. WIN.
The homemade balsamic syrup is another lovely touch that turns this into something really special. It's thick, sweet, tart and just adds a little bit of much needed pizzazz to really escalate these into something you could serve at a dinner party (or just scarf down while sitting alone on your couch in your PJs).
It's especially delicious when you start out with a truly great balsamic vinegar like Pompeian's Organic Balsamic Vinegar, which is made from select, organically grown grapes from Modena, Italy that are harvested when perfectly ripe to get the utmost robust flavor. True to its roots, it is produced in the time-honored tradition of Modena – the grape juice is slowly cooked, then stored in barrels for refining and aging. Unlike some other balsamics out there, Pompeian's vinegar is caramel color free, naturally gluten free, and perfect for just about anything you'd want to use balsamic vinegar for – salads, pasta dishes, and hey!
Even dessert.
Especially dessert.
Whipped Almond Yogurt Cream with Figs and Balsamic Syrup
These simple whipped yogurt almond cream bowls topped with fresh figs and sweet-tart balsamic syrup are proof that dessert can be healthier and still taste good.
Ingredients
½ cup Pompeian Organic Balsamic Vinegar
½ cup heavy cream
¼ cup powdered sugar
2 cups Greek yogurt
2 tbsp amaretto
1 cup figs, halved
Instructions
To make the balsamic syrup, heat the balsamic vinegar in a small pan over medium heat to bring to a simmer. Allow to cook until the vinegar has reduced by about half and is thick and syrupy. Remove from the heat and pour into a small bowl. Allow to cool while you prepare the remaining ingredients.
Combine the heavy cream and the powdered sugar in the bowl of a stand mixer fitted with the whisk attachment. Beat on high speed until soft peaks form. Add in the Greek yogurt and amaretto. Whip on high speed until smooth.
Divide the yogurt mixture among four plates. Top with the fig halves and drizzle with the balsamic syrup. Serve immediately.
Notes
An Eats Well With Others Original