A flaky and buttery galette made with caramelized leeks, asparagus, gruyere, and pine nuts.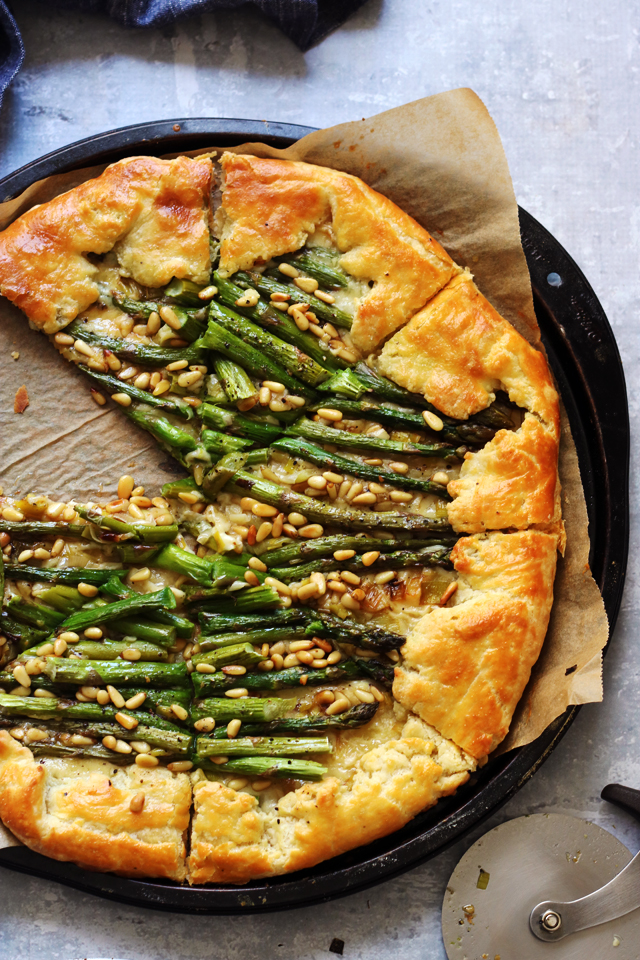 I maaayyyyyy have gone on a little bit of an asparagus bender last week.
4 pounds in one grocery haul.
Is that too much??
On the one hand, I'm pretty sure a vegetable-eating bender is the best kind of bender you can go on.
On the other hand, our pee smelled pretty funky last week.
Maybe TMI, but I'm just keeping it real.
Whatevs, that's a small price to pay for getting to celebrate spring by eating its most prized possession for the approximately one month while it's in season.
This is probably going to sound crazy, but one of my biggest pet peeves in life is when people eat asparagus in fall or winter. EWWW. It really doesn't taste good, the stalks are thick and woody, and it's almost definitely been shipped from halfway around the world. I'm not generally a stickler about eating seasonally, but asparagus is where I draw the line. And don't even get me started on tomatoes. I just can't.
With all this asparagus lurking in my fridge, I had to get creative, especially since I was starting to hear some mumblings from the peanut gallery (ahem, husband? child?) about staging some sort of asparagus revolt.
We had it in pasta and soup and salad….with the pièce de résistance of the week being this gorgeous tart!
I had some idea of what it would look like when I started making it, but honestly I really didn't think it would turn out this pretty, especially since my pastry skillz are only so-so.
My most favorite galette dough in the world, which is so impossibly flaky and user friendly, is topped with caramelized leeks, gruyere, and asparagus that gets crisped and roasted after a stint in the oven. The whole thing is topped with roasted pine nuts. Eat it with your hands or a fork in knife. It's messy, but so are most of the best things in life.
Asparagus, Gruyere, and Pine Nut Galette
A flaky and buttery galette made with caramelized leeks, asparagus, gruyere, and pine nuts.
Ingredients
For the crust
2½ cups all purpose flour
½ tsp salt
16 tbsp unsalted butter, chilled and cut into ½-inch cubes
½ cup Greek yogurt
1 tbsp white wine vinegar
? cup ice water
For the filling
1 tbsp olive oil
2 leeks, white and light green parts only, rinsed and thinly sliced
salt and black pepper, to taste
6 oz gruyere cheese, grated
1 lb asparagus, woody ends snapped off
¼ cup pine nuts, toasted
1 egg yolk beaten with 1 tbsp water, for glaze
Instructions
For the crust, combine the flour and salt in the bowl of a food processor, pulsing to combine. Add the butter and pulse until the texture is like cornmeal, with the biggest butter pieces being the size of pebbles. Add in the sour cream, vinegar and water and pulse just until the dough comes together. Pat the dough into a ball, wrap it in plastic and chill it for at least one hour and up to two days.
Heat oven to 400F.
Meanwhile, heat the olive oil in a medium nonstick skillet over medium heat. Add the leeks to the skillet and saute until caramelized, about 5-6 minutes. Season to taste with salt and black pepper.
On a floured work surface, roll out the dough into a 16--inch round. Transfer to a parchment-lined pizza pan or baking sheet.
Spread the cheese over the dough, leaving a 1.5-inch border. Top with the leeks.
Arrange the asparagus on top of the leeks in neat rows. Season with freshly grated black pepper. Fold the border over the filling, pleating it as necessary, leaving the center open. Brush the outside of the crust with the egg/water mixture. Sprinkle the pine nuts over the top of the galette.
Bake at 400 until golden brown, 30-40 minutes. Remove from the oven and let stand 5 minutes before serving.
Notes
An Eats Well With Others Original
More savory galettes: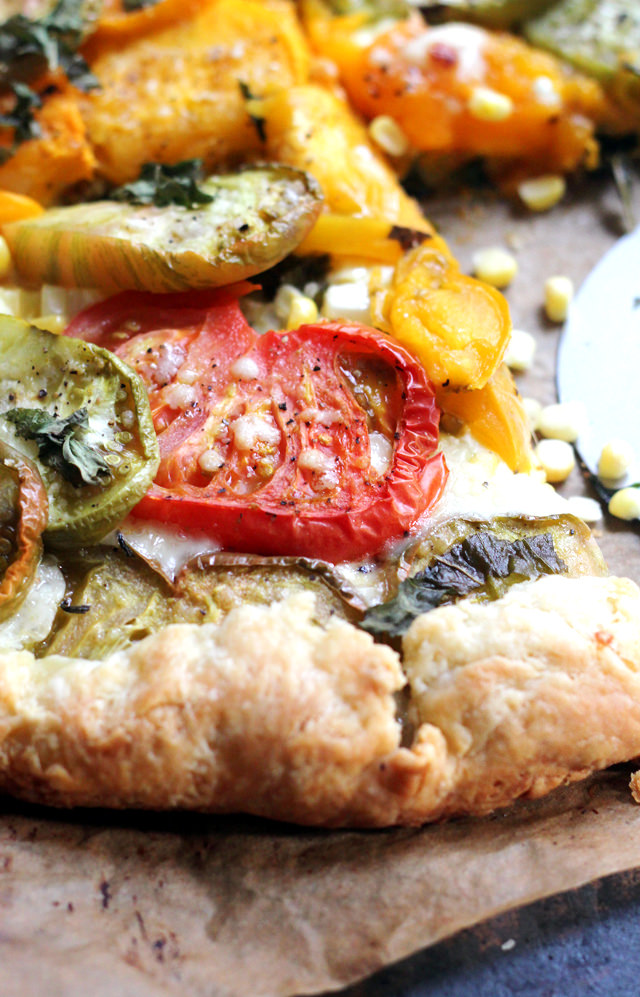 Caramelized Heirloom Tomato and Corn Galette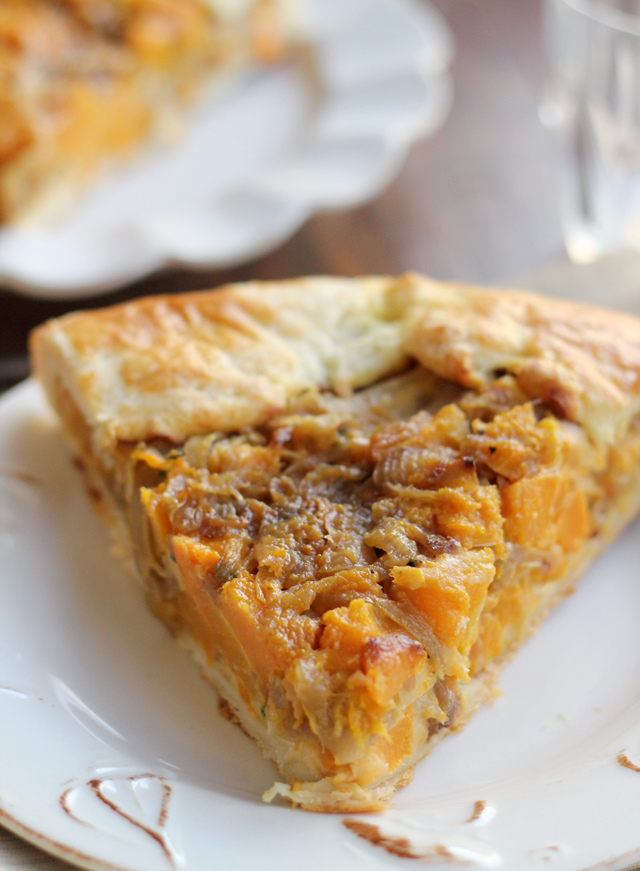 Butternut Squash and Caramelized Onion Galette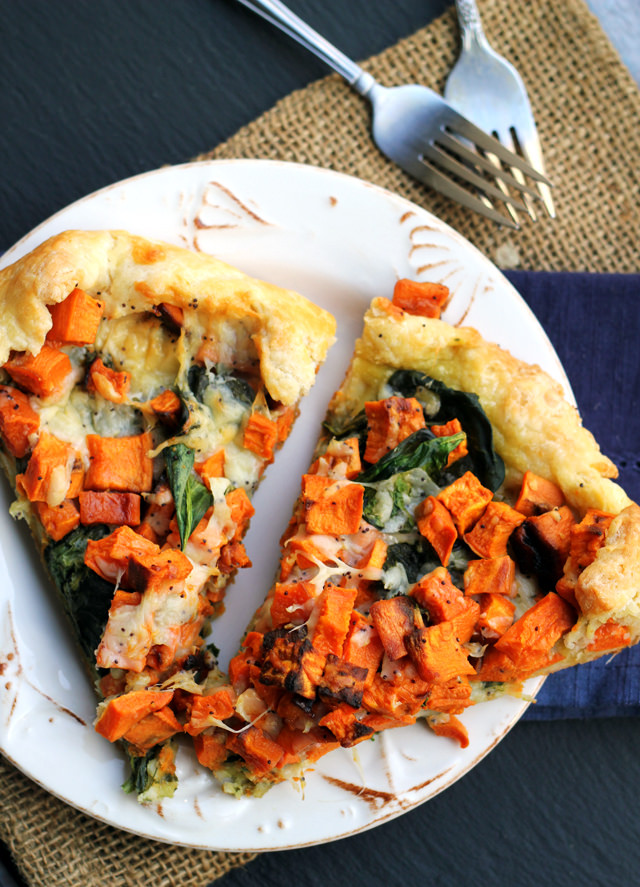 Sweet Potato, Spinach, and Cheddar Galette