There's no better way to celebrate fresh summer heirloom tomatoes than with this caramelized heirloom tomato and corn galette!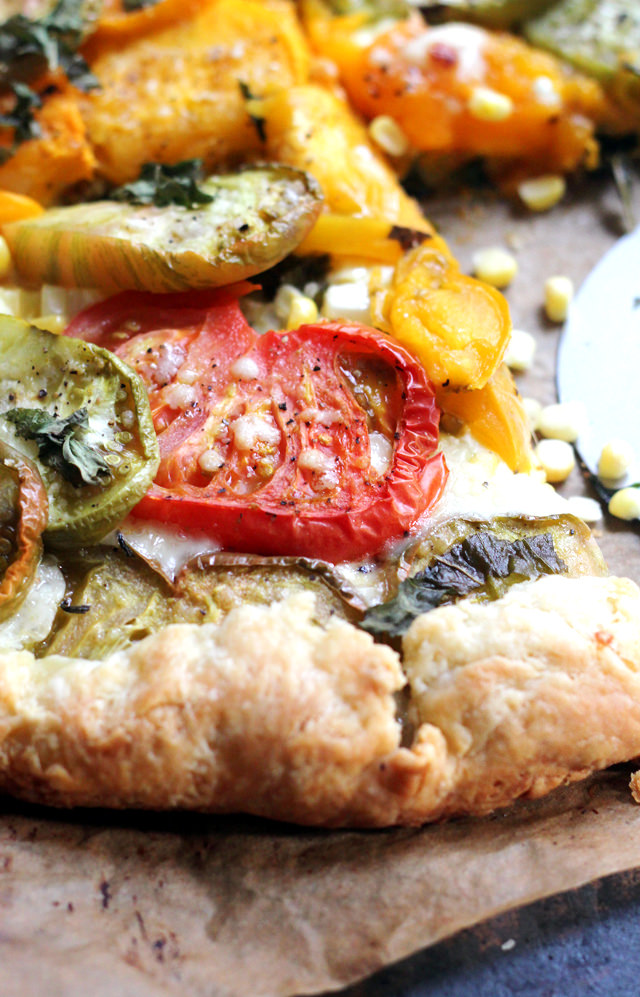 Did I forget to mention that it's TOMATO WEEK?!
So, basically the best week of the year. Maybe even better than Christmas?
It's close.
I actually got an email in my inbox yesterday letting me know that summer is so last year. At least on Pinterest, where pumpkin is apparently already going wild. I know I complained about this yesterday, but seriously people?!
I.Can't.Even.
I don't know how it is where you are, but my favorite summer heirloom tomatoes have actually been pretty few and far between this year, hence the scarcity of tomato recipes around here this summer. Some serious scavenging happened just so I could get my hands on these (as in, I may or may not have manhandled every tomato in the store just to find the five that I wanted). Sure, I could have settled for some red on red on red tomato galette action, but I had already committed to a rainbow tomato galette in my mind…and I just couldn't let myself down.
You're glad I'm so stubborn, right?
(Can I get that in writing? Or, specifically, in a personalized letter addressed to my husband? Kthanks.)
Believe it or not, galettes are actually considered the ugly duckling of the pie world! Sure, they don't have all of their edges crimped and top crusts interwoven just so, but there's definitely some rustic beauty going on here. Perfection in imperfection? <–Yes, that.
Also, the most flaky thick buttery perfect crust I've ever made in my life…that definitely helps.
Then there's the gooey mozzarella goat cheese layer, the fresh corn and basil layer, and the caramelized tomato with a dash of parm on top layer.
The deliciousness just slays me. Every time.
Summer, I'm never letting go.

Caramelized Heirloom Tomato and Corn Galette
There's no better way to celebrate fresh summer heirloom tomatoes than with this caramelized heirloom tomato and corn galette!
Ingredients
For the crust
2½ cups all purpose flour
½ tsp salt
16 tbsp unsalted butter, chilled and cut into ½-inch cubes
½ cup Greek yogurt
1 tbsp white wine vinegar
⅓ cup ice cold water
For the filling
4 oz goat cheese, crumbled
4 oz mozzarella cheese, grated
1 ear of corn kernels
2 oz basil, thinly sliced
1¾ lb mixed heirloom tomatoes, thinly sliced
2 tbsp parmesan cheese
salt and black pepper, to taste
Instructions
For the crust, combine the flour and salt in the bowl of a food processor, pulsing to combine. Add the butter and pulse until the texture is like cornmeal, with the biggest butter pieces being the size of pebbles. Add in the Greek yogurt, vinegar, and water. Pulse just until the dough comes together. Pat the dough into a ball, wrap it in plastic and chill for at least one hour and up to two days.
Heat oven to 400F.
When the dough has chilled, roll it out into a 16-inch round on a floured work surface. Transfer to a parchment-lined pizza pan or baking sheet.
Sprinkle the dough with goat cheese and mozzarella, leaving a 1½ to 2 inch border. Top with the corn and half of the basil. Arrange the tomato slices on top of the cheese/corn mixture so that they slightly overlap. Sprinkle with parmesan cheese and salt and black pepper to season. Fold the border over the filling, pleating it as necessary, leaving the center open.
Bake for 30-40 minutes, or until golden brown. Remove from the oven and let stand 5 minutes before serving. Top with remaining basil right before serving.
Notes
An Eats Well With Others Original
Galettes for dinner: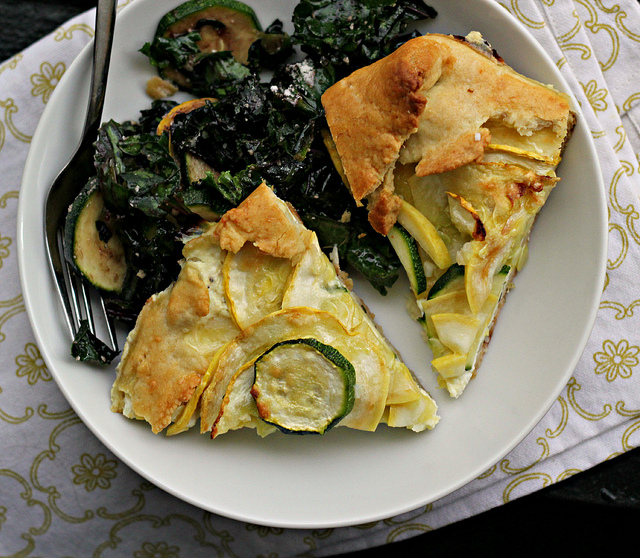 Summer Squash and Ricotta Galette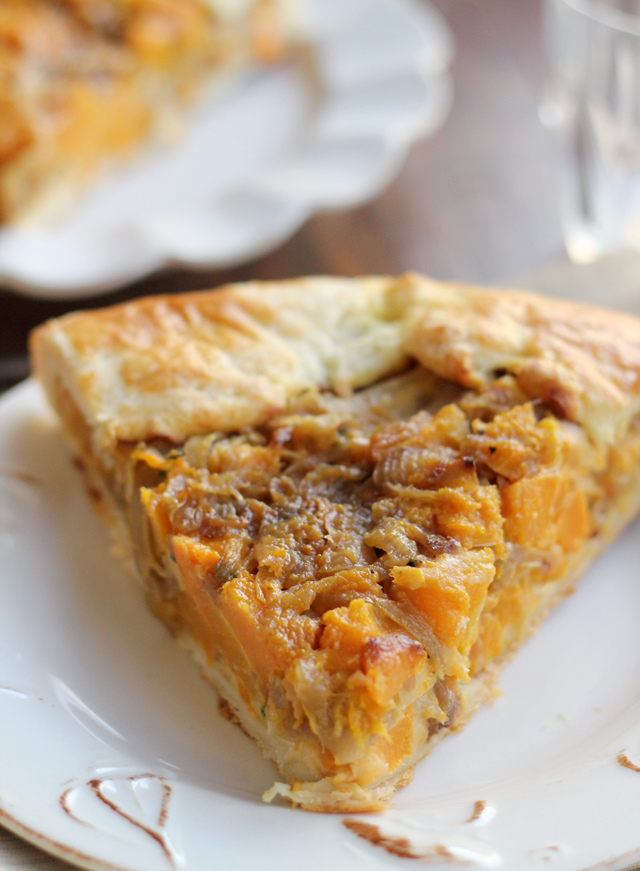 Butternut Squash and Caramelized Onion Galette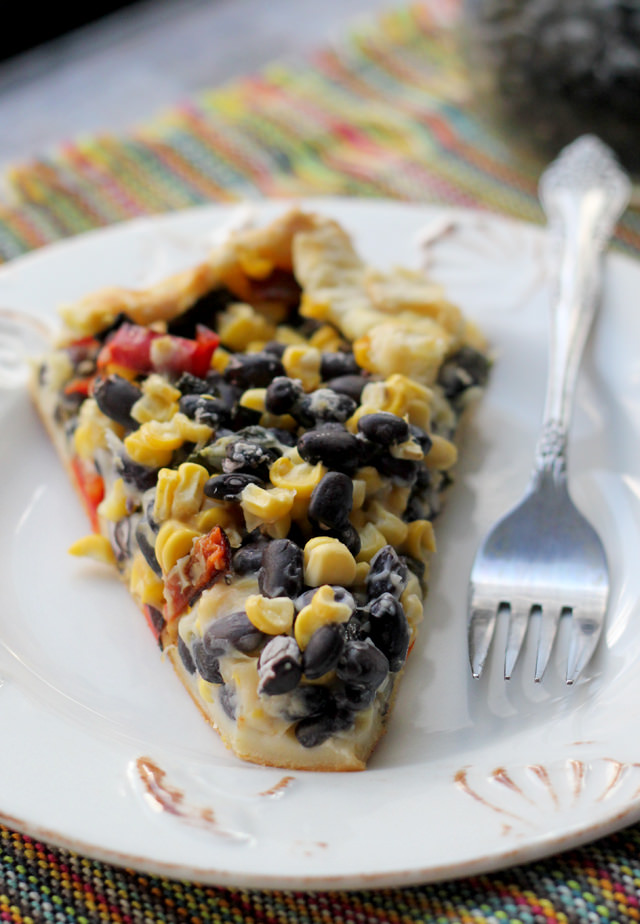 Roasted Corn, Poblano, and Red Pepper Galette
From Around the Web:
Corn and Zucchini Galette from Oh My Veggies
Salt and Vinegar Potato Galette from My Name Is Yeh
Heirloom Tomato Galette from Spoon Fork Bacon
Cheesy Potato, Corn, and Zucchini Galette from Flourishing Foodie
Heirloom Tomato, Zucchini, Caramelized Onion, and Feta Galette from Foodiecrush