Serve this warmly spiced pumpkin-infused focaccia covered in melted gruyere and toasty sliced almonds as an appetizer or soup accompaniment!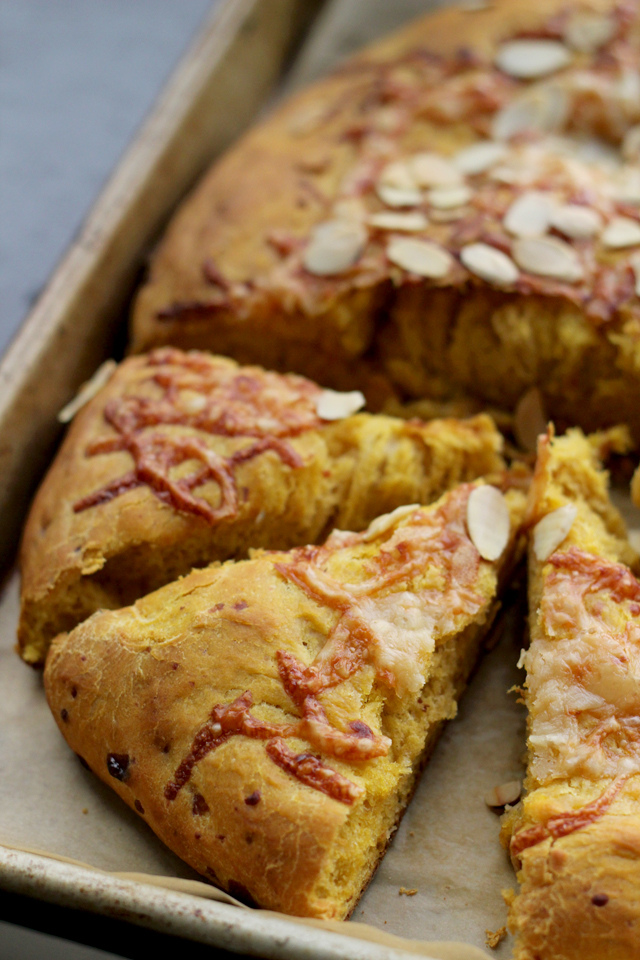 One of life's most satisfying experiences?
Shoving carbs in your face while watching too-skinny actresses whose dresses might just pop open if they inhale/exhale too deeply or have even the slightest muscle spasm and who fairly obviously haven't eaten for five weeks in preparation for this one night of their lives.
While you are wearing the stretchiest of stretch pants and may or may not have gone without washing your hair for four days.
Try it, it's amazing.
(Not the no hair washing part. That is just what happens when one's building decides to shut off one's heat and hot water for an indeterminate amount of time, even though the flyers they put up very clearly state that it would only be from 8AM-4PM on Saturday.
But the stretch pants and the carbs? Totally a must.)
In case you are now super sad that you did not spend the Golden Globes doing any of these things.
Have no fear! Awards season has truly only just begun. We've still got the Oscars, the Emmys, the Tonys, the SAGs (and probably more that I can't name off the top of my head) – plenty of stretchy pants opportunities right there.
And then come the Olympics. I'm not sure what it is about seeing super fit people doing super athletic things that makes me want to throw yeast and flour into a bowl, and turn it into something probably not allowed on their super strict superfood diets (unless their name is Michael Phelps). But let's just go with it.
This pumpkin focaccia with gruyere and almonds is the perfect thing to whip up for such a fête. The focaccia itself has a hint of sweetness and warmth to it from a touch of brown sugar and nutmeg that is then balanced out with a crispy cheesy gruyere and almond topping.
Plus the recipe makes TWO LOAVES. So you can either invite more people over to eat it or eat more. No judgment, whichever way you decide to go.
So long as you remember your stretchy pants.
This is my submission to Week 11 of the 12 Weeks of Winter Squash! If you've winter squash-ed this week, then feel free to link up below:

One year ago…Grapefruit Olive Oil Pound Cake
Two years ago…Bulgur and Kale Casserole with Yogurt Topping, Meyer Lemon Rosemary Sticky Buns
Three years ago…Salmon in a Lemon Caper Sauce over Mashed Cannellini Beans
Four years ago…Lamb with Pumpkin and Apricots, Olive and Mozzarella Spaghetti
Five years ago…Roasted Butternut Squash with Shallots
Pumpkin Focaccia with Gruyere and Almonds
Serve this warmly spiced pumpkin-infused focaccia as an appetizer or soup accompaniment!
Ingredients
¾ cup warm water
1 tbsp active dry yeast
⅓ cup brown sugar
3½ cups all purpose flour, plus more for dough
3 tbsp butter, melted
1 cup canned pumpkin puree
1 tsp salt
¼ tsp nutmeg
3 oz grated gruyere, divided
⅓ cup toasted sliced almonds
Instructions
In the bowl of a stand mixer, combine the water, yeast, and brown sugar. Let sit for 5 minutes, or until yeast starts to get foamy. Stir in 1 cup of the flour and the butter, mixing until just combined. Cover loosely with plastic wrap and let rise in a warm place for 30 minutes.
Mix in the pumpkin, salt, and nutmeg, stirring until well combined. Add in 2¼ cups flour and half of the cheese, using the bread hook attachment to combine. Keep adding in more flour until the hook can mix it for 1 minute without any sticking to the sides. The dough should be tacky but not sticky. Mix with the dough hook or knead for 4 minutes. Place dough in a well-greased bowl and let rise, loosely covered, for an hour or until doubled in size.
Punch down the dough and then let rest for 5 minutes. Divide dough in half and, on a parchment-lined baking sheet, form into an 8-inch round or oval. Sprinkle with remaining cheese and almonds. Let rise for 20 minutes.
Heat oven to 400. Bake for 25-20 minutes, or until the bottom of the loaf has browned and the cheese melts. Let cool before serving.