The flavors of spinach and artichoke dip in mac and cheese form!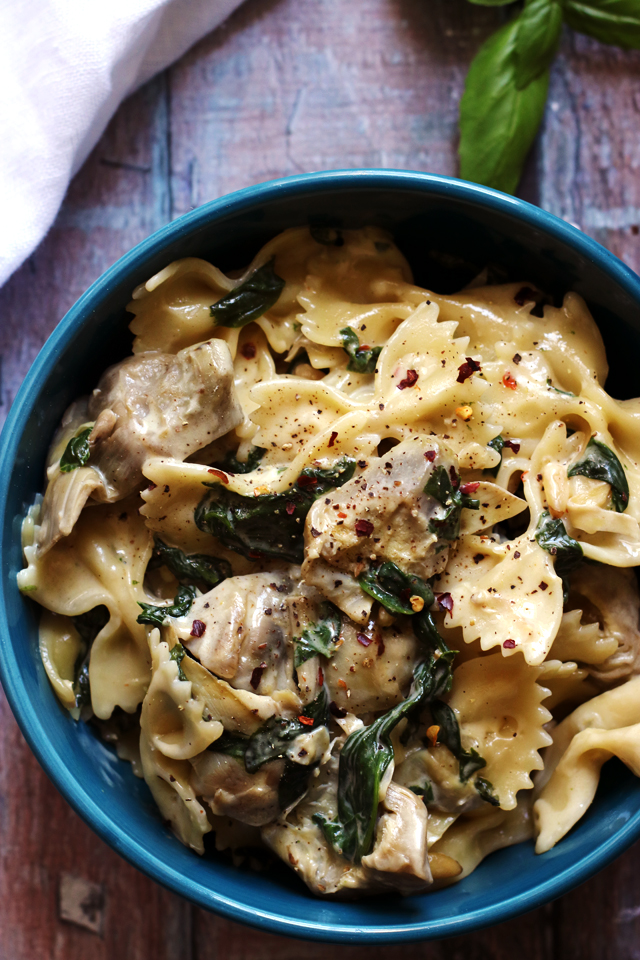 It's going to sound not romantic at all, but for Valentine's Day (+ my birthday coming up next weekend!) this year I took it upon myself to buy my own gifts – two cookbooks and a trip to Trader Joe's!!
Obviously, I don't need to explain the cookbooks (you're reading a food blog, after all!!). But gifting myself with impossibly long lines that can wrap around literally every aisle in the store (on a good day) and a twelve block walk home while carrying a bag that's heavier than Remy, probably sounds crazy.
However. THE CHEESE SECTION, you guys.
Flowers die, but cheesy love handles are forever. And I mean that in the best way.
The last time we went to Trader Joe's was the day before the Superbowl and let me tell you – BIG mistake.
They were out of everything.
Of course, the one time I actually went with the stroller which has boatloads of storage space so I wouldn't have had to carry anything. Hmmph.
But have no fear! When I went this week, I restocked on everything. And then had to carry it all home. Yay timing!
But also yay to the 5 pounds of brie I bought and this brie mac and cheese that I plan to make with it.
And if you haven't tried the TJ's brie, then consider this a ringing (unsponsored) endorsement. It is super tasty and the price is "insert three thumbs up emojis here".
For as long as the.boy and I have been together, we've had a longstanding tradition of celebrating Valentine's Day with homemade mac and cheese. A tradition that I completely trainwrecked this year out of sheer laziness in lieu of frozen salmon burgers and french fries.
(Just keepin' it classy. Always.)
But in my dreams (and if I had had time to go to Trader Joe's beforehand), we would have had this mac and cheese.
It's basically my favorite.
Think of it as spinach and artichoke dip meets fondue meets your childhood dreams. The cheese sauce is super simple and is essentially made only from melted mascarpone and brie. That's the beauty of using two soft cheeses – no need to make a roux or do anything fancy. And the veggies are there for vitamins and minerals and telling ourselves we're eating salad, plus they just meld really well with the cheeses, so why not.

Spinach and Artichoke Brie Mac and Cheese
The flavors of spinach and artichoke dip in mac and cheese form!
Ingredients
¼ cup olive oil
2 cloves garlic, minced
1 teaspoon red pepper flakes
kosher salt and pepper
1 (14 oz) can artichoke quarters, drained and coarsely chopped
1 pound farfalle pasta
5 oz baby spinach
8 oz mascarpone cheese
8 ounces brie, cubed
¼ cup pine nuts, toasted
Instructions
Bring a large pot of salted water to a boil. Cook the pasta according to package directions or to desired consistency. Drain, reserving ½ cup of the pasta water, and set aside.
Meanwhile, in a medium saucepan, heat the olive oil over medium heat. Add the garlic and red pepper flakes to the pan and cook until garlic is fragrant, about 30 seconds to 1 minute. Add in the artichoke pieces and saute until starting to get crisp, about 10 minutes.
Add the spinach to the pan and cook until wilted, about 2-3 minutes. Then, stir in the mascarpone and brie cheese, allowing them to melt. Stir in the cooked pasta and add the pasta water as needed to loosen the sauce to desired thickness. Season to taste with salt and black pepper. Stir in the toasted pine nuts and serve warm.
More mac and cheese recipes!!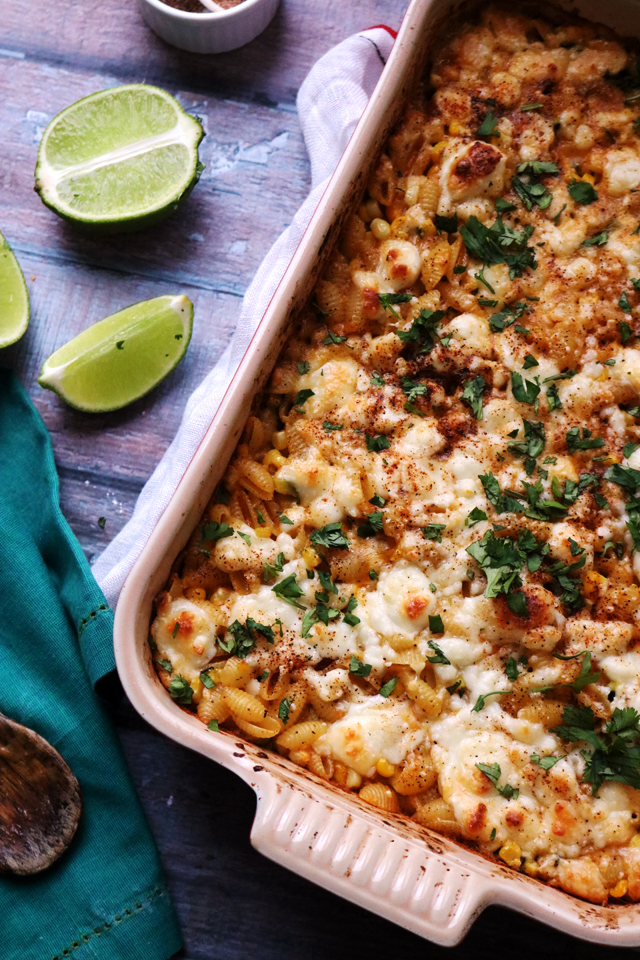 Mexican Street Corn and Zucchini Baked Macaroni and Cheese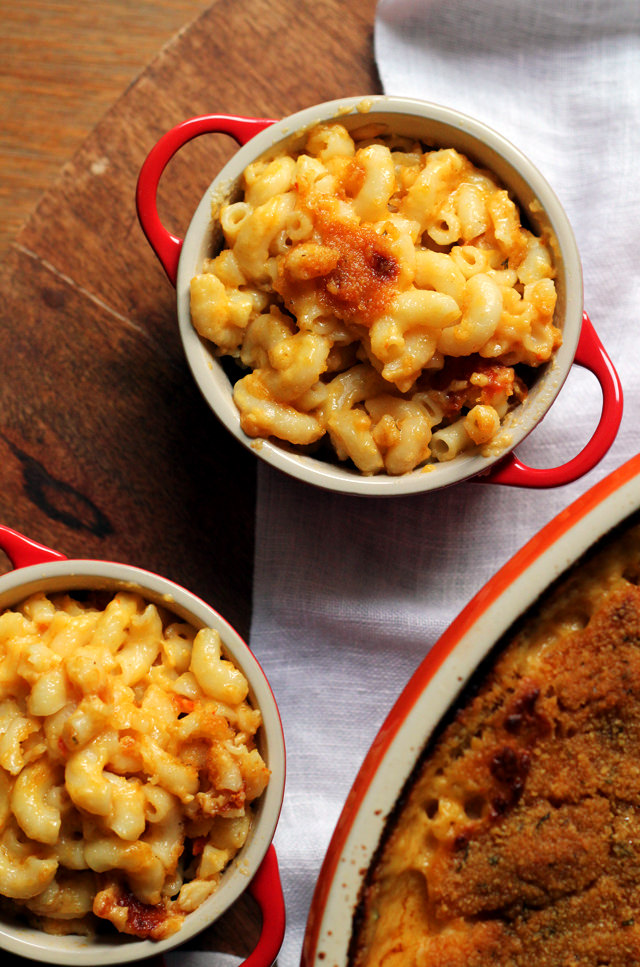 Spicy Harissa Macaroni and Cheese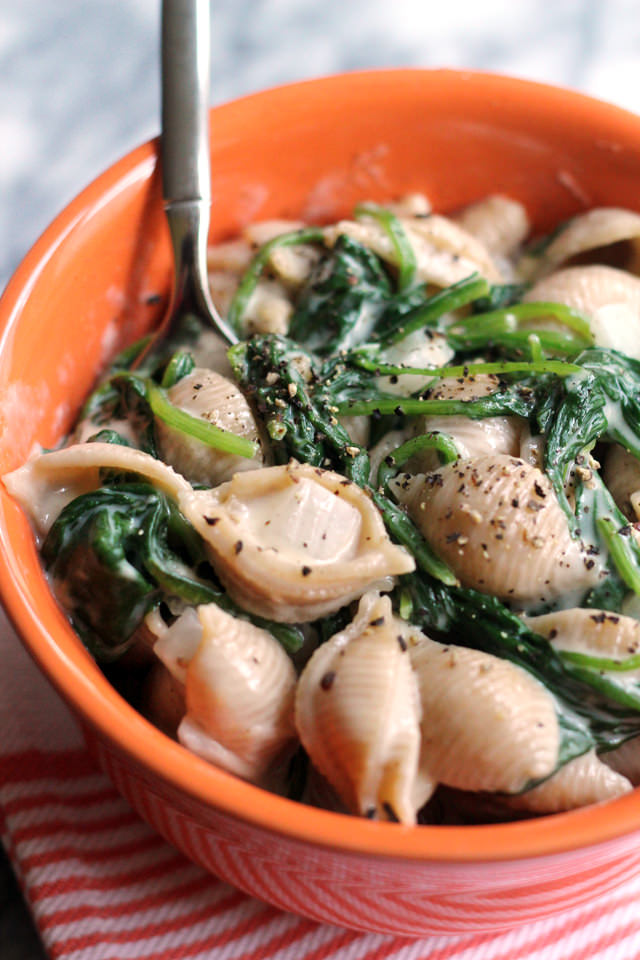 Spinach and Gouda Macaroni and Cheese