The bright flavor of winter citrus is allowed to shine in this blood orange greek yogurt poppy seed breakfast cake.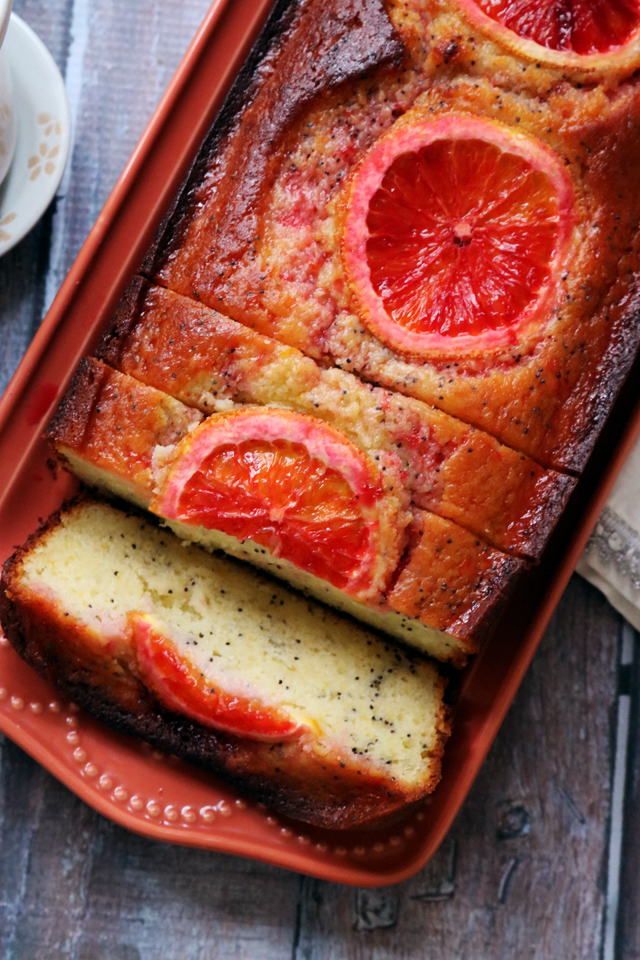 I vowed to never be that mom who solely made meal choices based on her kid's food preferences, but guys.
Remy loves citrus!!!
And so now we live under a mountain of it.
Can't even be sorry about that.
For the record, I've always wanted to be that mom buying the crate of little mandarin cuties on a weekly basis.
AND NOW I AM.
#lifegoalz
To be honest, I'm not the biggest citrus lover myself.
Or, I take that back. I love the really tart bitter citrus families, like lemons, limes, grapefruits. But oranges are just a little too sweet for me?
Weird for someone to say who drowns her kitchen in baked goods on a weekly basis.
So, I kind of baked this blood orange poppy seed cake thinking it would mostly be eaten by my child as a sort of healthier dessert…..
….and then Mike and I ate it all.
I think Remy maybe ate a slice. Not for her lack of liking it, but because we pushed it too far back on the table for her to see so that we wouldn't have to share it.
Not my proudest parenting moment, but it is what it is.
It was just SO GOOD and SO PERFECT for noshing on when you wake up from day sleeping after a night of work and just need something to go with your coffee.
And yes, it is lighter than most loaf cakes what with being made with Greek yogurt and all.
Meaning you can have it for breakfast, morning snack, after lunch snack, after school snack, etc.
Maybe I should have called it a snack cake instead of a breakfast cake, but I'm perfectly comfortable eating breakfast for all the meals, so it seemed kind of fitting.
Some of you are going to wonder whether this will work with other citrus and the answer is a resounding YES! If you can't find blood oranges – cara caras, navels, mandarins, sumos, or tangerines would be perfect! And if you're wanting to get away from the orange family entirely, I'm thinking lemons and grapefruits would be just fine here as well. Limes, I'm not so sure about, but don't let my insecurities about it stop you from experimenting. And if you do go there, let me know how it turns out!!
Blood Orange Greek Yogurt Poppy Seed Breakfast Cake
The bright flavor of winter citrus is allowed to shine in this blood orange greek yogurt poppy seed breakfast cake.
Ingredients
1½ cups flour
2 tsp baking powder
½ tsp kosher salt
1 cup full fat Greek yogurt
2 tsp blood orange zest
1 cup sugar
3 large eggs
½ tsp vanilla
½ cup vegetable oil
1 tbsp poppy seeds
1 thinly sliced blood orange
For the glaze
⅓ cup fresh blood orange juice
1 tbsp sugar
Instructions
Heat oven to 350F. Spray an 8½ x 4¼ loaf pan with baking spray and set aside.
In a large bowl, whisk together the flour, baking powder, and salt. Set aside.
In a medium bowl, whisk together the Greek yogurt, orange zest, sugar, eggs, and vanilla until well combined. Stir the wet ingredients into the dry ingredients with a rubber spatula and mix until just incorporated. Fold in the oil and poppy seeds, stirring to combine. Pour the batter into the prepared loaf pan. Top withe the blood orange slices, if desired.
Bake for 50-55 minutes, or until a toothpick inserted in the center comes out clean.
Allow to cool in the pan for 10 minutes, then remove to a wire rack or serving plate to finish cooling.
While the cake is cooling, prepare the glaze by bringing the blood orange juice and sugar to a boil in a small saucepan. Remove from the heat and slowly pour the glaze over the still-warm cake.
Allow the cake to cool completely before serving.
More ways to use winter citrus: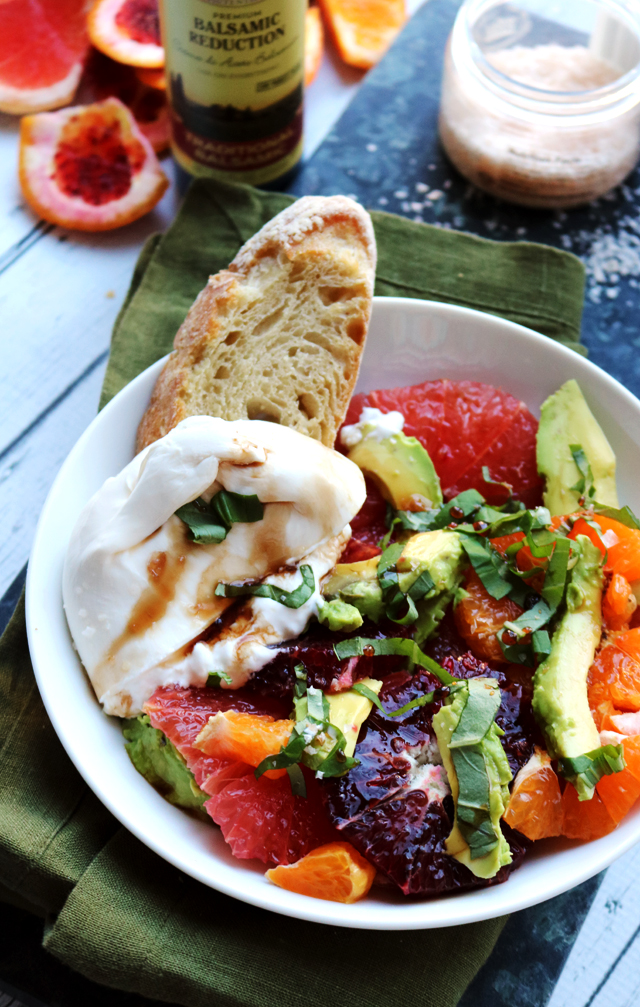 Winter Citrus And Avocado Salad with Burrata and Balsamic Reduction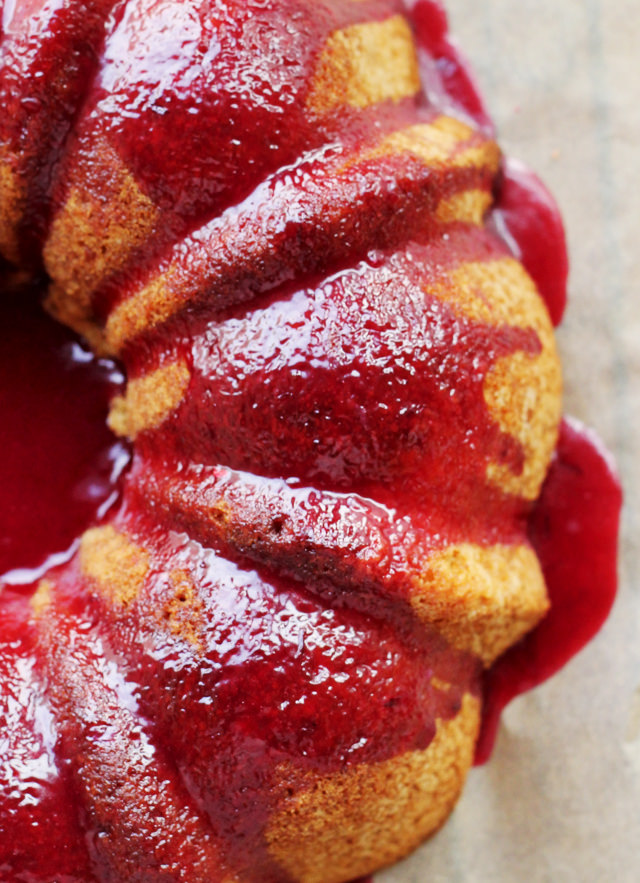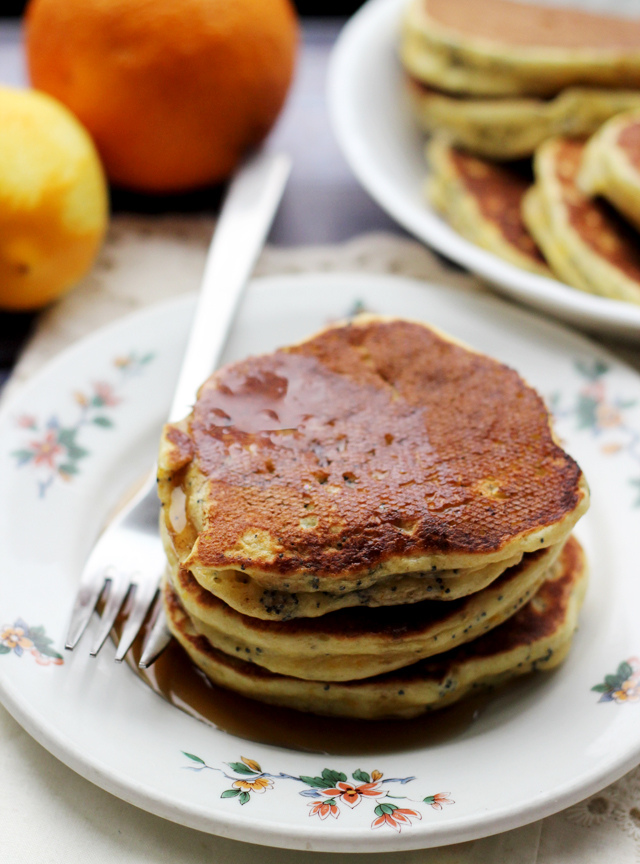 Blood Orange Greek Yogurt Poppyseed Pancakes