These individual coffee cakes are lightly sweet, with a cocoa swirl throughout, and topped with an almond streusel that will almost melt in your mouth.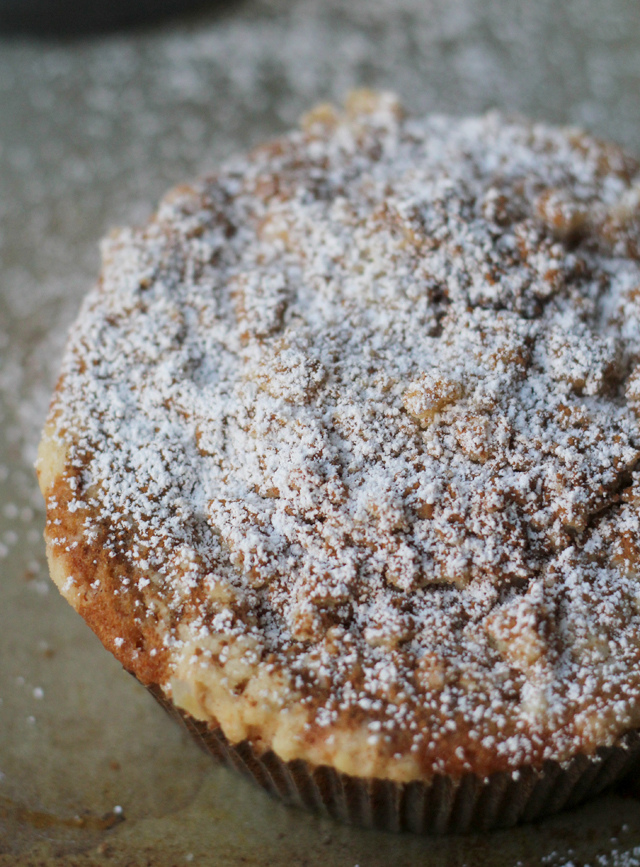 Guys, we earned this Friday.
After two weeks of days off, half days, getting in late, leaving early, spending the three hours that we are at work on facebook and/or pinning a gazillion things that are going to make us better people in the new year.
We made it through our
First. Full. Week.
It was kind of the longest five days. Like, ever.
We should pat ourselves on the back while shoving coffee cake in our mouths with our pinkies up, obviously, because these particular coffee cakes are classy like that.
We might even use forks. (But I doubt it.)
So, what makes these so special that they are first-Friday-after-the-holidays breaking-our-resolutions-ten-days-after-making-them-worthy?
Well. Everything.
Cute and individually sized so that you'll feel like you're practicing portion control (even though you're eating like…a sixth of a large cake. But whatever.)
Softly sweet, with a dense crumb that is somehow also still light, a layer of smoky cocoa scattered throughout, and topped with a buttery almond streusel.
This is what our Fridays(/Saturdays/Sundays) are made of.
One year ago…Vegetable Eggs Benedict
Two years ago…Spicy Squash Salad with Lentils, Brussels Sprouts, and Goat Cheese, Pasta with Broccoli, Olives and Feta
Three years ago…Moroccan Chickpea Barley Salad
Four years ago…Irish Car Bomb Cupcakes
Five years ago…Babaghanoush Hummus Pasta

Bouchon Bakery Coffee Cake
These individual coffee cakes are lightly sweet, with a cocoa swirl throughout, and topped with an almond streusel that will almost melt in your mouth.
Ingredients
For the batter
203 g all-purpose flour
1⅛ tsp baking powder
⅜ tsp baking soda
½ tsp salt
75 g unsalted butter, room temperature
210 g sugar
75 g eggs
1 tbsp vanilla bean paste
1 cup creme fraiche
For the topping
60 g all-purpose flour
60 g almond flour
60 g sugar
⅛ tsp kosher salt
60 g cold unsalted butter, cut into ¼-inch pieces
15 g light brown sugar
15 g unsweetened cocoa powder
powdered sugar and cinnamon, to garnish
Instructions
First, make the almond streusel topping. Whisk together the all-purpose flour, almond flour, sugar and salt in a bowl. Add the butter and toss to coat the pieces in flour. Using your fingers, combine the butter with the flour mixture, breaking it into small pieces until it is no larger than ⅛ inch. Put in the freezer while you prepare the batter.
For the batter, whisk together the flour with the baking powder, baking soda and salt in a bowl.
In the bowl of a stand mixer fitted with the paddle attachment, cream together the butter and the sugar and mix on medium speed for 2-3 minutes, or until fluffy. Scrape down the sides of the bowl. Add in the eggs and vanilla bean paste. Mix for about 30 seconds on low speed, or until just combined.
Add the flour mixture and creme fraiche, alternating between the two, in three additions each, beating for about 15 seconds after each addition. Cover the batter and refrigerate for about 20 minutes.
Meanwhile, preheat the oven to 325. Spray six 4¼-inch round paper baking molds or springform pans with cooking spray. Set them on a sheet pan.
Whisk together the brown sugar and cocoa powder.
Transfer half of the batter to a pastry bag, and pipe it into a spiral in the bottom of each mold. Dust with about 2 tsp of the cocoa/brown sugar mixture. Transfer the remaining batter to the pastry bag and pipe a second spiral over the cocoa layer. Sprinkle the tops with the cold streusel, about 3 tbsp each.
Bake for 35-40 minutes, or until the tops are golden and a skewer inserted in the center comes out clean. Set on a cooling rack to cool.
Before serving, dust coffee cakes with cinnamon and powdered sugar.
Notes
Recipe from
Bouchon Bakery