Now that Meyer lemons are in season, turn their juice into a luscious (but skinny!) Meyer lemon curd and then use it to fill these super cute lemon macarons!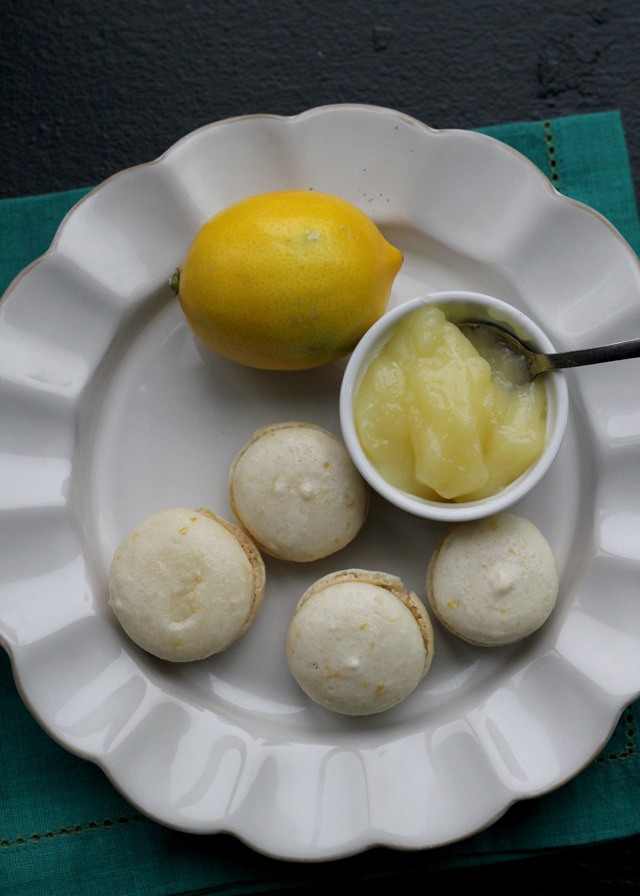 "Polar vortex" = the new "Miley Cyrus".
At least, in terms of most talked about/most despised/least likely to have friends when it grows up.
And this is how we're starting off 2014?! I do NOT approve.
So I'm adding some serious sunshine into our lives.
Meyer lemon-style.
That has to count for like, 30 or 40 degrees (Fahrenheit), right?
We can only hope.
These macarons are the perfect way to distract yourself during these cold dark nights.
Not only will you be frantically checking them every thirty seconds for feet formation, and so will be distracted from just how frostbitten you are, but they will force you to turn your oven up all the way to 300F! Which will make your apartment just warm and toasty enough that you will actually be warm, but your fiance won't insist on lowering the heat.
It is oh so definitely a balance.
Plus, Meyer lemons. They warm my heart. And consequently, my body.
Get them in your life.
These macarons are what I sent to my Leftovers Club match this month – the ever lovely Heather of Sugar Dish Me! If you are interested in taking part in The Leftovers Club next month, or in just finding out more about it, then check it out here. However, the basic gist is that every month, we get paired up with someone new and send them some of the "leftovers" of the deliciousness we've made that month! It's a ton of fun and always tasty.
To see what everyone else made this month, check out the link-up below:

Meyer Lemon Macarons
Now that Meyer lemons are in season, turn their juice into a luscious Meyer lemon curd and then use it to fill lemon macarons!
Yield:
24 cookie sandwiches
Ingredients
For the macarons
125 g almond flour
160 g powdered sugar
2 tbsp Meyer lemon zest, dried at room temp for an hour
large pinch of salt
35 g granulated sugar
2 g egg white powder
90-95 g egg whites, aged for 24 hours, room temperature
For the Meyer lemon curd
1 cup sugar
4 tbsp corn starch
2 tbsp flour
¼ tsp salt
½ cup cold water
½ cup fresh-squeezed meyer lemon juice
3 egg yolks
2 tbsp butter, softened
1⅓ cups boiling water
Instructions
Combine the almond flour, powdered sugar, lemon zest, and salt in the bowl of a food processor. Pulse until combined. Sift to remove any chunky almond bits.
Weigh out the granulated sugar and egg white powder into a small bowl. Whisk together. Set aside.
In the bowl of a stand mixer fitted with the whisk attachment, beat the egg whites on medium-low speed until foamy. Turn the speed up to medium, and then medium-high. Add in the sugar/egg white powder mixture. Beat until the mixture holds stiff peaks and is glossy.
Add the nut flour mixture to the meringue and fold together, both scraping the sides and bottom of the bowl, and deflating the batter against the sides. Once the dry ingredients have been incorporated, slow down and continue folding until the batter is glossy and flows from the spatula like a ribbon, but then reincorporates into the batter within about 10 seconds.
Fit a pastry bag with a ½-inch tip. Fill it with half of the batter.
Line two baking sheets with parchment paper. Pipe small rounds (slightly larger than an inch wide) straight down and about 1 inch apart on the sheets. Slam each baking sheet straight down onto the counter 2-3 times to remove any air bubbles. Let the macarons sit for about 30 minutes, or until a shell forms on their outside.
Preheat oven to 300. Bake one pan at a time for about 15 minutes, rotating the pan after the first 10 minutes. Let cool completely before moving the shells. Once cool, remove the macarons from the sheet and flip them over.
For the Meyer lemon curd, in a saucepan, combine the sugar, cornstarch, flour and salt. Gradually blend in the cold water and lemon juice. Add the egg yolks and butter, blending until smooth. Gradually add in the boiling water, stirring constantly.
Place the saucepan over medium high heat and bring to a full boil, stirring gently with a spatula and scraping the bottom (to prevent burning). Once the mixture begins to thicken, reduce the heat and simmer for one minute. Remove the curd from heat. Cool completely.
Once Meyer lemon curd has cooled, spread a thin layer (about a tsp) on the flat side of the macaron. Top with a second macaron to sandwich.
Nutrition Information
Serving size:
1 cookie sandwich