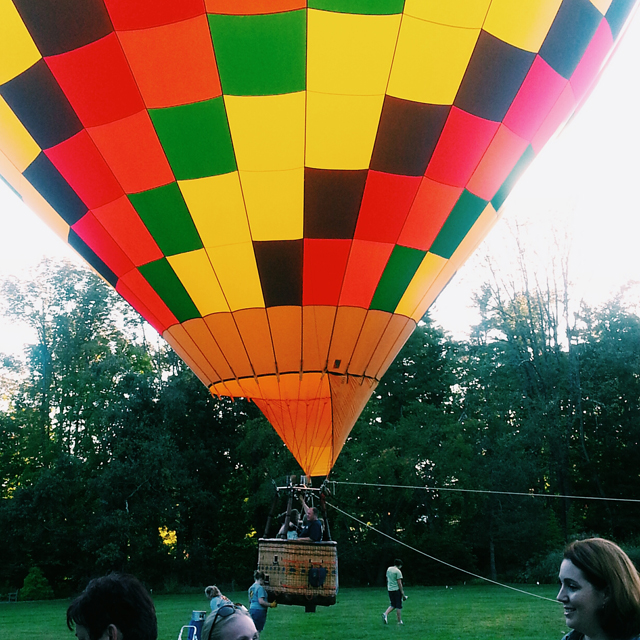 1. It has been a. week.(end). From Friday through Sunday morning, I was at the Big Harvest Potluck, which was so fun I forgot to tweet/share on social media. #sorrynotsorry Let's just say there was a lot of good food, a lot of socializing, and a hot air balloon ride. Good stuff.
2. I also got to spend a ton of time with this cutie since we were roomies (along with his momma) for the weekend. It was pretty much the best. I think I need to get one of my own.
3. Then on Monday, a coworker and I woke up at 5AM to go to Boston for the day so that we could learn a technique from another lab there. She's pregnant, and I don't know how she made it through because I was EXHAUSTED by the time we got on the train to go home. It was definitely a twelve cup of coffee kind of day. Not exaggerating.
4. I refuse to divulge how many PSLs I had during this ordeal. You'll almost certainly think it was too many.
5. Can we talk about Stitch Fix for a minute(/the rest of this post?).  I mentioned a few months ago that I was doing it, but this whole time I've been depriving you of living vicariously through my fixes! Which just seems wrong. So once a month, whenever I get a fix, I'm going to interrupt our regularly scheduled Wednesday Coffee Talk to inundate you with some pictures of me modeling clothes. It will be hilarious. If you hate it, let me know, and if you love it, also let me know!
6. So, WHAT IS STITCH FIX. Basically, it's a service that provides you with a virtual personal stylist who picks out clothes for you and sends them right to your door. When you first sign up, you fill out a style profile to give them an idea of what you like/don't like/wouldn't-be-caught-dead-wearing. You then pick a date when you want your fix to be shipped to you. Your stylist will then send you a box filled with 5 items of clothing and/or accessories that were hand-picked for you based on your style profile.  You can either schedule one delivery or sign up for automatic monthly deliveries. You pay $20 for each box, which includes delivery. Then, that $20 goes towards whatever items of clothing you decide to keep. In addition, if you purchase everything in your box, you get 25% off the entire purchase. For someone who hates actually going to stores but likes to have nice things and get presents in the mail, this is perfect.
7. So, let's look at what I got this month!!
On the left: Benson Striped 3/4 Ruched Sleeve Blazer from Market & Spruce. I could really use a new fall blazer, but this just wasn't for me. The material was really thick, which made me look very bulky, and the stripes were just a little too loud. I think it might have been better if it was a solid color.
On the right: Lauree 3/4 Sleeve Vneck Drape Dress from Gilli. LOVE THIS. The.Boy and I don't always agree on my Stitch Fix loves, but even he said this looked great on me. It seemed to hug in all the right places and made me look like I have a waist. I also love the purple color, which is perfect for fall. I see myself wearing this on many a brisk fall day with some leggings and my brown suede boots underneath.
On the bottom right: Adora Ankle Length Colored Skinny Jean from Just Black. I really wanted to love these because I live in skinny jeans, and especially love fun colors like this, but they were just too tight. Sigh. Time to get on that wedding diet for REALZ.
On the left: Thomas Striped Raglan Sweater from Sweet Rain. I am super into stripes. And sweaters. So I loved this. Definite keep!
On the top right: Adelene Scoop Neck Cable-Knit Sweater from Mystree. More sweaters! This one was a bit more oversized than the previous one, which I like. I think with a cute tank top underneath, it will be great for fall layering. It was also SO SOFT since it was made from cashmere. I'm going to be cuddling up with this all fall/winter long.
8. Overall thoughts: For this fix, I requested some fun fall sweaters and styles, and I definitely received just that! I was a little bummed that the jeans did fit and that the blazer was so garish, but on the whole I loved this fix. The sweaters are exactly my style and they were what I really wanted anyway, and getting a cute dress as well was a bonus!
9. If you want to try Stitch Fix, go here to sign up!