Thick, tart, and creamy vegetarian Greek avgolemono soup with rice and greens – the perfect soup for spring!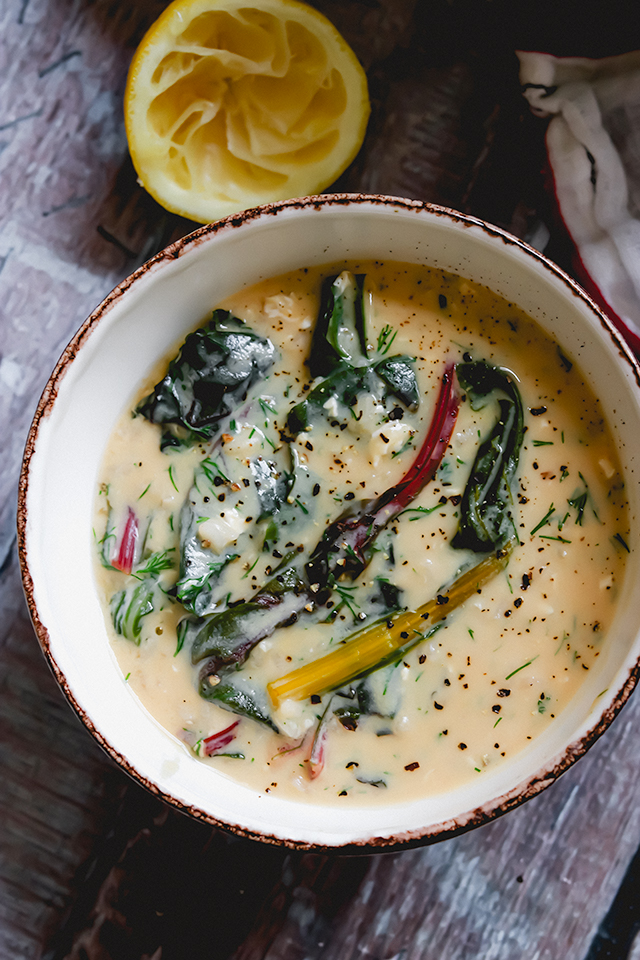 Being married to a Greek has been a, shall we say, interesting experience. I thought Italians were territorial over their food, but the Greeks take it to a whole new level.
As an example, my husband's parents have been married for well over thirty years, and his (paternal) grandmother still refuses to give his mother some of her recipes. I mean, she "gives" them to her, but she doesn't GIVE them to her if you know what I mean. It's all kind of shrouded in secrecy, deception, and inaccurate ingredient measurements.
At this point, we can't even go out for (or, let's be real here – order in) Greek food because it's just a constant comparison game and nothing is EVER as good as his grandmother's or mother's version. EVER.
All that to say, it was with great trepidation that I tackled avgolemono, a classic Greek lemon and rice (or orzo!) soup.
Avgolemono is a fairly simple one-pot broth-based soup in which rice or orzo is cooked in the broth itself to both infuse more flavor into the rice and to thicken the soup. The broth becomes even more luxurious and rich with the addition of an egg/lemon mixture that gets whisked into the broth in the last few minutes of cooking. It has the best thick, silky mouth-feel and feels both hearty and light at the same time. Greens and dill are stirred in for added brightness and delicious flavor.
So what was the verdict from my expert taste tester?
Well, he said it wasn't like his mother's (hers is apparently more lemony and features not a single green), BUT that he liked mine better. I'll take it!
Vegetarian Greek Avgolemono Soup with Rice and Greens
Thick, tart, and creamy vegetarian Greek avgolemono soup with rice and greens - the perfect soup for spring!
Ingredients
5 cups vegetable broth
½ cup short grain white rice
5 oz baby swiss chard or baby spinach
3 large eggs, room temperature
2-3 tbsp fresh lemon juice
¼ cup chopped fresh dill leaves
kosher salt and freshly ground black pepper, to taste
Instructions
In a medium pot, bring the broth to a simmer. Add the rice to the pot and simmer until tender, about 15 minutes. Stir in the greens during the last 5 minutes of cooking.
Meanwhile, whisk together the eggs and 2 tbsp of the lemon juice. Slowly pour 1 cup of the hot broth into the lemon-egg mixture to temper the eggs. Pour the egg mixture back into the pot with the rest of the soup. Simmer gently until the soup thickens, about 2-3 minutes, stirring constantly. Stir in the dill and season to taste with salt, black pepper, and more lemon juice.