An easy 30 minute meal that the whole family will love! These creamy coconut red curry vegetable peanut noodles achieve the perfect balance of sweet, savory, and spicy and are perfect for a weeknight dinner.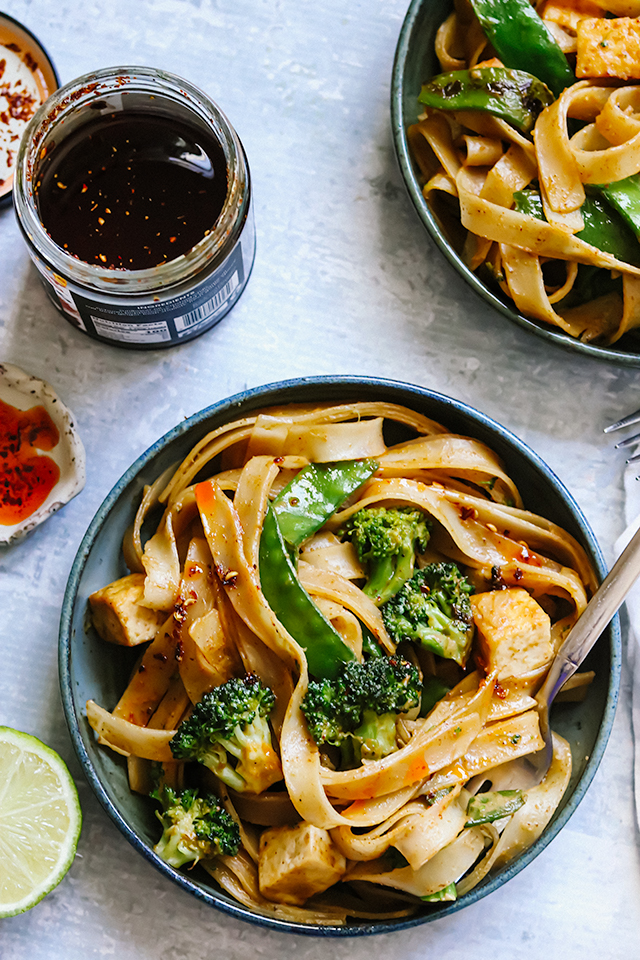 This pandemic has changed me in innumerous ways, but probably the biggest thing I need to get off my chest is this:
I am now a peanut butter hoarder. Send help.
To be fair, I was always a peanut butter collector, but this is different. This is…eight jars of the same plain creamy peanut butter stuffed into a shelf meant for only two jars. 
In my defense, I feel like we could live off a jar of peanut butter for a while so they're kind of the perfect apocalypse-now food. So obviously I need a dozen at all times. In preparation for the zombie revolution. You understand.
Well, my husband thinks I'm crazy so I'm under strict orders to use up some of these jars ASAP. Which is fine because I could also live on peanut noodles forever and not be mad about it….WHO'S LAUGHING NOW.
These did good because they used up a whole lot of hoarded stuff from the pantry, including a whole package of Thai red curry paste that had been hiding out there for possibly years (I have no recollection of when I purchased it, don't look at me like that) and rice noodles that truly do last forever. 
I find that everyone has a different peanut sauce preference = some like it more on the savory/tart side but I'm more of a sweet and spicy kind of gal. These noodles reflect that, using brown sugar and full fat coconut milk to sweeten things up a bit and a drizzle of chili oil on top to add extra flavor and spice. Just how spicy your noodles will be depends on your curry paste. Mine was much spicier than I'm used to, so just keep an eye on that when you're adding it. It was the perfect spice level for me but the rest of the fam was kind of struggling. 
I bulked my noodles up with tofu and a whole slew of green veggies but the beauty of this recipe is that you can really use whatever you have on hand. Use meat or fish if that's more your deal and add whatever vegetables are languishing in your crisper drawer. 
But, like…make sure you restock on the peanut butter. Because, you know. (The zombies.)

30 Minute Creamy Coconut Red Curry Vegetable Peanut Noodles
An easy 30 minute meal that the whole family will love! Creamy coconut red curry vegetable peanut noodles - these hit the perfect balance of sweet, savory, and spicy.
Ingredients
1 lb wide rice noodles
5 oz full fat coconut milk
3 oz Thai red curry paste
6 tbsp peanut butter
4 tbsp soy sauce
2 tbsp brown sugar
1.5 tbsp lime juice
3 tbsp canola oil
10 oz extra firm tofu, drained and cut into ½-inch cubes
8 oz snow peas, trimmed
1 lb broccoli florets, cut into bite-sized pieces
Sichuan chili oil, to garnish
Instructions
Put the rice noodles in a big bowl of very hot water and allow to soak for 30 minutes or until soft.
Meanwhile, in a medium bowl whisk together the coconut milk, red curry paste, brown sugar, soy sauce, peanut butter, and lime juice. Set aside.
In a large nonstick pan or wok, heat the canola oil over medium-high heat. Add the tofu to the pan and fry for 5-6 minutes, turning as needed to ensure all sides crisp up. Remove to a paper towel-lined plate leaving as much oil in the pan as possible.
Return the pan with the oil in it to medium-high heat, then add the snow peas and broccoli. Saute for 5 minutes, or until just starting to become tender.
Drain the noodles and add them to the pan along with the coconut peanut sauce and the tofu. Saute until the sauce has thickened enough to coat the noodles and the noodles are tender.
Divide among serving bowls and top with a drizzle of chili oil, if desired.
Notes
An Eats Well With Others Original