Turn risotto into an every night kind of meal with this roasted cauliflower, sage, and almond risotto.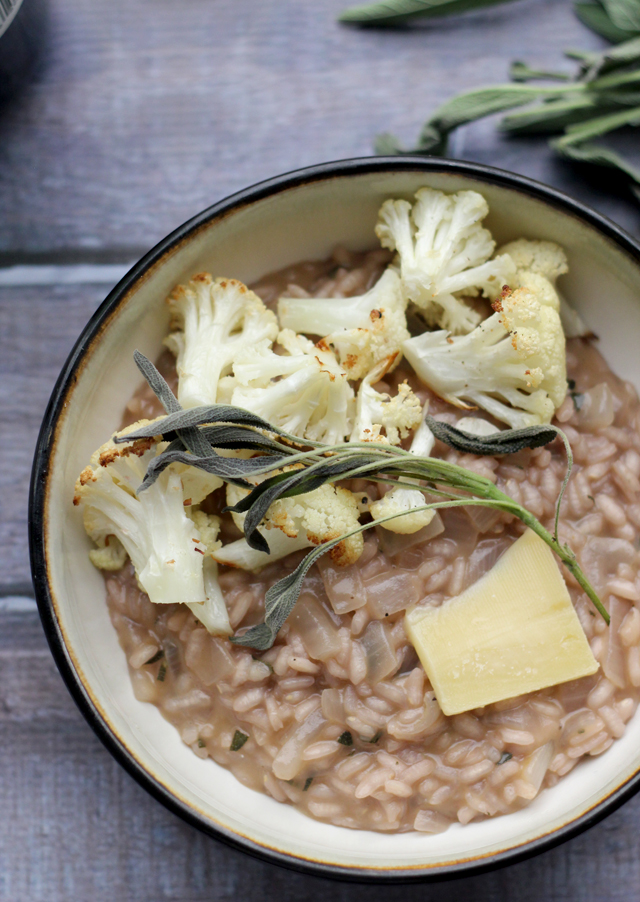 I feel like I was a little bit late to cupcakes, never quite got  whoopie pies, and still have kind of a love/apathy relationship with quinoa (love when I remember to pre-rinse it, apathy when I'm lazy and, well, don't).
And now here we are in 2014 and apparently cauliflower is the new kale.
It's a crazy world, this is. But I kinda like it.
Well, then. I guess we can either roll with the times, or not.
You can probably already tell what I chose.
My less-than-stellar food trend track record notwithstanding.
But MARK MY WORDS, kale is not going anywhere. At least not on my watch.
Let's risotto.
If you've ever thought that risotto should be saved for a weekend or special occasion meal, then this recipe will prove you wrong. In a good way.
I managed to get it done in the hour before I was due at work, which means that a normal person will probably take 35-45 minutes, tops.
The key is in the multitasking.
Get your veggies prepped, then pop the cauliflower in the oven just as you're starting the endless stirring of the risotto, and don't try to take pictures while you're doing it. Major hindrance.
And I know everyone says you really have to "stir constantly", but I went with about a 70/30 ratio of stirring to not stirring, and I'm thinking you could probably get away with 60/40, but don't quote me on that.
What you end up with is a richly flavored earthy sage-infused creamy risotto topped with roasted cauliflower bits, roasted almonds and melty cheese. So good you could serve it at a dinner party but…why wait till then? After all, cauliflower is the NOW and who knows what veggie trends the future will hold?
Best to get on it. Like, ASAP.
One year ago…Swiss Chard and Artichoke Grilled Cheese on Millet Bread
Two years ago…Roasted Red Pepper Pesto and White Bean Dip
Four years ago…Soft Polenta with Mascarpone
Roasted Cauliflower, Sage, and Almond Risotto
Turn risotto into an every night kind of meal with this roasted cauliflower, sage, and almond risotto.
Ingredients
1 head cauliflower, trimmed and chopped
2 tbsp olive oil
salt and black pepper, to taste
¼ cup sliced almonds
4 sprigs sage
6 cups vegetable broth
1 tbsp butter
1 onion, diced
2 tbsp minced fresh sage
1½ cups arborio rice
½ cup red wine
½ cup grated parmesan cheese
4 oz strong cheese (Taleggio, gouda, etc)
Instructions
Preheat oven to 425.
In a large bowl, toss together the cauliflower and olive oil. Spread on a parchment-lined baking sheet. Sprinkle with salt and black pepper. Roast for 15 minutes.
Add the onions and sage sprigs to the pan and roast for another 5 minutes. Remove from the oven and set aside.
In the meanwhile, bring the vegetable broth to a simmer on the stove.
In a separate, large pot, melt the butter over medium heat. Add the onion to the pan, along with a pinch of salt, and saute for 5 minutes or until tender. Add in the minced sage and arborio rice. Stir to combine. Add in the red wine and stir until almost evaporate.
Add the broth to the rice in 1 cup increments, only adding the next cup when the former has almost evaporated, stirring constantly. Continue until the rice is tender, about 25-30 minutes.
Remove from the heat and stir in the parmesan cheese. Season to taste.
Serve risotto topped with roasted cauliflower, almonds, sage, and 1 oz of cheese.
Nutrition Information
Serving size:
¼ of recipe